Why did Akshay Kumar postpone PadMan's release?
Subhash K Jha reports.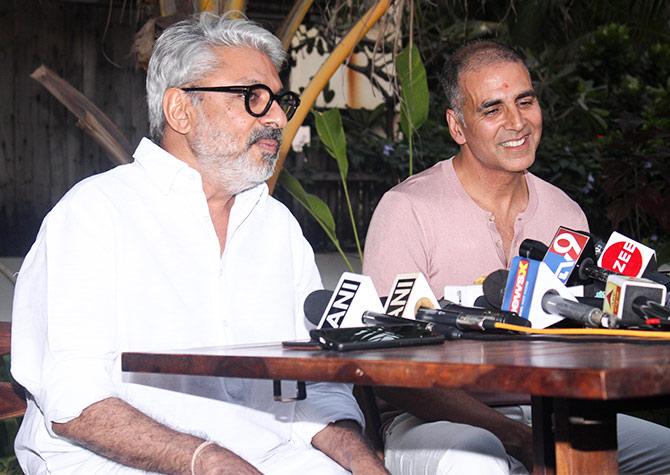 IMAGE: Akshay Kumar, right, with Sanjay Leela Bhansali. Photograph: Pradeep Bandekar
Akshay Kumar's magnanimous gesture of postponing his PadMan so that Sanjay Leela Bhansali's Padmaavat could have a two week free run at the box office has been heartily applauded by film folk.
No doubt the gesture was generous, but not entirely without self-interest.
"It was a marvellous marketing manoeuvre," says a source in the know.
"In one stroke Akshay made himself out to be the hero rescuing Padmaavat from its crisis."
But look closer. Akshay actually did his film a favour.
His marketing team advised him to pull out of the January 25 release slot after Padmaavat came into the picture.
"With Padmaavat around, PadMan would have lost at least 45 percent of its intended viewership," explains the source.
"Also," adds the source, "with the threats of violence hovering over Padmaavat, the multiplexes screening both Padmaavat and PadMan could have witnessed a reduction in visitors."
"Families wary of unrest would have stayed away from both films."
Sources say Akshay would have pulled PadMan out anyway before Bhansali showed up with his request to postpone the film.
And therein lies another story.
Apparently Bhansali was reluctant to meet Akshay with the request.
"He wanted to leave it to his producers Viacom 18. But it was felt by the entire team that Bhansali should personally request Akshay," says the source.
Varna achcha nahin lagega ("or else it won't be proper)."