Raja Sen lists the highlights from the 89th Annual Academy Awards.
1. The sitting ovation.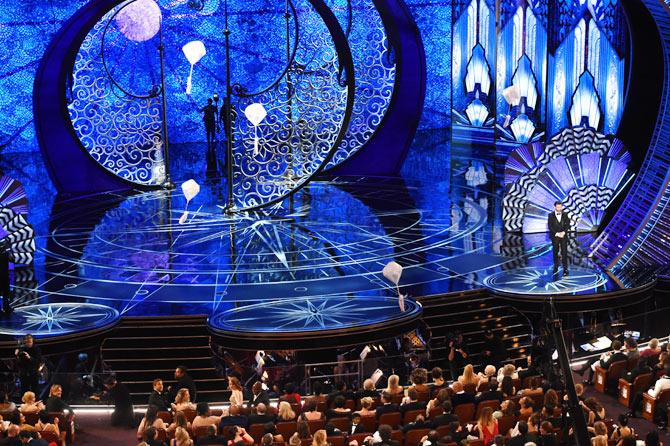 IMAGE: Host Jimmy Kimmel speaks onstage. Photograph: Kevin Winter/Getty Images.
The Oscars kicked off with a Justin Timberlake performance which exhorted the audience to get up and shake it, following which they took their seats == which is when host Jimmy Kimmel entered and noted the 'sitting ovation' he had earned.
His opening monologue was relaxed and dry, riffing off Mel Gibson and Justin Timberlake but saving the pointiest remarks for someone who famously called Meryl Streep overrated.
2. The Hidden Figure steps forth.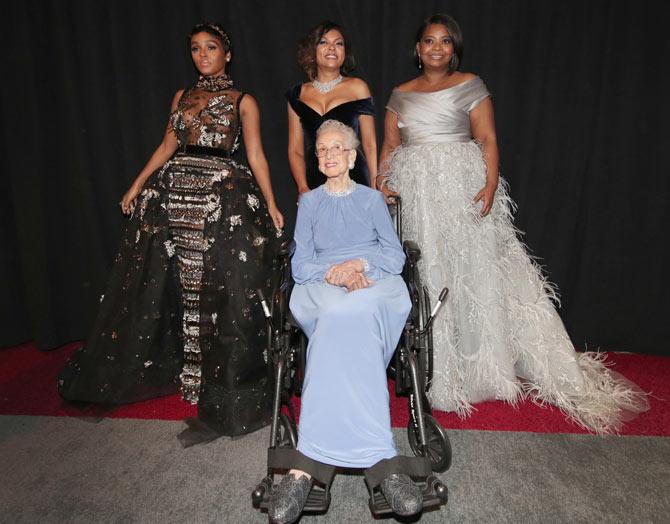 IMAGE: Actor Janelle Monae, NASA mathematician Katherine Johnson and actors Taraji P. Henson and Octavia Spencer. Photograph: Christopher Polk/Getty Images.
As the actresses from Best Picture nominee Hidden Figures took to the stage, real life NASA pioneer, mathematician Katherine Johnson -- played in the film by Taraji P Henson -- was brought onto stage.
Johnson, now 98, thanked the crowd who rose instantly to their feet to applaud her.
3. Mel Gibson giggling nervously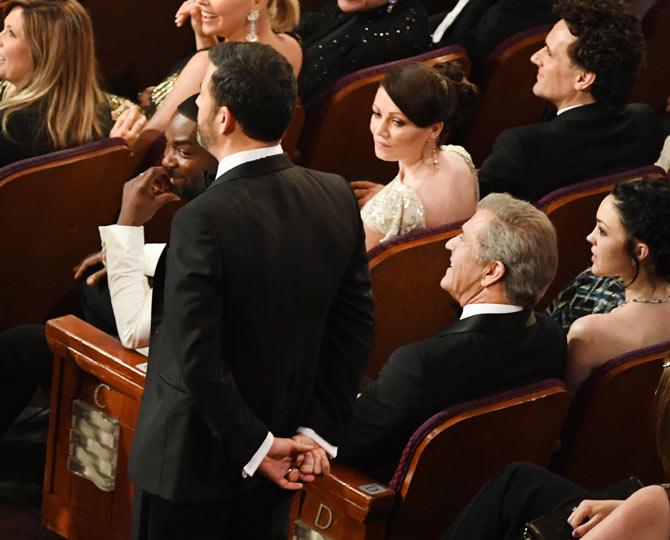 IMAGE: Jimmy Kimmel, actor David Oyelowo, Rosalind Ross and actor/director Mel Gibson. Photograph: Kevin Winter/Getty Images.
Kimmel's weakest moment of the night featured an OJ Simpson joke about a baloney sandwich -- referencing the fact that Simpson is currently in prison -- that received a mostly muted reaction from most of the crowd.
Mel Gibson, however, was in both shock and splits, giggling nervously. Did he love the gag and its audacity, or was he just nervous Kimmel was going to roast him harder?
4. Fran and Furiosa sharing a stage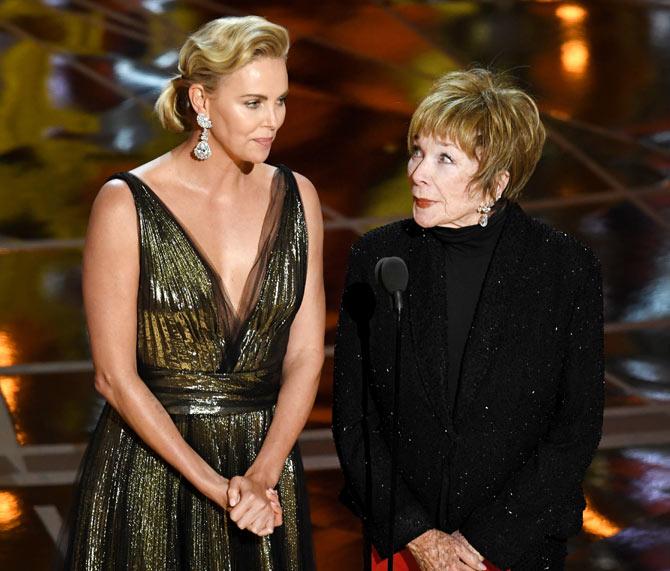 IMAGE: Charlize Theron and Shirley MacLaine&nbsp. Photograph: Kevin Winter/Getty Images.
This year's Oscars featured a section where actors of today brought forth actors who inspired them massively, and the first of these bits saw Charlize Theron go on about Shirley MacLaine -- and her character, Fran, in The Apartment -- before the two actresses took the stage together, which was pretty special.
5. Sting pays tribute to James Foley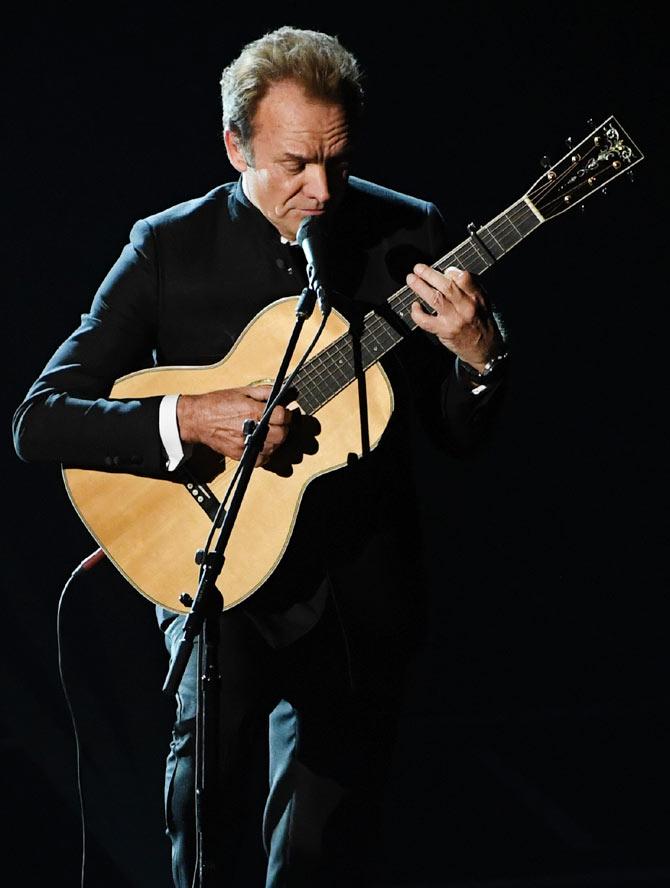 IMAGE: Musician Sting performs onstage. Photograph: Kevin Winter/Getty Images.
The glitzy night's most sober moment came with Sting cradling a guitar and singing his moving song, The Empty Chair. Nominated for Best Original Song, the track is part of the documentary Jim: The James Foley Story, a film about the late war correspondent who was beheaded infamously by ISIS.
As the melancholic song ended, the screen showed an inspiring Foley quote: 'If I don't have the moral courage to challenge authority... we don't have journalism.'
6. Seth Rogen, Michael J Fox and the DeLorean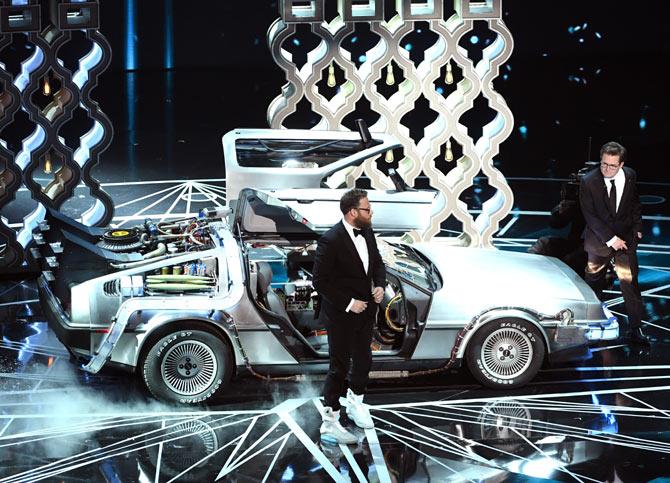 IMAGE: Michael J Fox (left) and Seth Rogen. Photograph: Kevin Winter/Getty Images.
The film that most inspired Pineapple Express star Seth Rogen's Back To The Future.
Rogen gushed about the Robert Zemeckis films and their star Michael J Fox, after which the two drove onto stage in that legendary DeLorean time machine, with Rogen even -- enviably -- wearing the self-lacing shoes from Back To The Future II that are only just becoming reality. Rogen went on to sing a few bars from Hamilton while Fox tried to stop him.
7. The speech from Viola Davis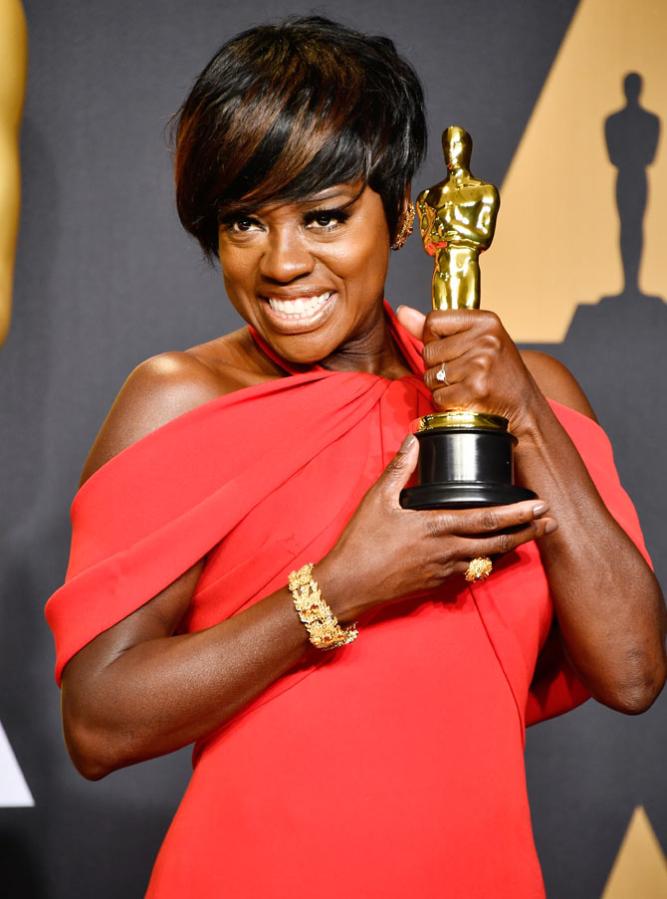 IMAGE: Viola Davis wins the best supporting actress for Fences. Photograph: Frazer Harrison.
This year's most moving speech came unsurprisingly from Viola Davis, who won the Best Supporting Actress award for her stunning work in Fences.
Her speech spoke about the beauty that can be found in ordinary life and everyday stories, and how acting is "the only profession that celebrates what it means to live a life."
8. Denzel officiates a wedding.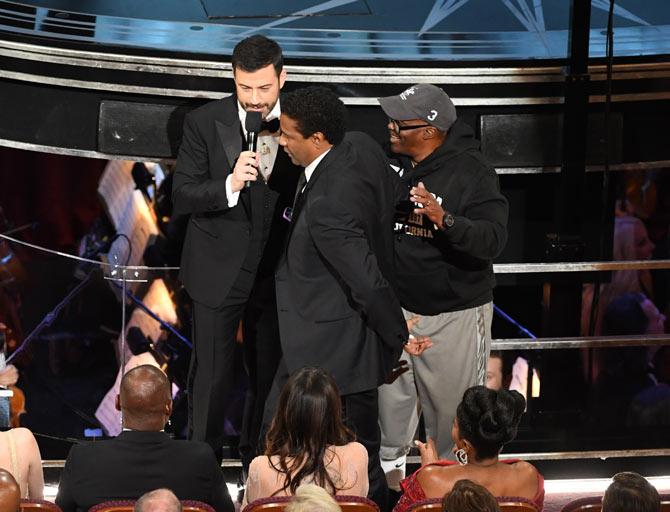 IMAGE: Jimmy Kimmel and Denzel Washington with a tourist. Photograph: Kevin Winter/Getty Images.
Eclipsing selfie moments of Oscars past, Kimmel organised an elaborate routine that saw many clueless tourists wander without warning into the Dolby Theatre, incredulously shaking hands with Nicole Kidman and Ryan Gosling.
Denzel Washington, as always, went one better and took an engaged couple and pronounced them man and wife.
9. 'Ben Affleck... and guest.'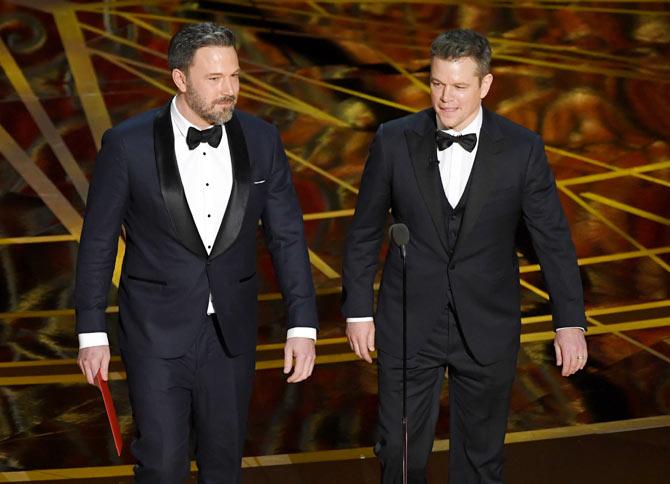 IMAGE: Ben Affleck and Matt Damon. Photograph: Kevin Winter/Getty Images.
Kimmel is at his best -- and most gleefully petty -- when trying to put down the nicest man in Hollywood, Matt Damon.
First introducing him as 'Ben Affleck... and guest', Kimmel then proceeded to play Damon off the stage by drowning his words with music, even though he was presenting an award and not giving an acceptance speech.
Later in the night, just before the Best Picture Oscar was presented, he hoped he could get to see Matt Damon -- producer of Manchester By The Sea -- lose.
10. A moment of genuine grace.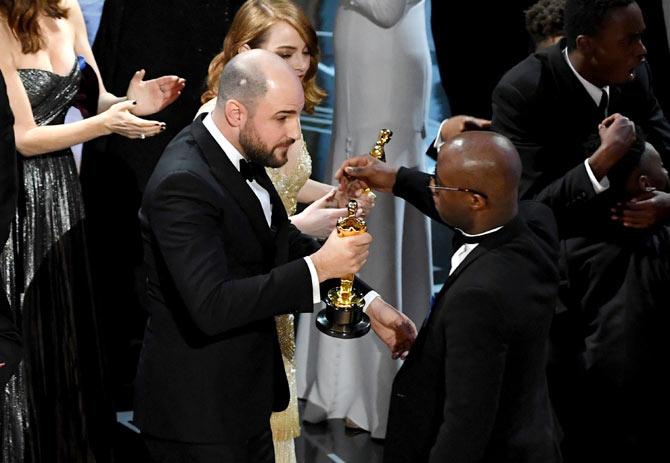 IMAGE: Jordan Horowitz hands over the award to the real winner of the night: Moonlight writer-director Barry Jenkins. Photograph: Kevin Winter/Getty Images.
It isn't often that we see rival filmmakers handing Best Picture trophies to each other. While the 89th Academy Awards ended with a ridiculous debacle, they also gave us a heartwarming sight: La La Land producer Jordan Horowitz calling on his friends, the Moonlight team, to come on stage to take their rightful Oscars.
With chaos all around, this little note of grace and aplomb won the day.