'You found me eligible and you think I am the perfect cast, then why don't you give me work?'
'That used to happen only because I have done TV.'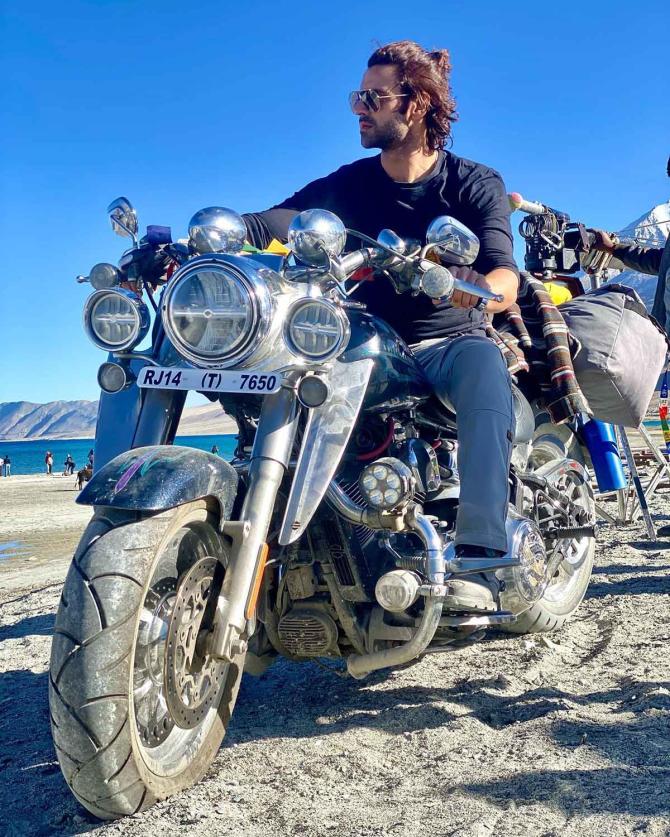 A prominent name on Indian television, Vivek Dahiya is excited about his debut film, Chal Zindagi.
Perhaps also a relief, as his transition from television to films was full of rejections and disappointments.
"At the last minute, the producer or the director or the platform would say, 'Let's not cast him. He is too TV'," Vivek tells Rediff.com Contributor Mohnish Singh.
What is Chal Zindagi about?
Chal Zindagi is a travel-based film, where the three principal characters take their bikes and just want to explore nature.
It's an all-out adventure film.
How do they become friends, what they do on their beautiful journey.
I play a student, who has just come out of college, and who seeks thrill in everything that he does. He is out there to conquer his dreams.
He wants to do the things that he has always wanted to do, and one of them is travel.
So he gets on his bike with his friend.
He is very similar to Vivek Dahiya in real life.
I have usually done serious and intense roles. I have not done anything light-hearted before. This is that light-hearted film I always wanted to do.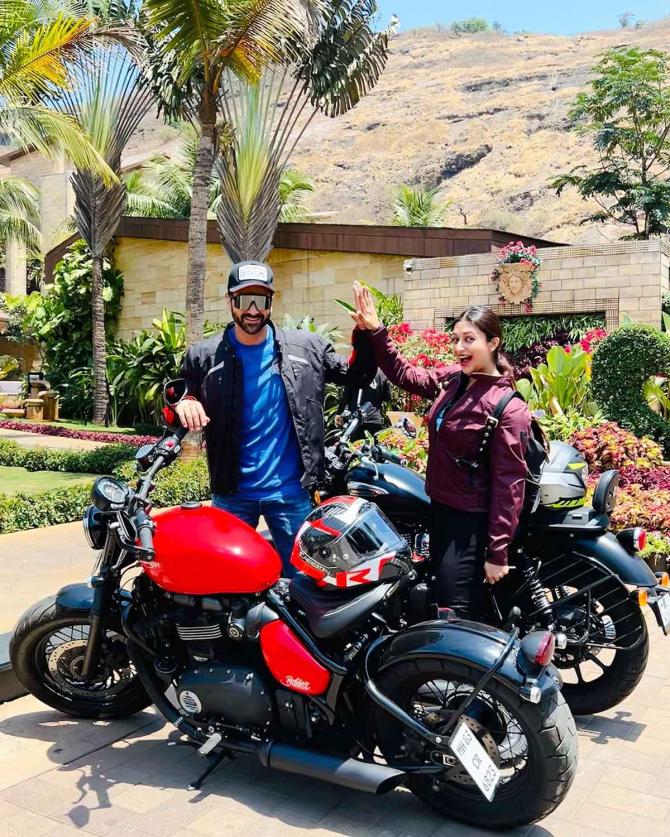 Are you a travel enthusiast? Can you tell us about a favourite trip?
Yes. If you see my social media, you will know.
My most recent trip was when we drove down from Mumbai to Chandigarh over four days.
We took our first stop at Ahmedabad and then in Udaipur. Then we went to Jaipur, Delhi, and finally, Chandigarh.
It was all impromptu.
There were no reservations, no plans whatsoever.
The planning was on the go. You get to see the real India.
Which is your favourite trip with your wife Divyanka Tripathi?
Our most favourite trip would be when we were in the UK and were driving from Cardiff in Wales to Scotland to Edinburgh. That road trip was extremely beautiful.
Another favourite is the trip we did in Ladakh during the shoot of this film. The bikes that we rode on and the fun we had is something that cannot be described in words.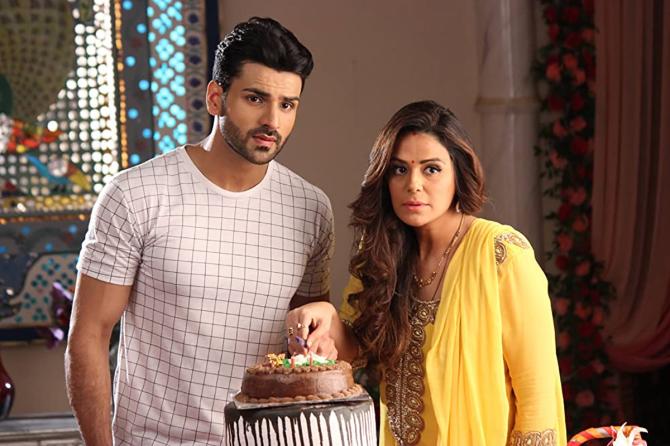 Actors who once ruled television are moving to films or the streaming space. Will TV take a backseat for you?
Yes, because I have not done TV for quite some time now.
It's been four years, so it has already taken a backseat.
Having said that, I never say never to anything because nowadays, TV is also evolving.
If something nice and experimental is being made, I may do that.
I don't want to bind myself to Web or films or TV.
I want to transition between the three smoothly.
I hope that our industry permits that because once you do TV, you won't get films. So that is really annoying.
I wish we were more accepting of the talent more than the platform.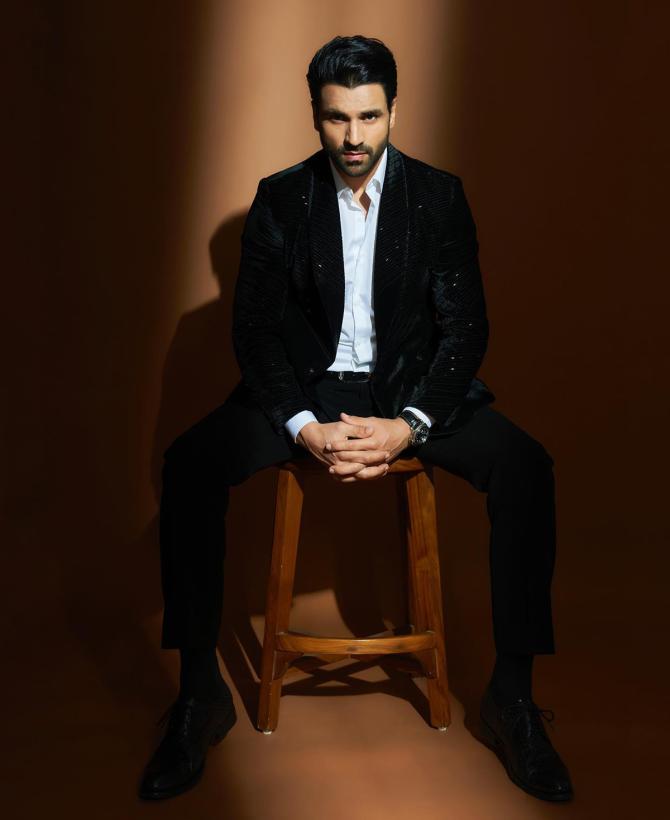 What challenges did you encounter as a TV actor coming to films starting out afresh?
Because I had decided that I wanted to focus on films, I need not give out a message in public, right?
I was still being approached for television shows and I had to turn them down.
I had to say no because until that happens, you will never be able to do films.
First of all, it is very difficult to say no to work, and I was doing well on daily soaps back then.
I was being compensated really well too.
It takes a lot of strength to turn that down.
Meanwhile, I was auditioning and preparing. I would get shortlisted too.
It happened many times where I was so close to getting the project and then at the last minute, something would transpire and it would go to someone else, someone who was already doing films or somebody who was, you know, known to someone.
So it was very disheartening -- you are working so hard and saying no to other projects...
And I was auditioning... It's not like I am asking somebody to cast me without being tested.
You have found me eligible and you think I am the perfect cast, then why don't you give me work?
That used to happen only because I have done TV.
At the last minute, the producer or the director or the platform would say, 'Let's not cast him. He is too TV.'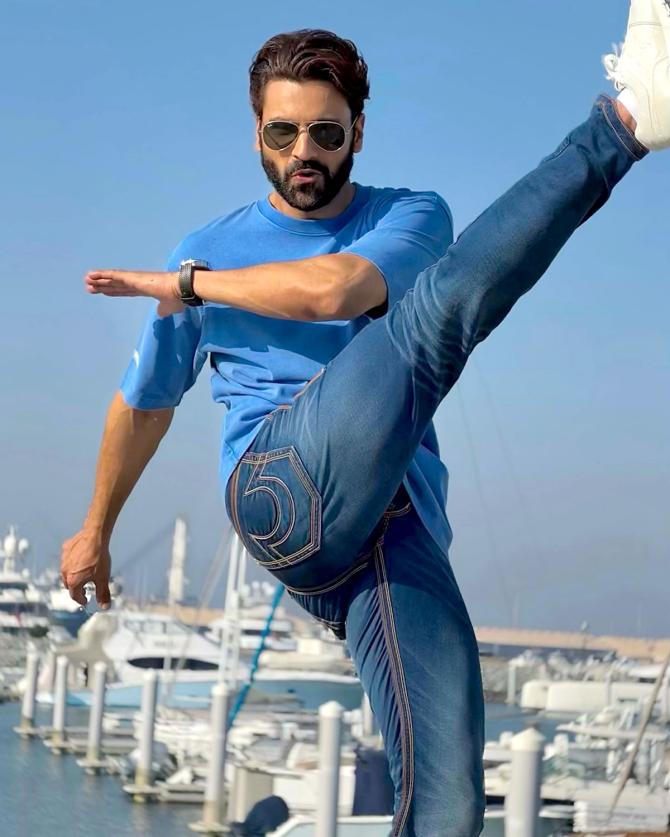 A sentence on your Wikipedia page says: 'I am a typical Jatt, and at times I don't have filters.' Have you got yourself into trouble because you have no filters?
Many times. While coming home, I realise that, 'Oh my God! What do I do?'
I have to start applying filters because I just blurt out things.
I still get into hot water when I have said something I shouldn't have.
I mean, we come across a lot of powerful people, who are surrounded by yes-men.
What happens is when a person makes a film, he puts his heart and soul into it. Then they ask you for feedback and you say, 'It's a great film.'
But then they say, 'Be honest.' They are saying that, but they actually don't want your honesty. It took me a lot of time to understand that.
There was this first-time film-maker, and I was supposed to do his next film. He called me to a studio where his first film was being edited, and asked for my opinion.
I said, 'Why have you done this? This is not looking good.'
I never heard from that person again.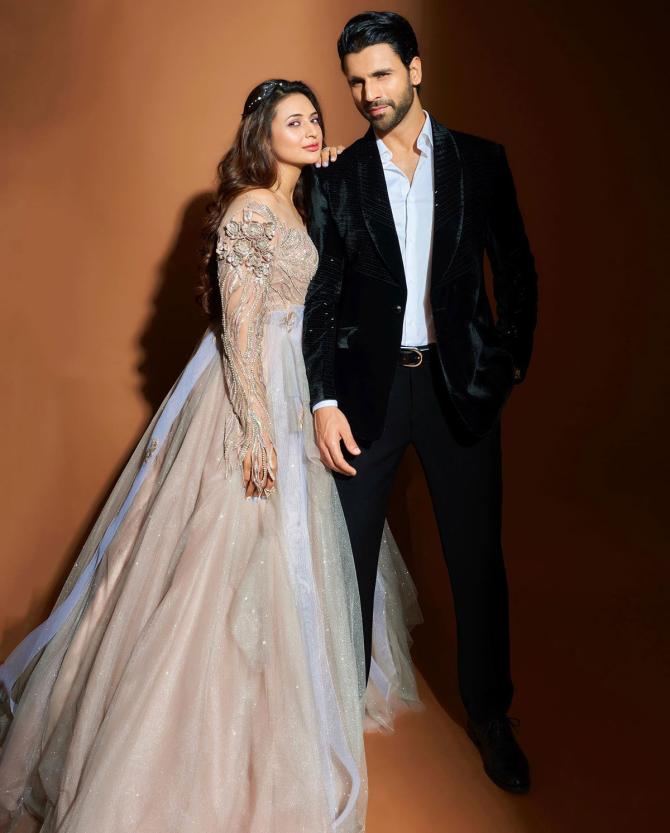 Did being married change your outlook on life?
Yeah, you become more aware.
Actually, there are some things that you start learning about yourself through a partner or you never really reflected upon yourself as deeply as you think you have.
You realise that actually, I am not perfect. I am also flawed. I also have weaknesses.
What do you want to achieve professionally?
I want to be a part of great content.
I consider myself versatile enough to get offered good parts and challenging roles.
I want to do action films.
I want to do comedy films.
I want to do romance.
I want to do everything, really.
I have just begun.
This is just the beginning; there is a whole career ahead of me and I am very excited about it.