Shonali Bose's The Sky Is Pink will have its world premiere at the Toronto International Film Festival in September.
Starring Priyanka Chopra, Farhan Akhtar, Zaira Wasim, Rohit Saraf, The Sky Is Pink is based on the true story of a couple told through the eyes of their teenage daughter who was diagnosed with a terminal illness.
'Hearts filled with gratitude and joy! Proud to share the news of the world premiere of #TheSkyIsPink at the @tiff_net on September 13. Releasing in cinemas on October 11!' Farhan exulted on Instagram.
Memories from The Sky Is Pink shoot: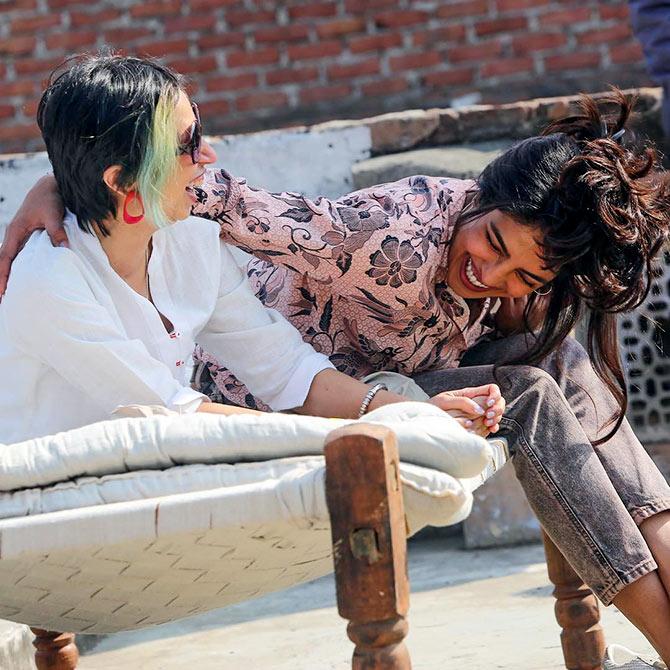 'I form a deep umbilical cord between me and my actors for them to perform the difficult things I require them to - rendering them emotionally naked. Very quickly I formed an intense one with you my darling Pri', Shoni says about Mrs Jonas.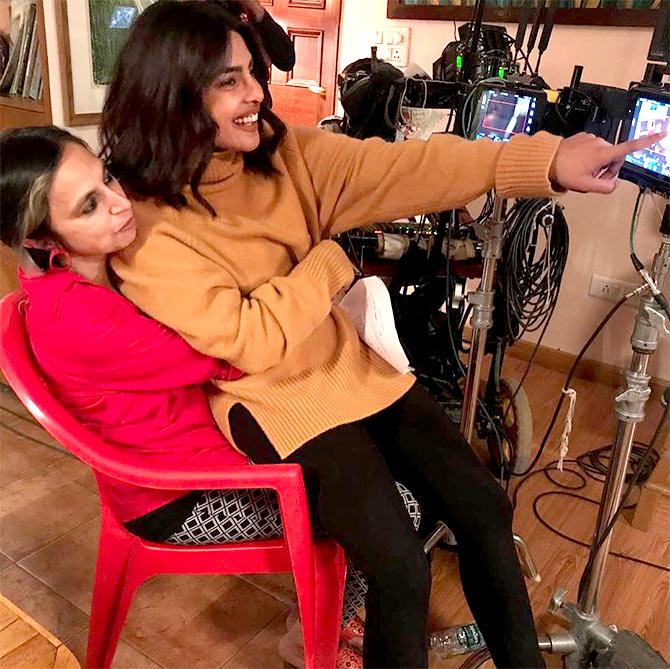 'And so tonight on the eve of such a massive life altering journey that you are about to embark on - I am feeling quite misty eyed. You were courageous enough to shoot such wrenching things with me mere days before one of the happiest days of your life' Shonali tells Priyanka on the eve of her nuptials.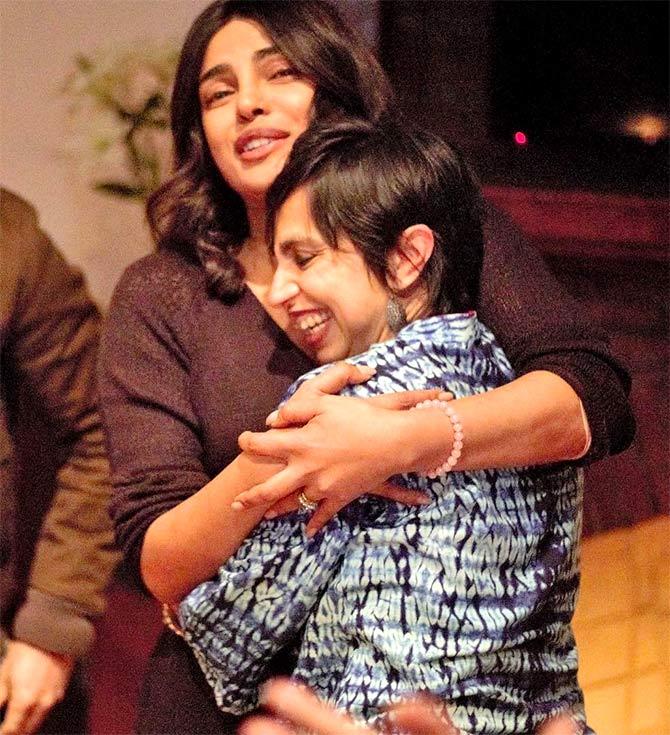 'I will be ever grateful for that. Happy happy happy wedding day sweetheart. And all the verrrrrrry best for this new leg of life. See you very soon back on set as Ms PCJ. Chummas. @priyankachopra #theskyispink #bridetobe. #directorlove'.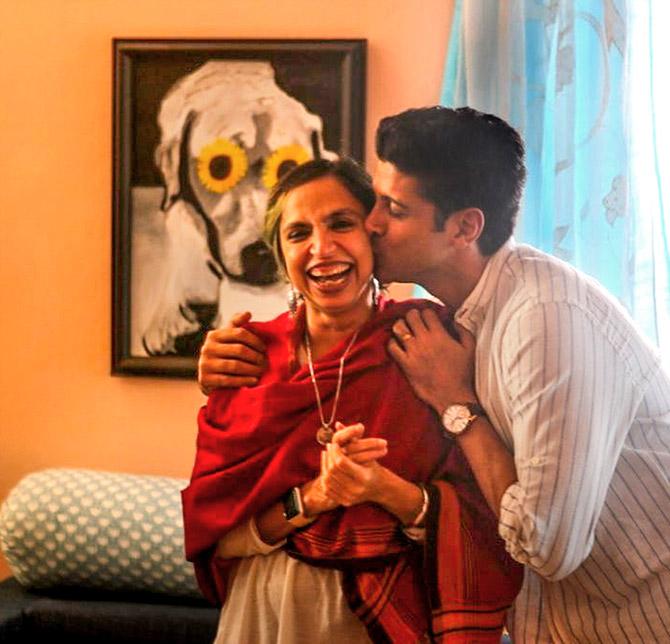 'The Sky is Pink is my first film in which I had a male protagonist equal to the female. All my other films have been female led. I was very intimidated about directing Farhan as he's such a good director himself. He disarmed me at our very first meeting by saying he was extremely nervous about doing this complex role and would need me to hold his hand through it'.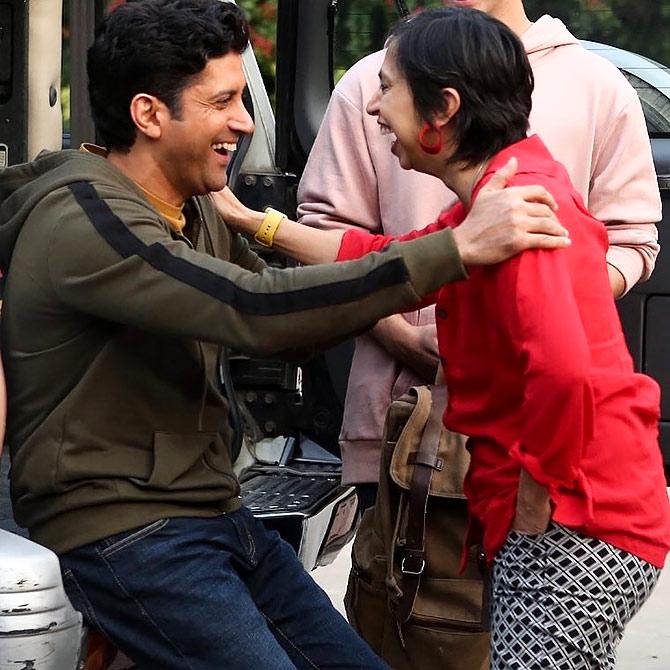 'He didn't need much hand holding from me as he rose to very fine performances by himself. But we formed a lovely special bond as Director-Hero and PC always joked that I was partial to my Hero. Lies!!! Thank you Fa for being a dream actor to direct. Loved every minute of working with you'.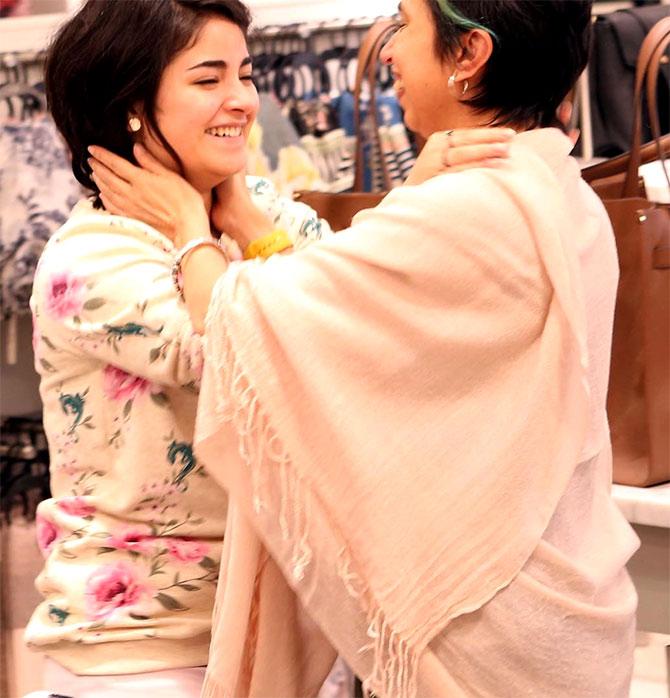 'My Baby Zai - the youngest member of the Chaudhary family with the toughest role of being in an inspiring dead girl's shoes.....But you did it with utmost ease and poise. I connected at a deep level with you right from the beginning when I rushed to Srinagar on reading your courageous tweet about your depression and anxiety', Shonali posts about Zaira Wasim, who has now given her acting ambitions.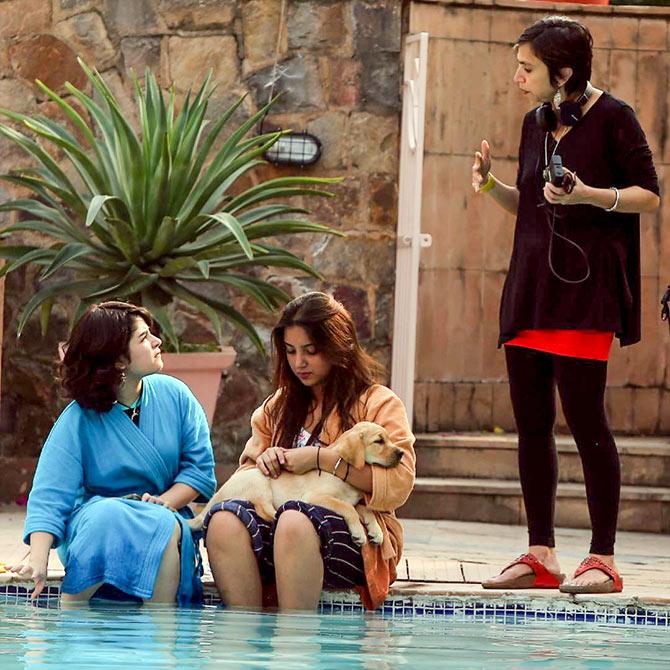 'We did that wonderful dance meditation and I convinced you it would all be ok and we could do this together. And we did. You did. On top of it all you were my brightest ray of sunshine on set', Shonali recalls about Zaira.
'I felt so happy whenever you were on set. You confronted your own fears of water and dogs. You surpassed your own brilliant self in this film. And on the last day you killed it while we almost killed you shooting from 11am - 330am! I'll be forever grateful my little rockstar for our journey together'.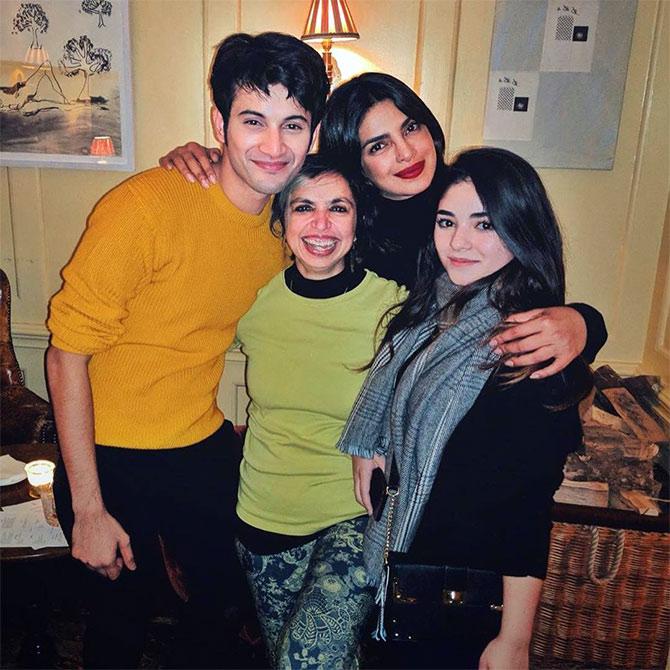 The last actor Shonali introduces is Rohit Saraf.
'The final member of the Chaudhary family and my kaleje ka tukra - Rohit Saraf playing the brother of Aisha Chaudhary. From the time I met Aditi and heard Aisha's story I knew it was meant for me and the Universe was guiding this as her brother's name is Ishaan!'
'Same as my dead son's. My angel who is guiding this from above', Shonali writes about her son who was electrocuted when using an electric razor.
'I instantly formed a deep bond with both the real Ishaan Chaudhary and Rohit the actor to play him. And he was brilliant. Thank you Rohit darling boy for being such a directable, accessible actor unafraid to go to your deepest self and darkest emotional places. It was extremely challenging for you to join this family with 3 formidable stars playing the other members'.
'You fit in perfectly and did it with confidence and elan. Only I know the internal struggle you went through to come out as a conqueror. The world will see you shine - My Ishlu'.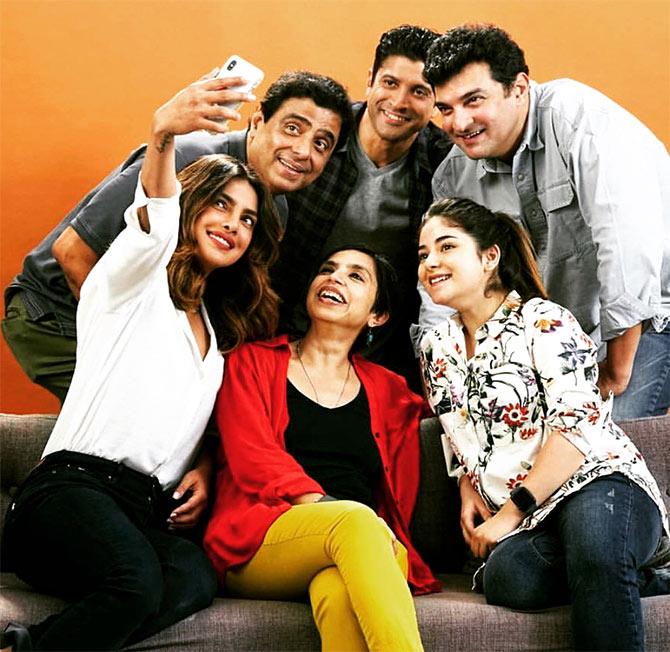 'Day 1 of shoot is here. Wish us luck..' says Farhan.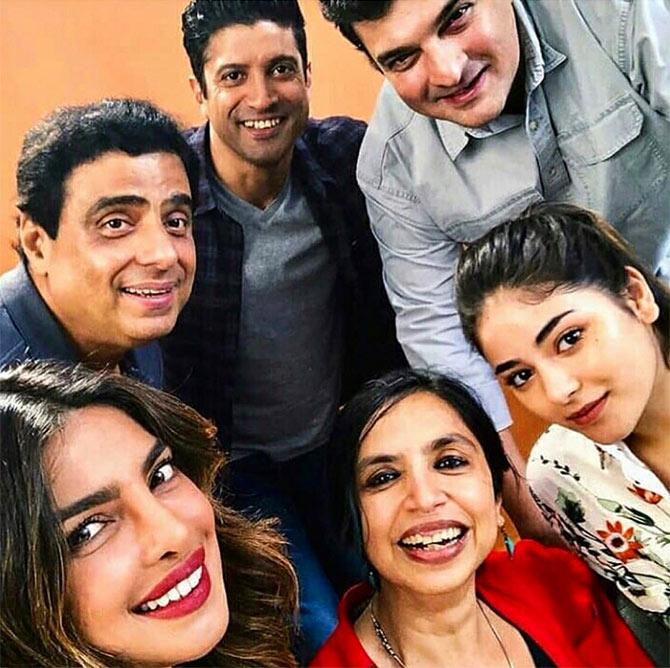 'I'm so excited and happy about today..Some stories just need to be told. In the spirit of Aisha Chaudhary and her incredible parents Aditi and Niren we bring you our tentatively titled super special project The Sky is pink. Going on floors today. God Speed', Priyanka notes before the shoot began.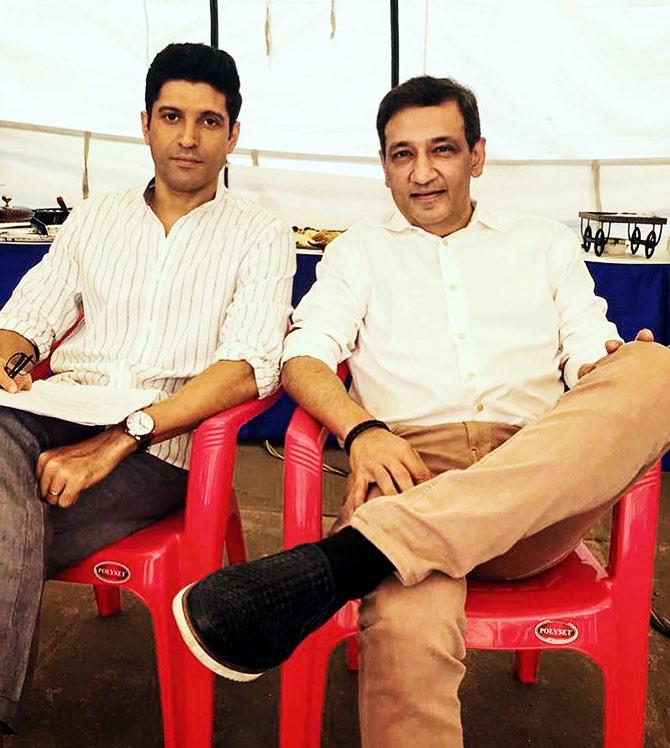 The real Niren Chaudhary with the the reel Niren Chaudhary: 'Those men in their red chairs. The reel and the real @chaudharyniren'.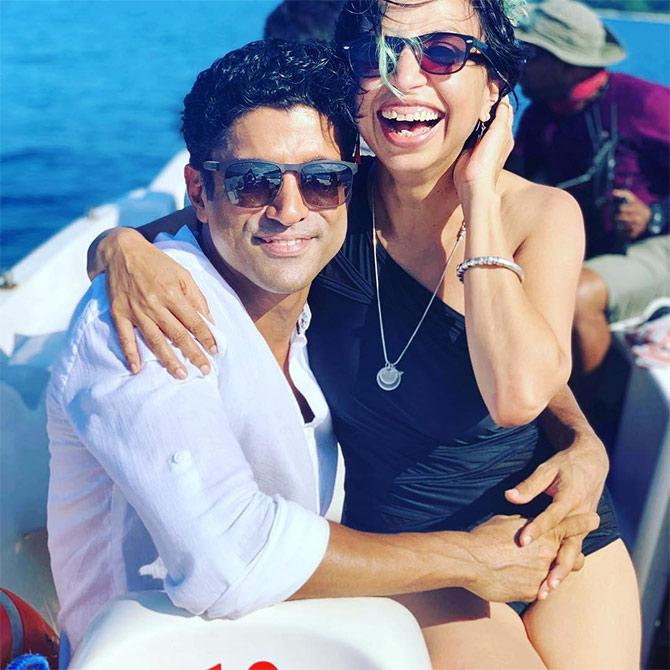 Shonali posted pictures from the Andaman shoot: 'Just got back from a glorious Andamans shoot with my hottie brilliant and brave actors who are as entertaining off set as on and such fun company to be with'.
'Quite novel to be directing in a bathing suit and in the deep ocean. But if my actors are going to get hit by waves so am I!'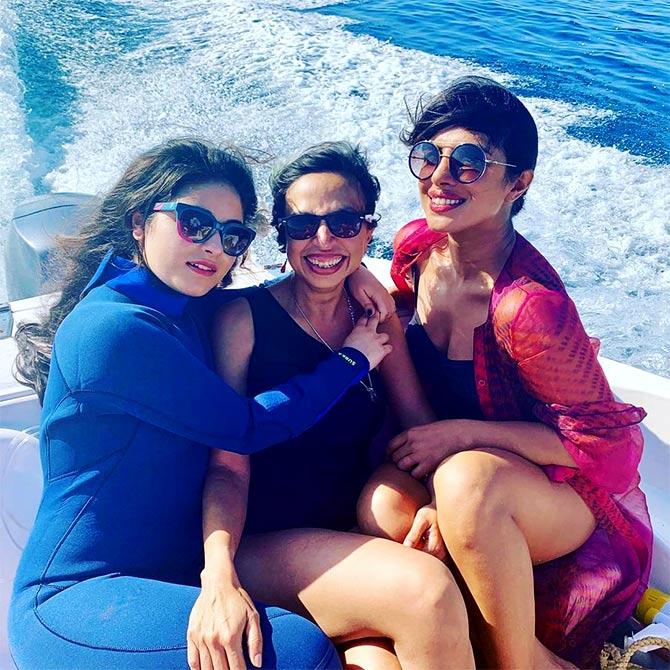 'At one point I had to swim far out to the boat causing my darling producer Sid some anxious moments as I was a mere blob in the waves! Loved every minute', she adds.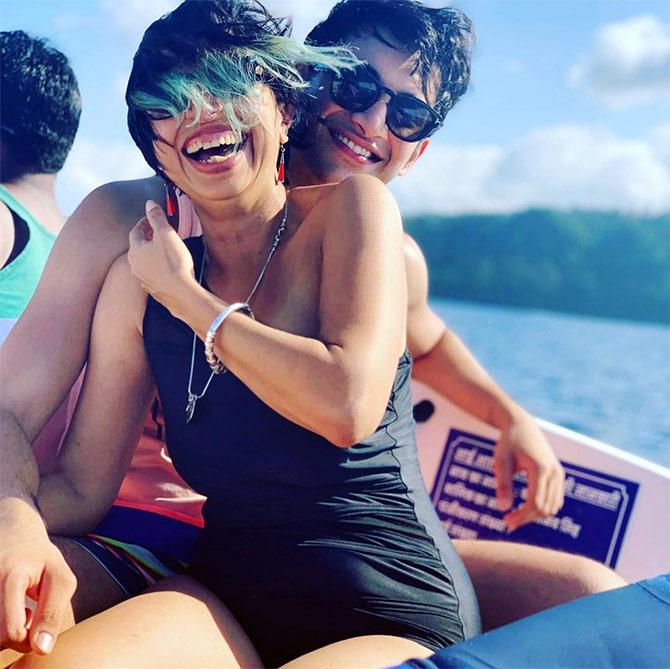 'And felt my Ishan's protection and presence at some miraculous moments. @priyankachopra @faroutakhtar @rohitsaraf10 @zairawasim_ Thanks guys for doing all that you did for me and the film. Your commitment is unparalleled. Love y'all'.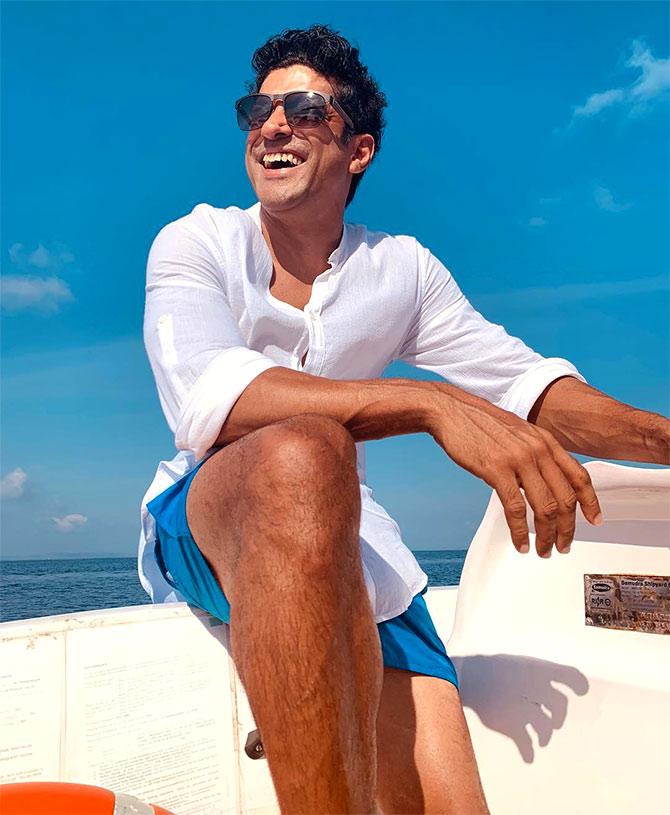 Dashing Farhan!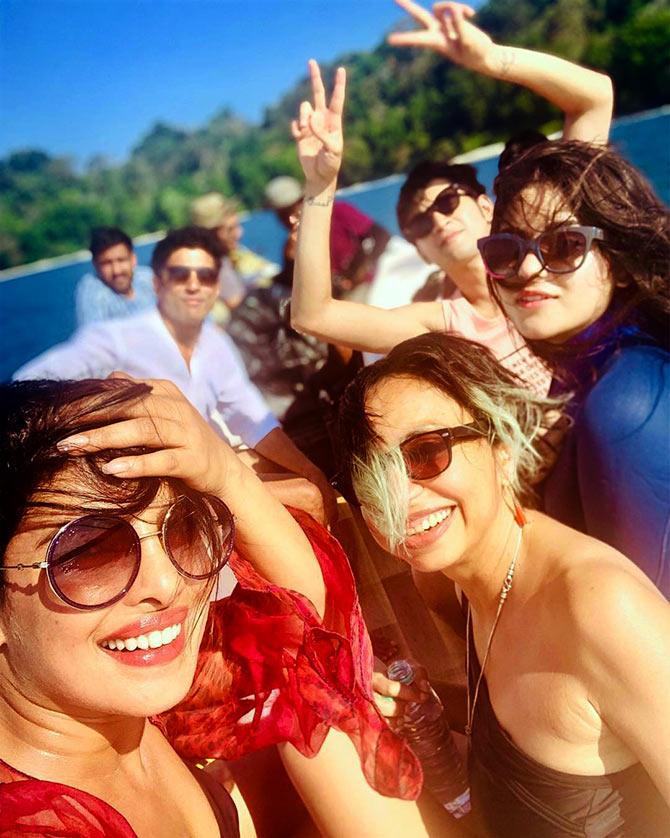 'Sun, surf, sand, selfie..': Farhan's motto.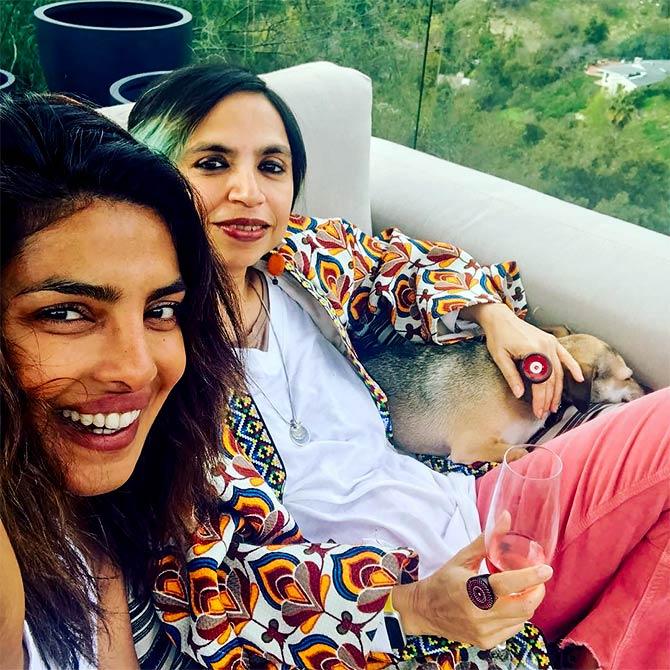 Shonali shares an anecdote from Chittagong, which was directed by her former husband Bedabrata Pain: 'A quarter century ago I became a mother for the first time in my life. Today is that radiant child's 25th birthday and I'm in the middle of celebrations feeling blessed and joyous. He gifted me a pair of pink pants (a complete sign for The Sky is Pink) - the story is too convoluted to put down but he totally gifted me them'.
'Last year on his birthday I woke up to a text that Priyanka had read my script and could I fly to New York'.
'I knew right then that this was from Ishan and he was blessing the film. And it would be a magical journey and it was'.
'All year I felt him so strongly. Through joy and sorrow - holding me like a rose in the palm of his hand. His wise brother told me at breakfast today as I chomped down a grilled cheese sandwich and hash browns in IHOP (I break my diet on his birthday and Deathday) that my relationship with him was so strong it defeated death and went beyond it'.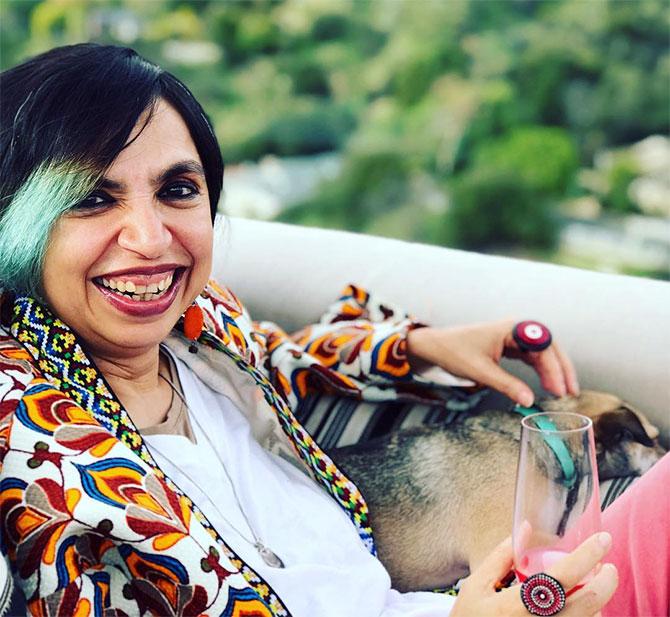 'I have indeed felt it grow and deepen year by year. While shooting the Deathday scene in The Sky is Pink - I felt only light and joy and could hold all my actors and crew in my arms with strength as they were struggling. Pri used some of my stories of Ishan to draw from for her performance'.
'Once she turned to me before a take and asked if she could call Ishan (the character in the movie) - Ishlu - my name for my son. I was so moved. And so it was lovely to celebrate with her in the middle of the birthday today'.
'She insisted on opening champagne and would not allow me to have green tea! And we toasted him up in the sky on this lovely sunny day. More celebrations ahead with my besties Gee and Kittu and Viv and me gorging more junk at California a Pizza Kitchen (I ordered from there for Ishan's last birthday meal - his 16th - while we were shooting Chittagong. He was so thrilled and psyched that I could do that all the way from Lataguri, Bengal).'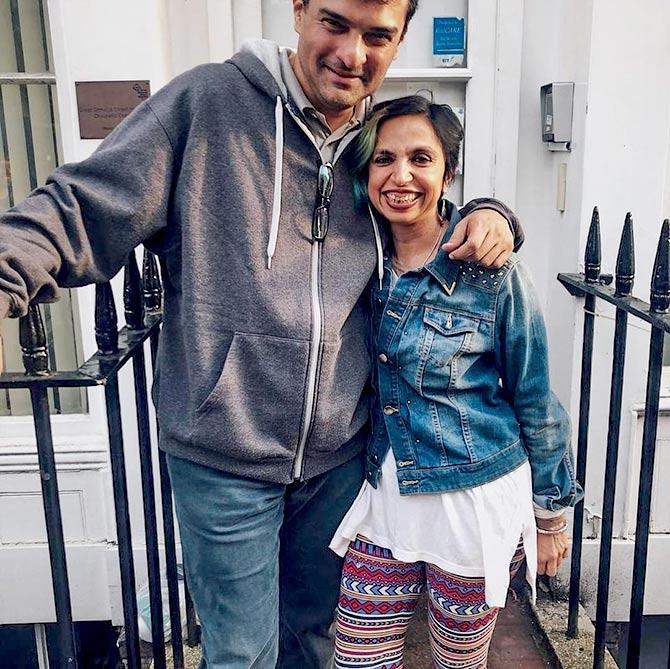 Speaking about Producers Siddharth Roy Kapur and Ronnie Screwvala, Shonali says 'Happiness is...when both your producers get emotional just watching the basic line up of your film. I was terrified and couldn't watch it myself till after they watched. And then I was over the moon to get such a warm response from both of them. For me this is the prize. This is my first big film and I was scared I would not be able to deliver what the expectations of me were'.
'I've always produced my own films and only had me to answer to. This time I have two of the bestest producers in the country and their affirmation is my everything. Thank you from the bottom of my heart - Ronnie and Sid - you've just been amazing. Loving every moment of this journey with you'.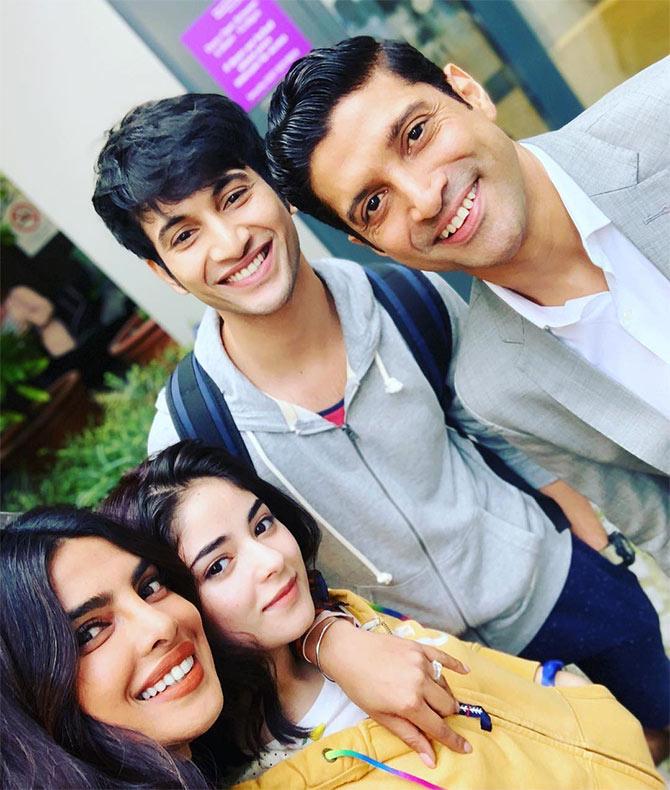 A selfie from The Sky is Pink shoot in London.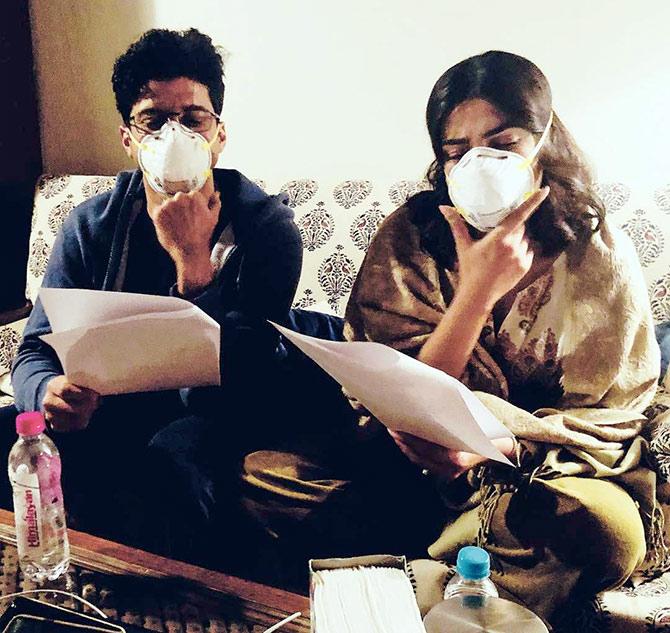 A rehearsal in Delhi, 'Masking our emotions in the Delhi air. @priyankachopra your pose is just right'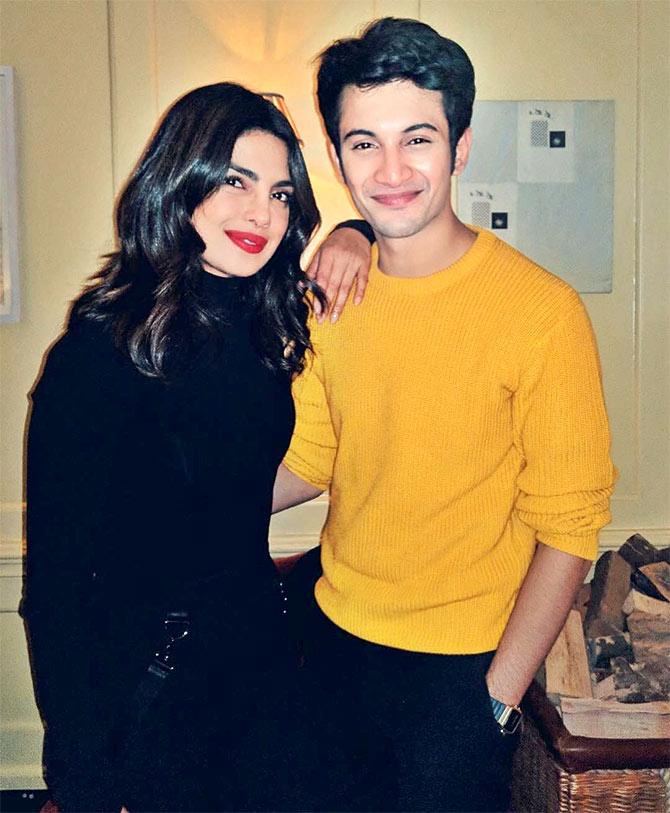 Rohit Saraf points out 'Living the dream, every second of my life!'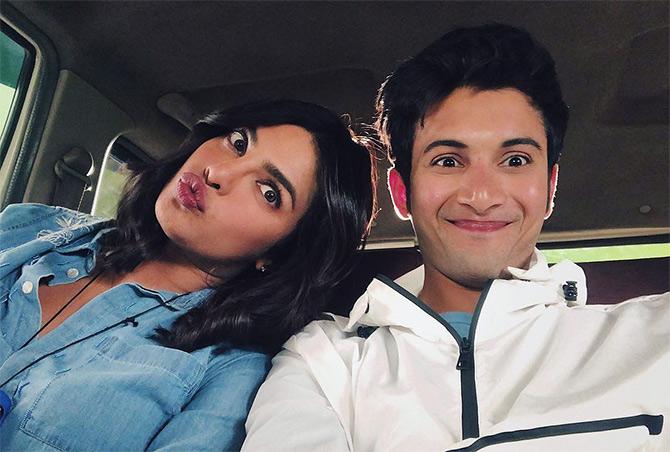 'So much lost, so much found.'
'Shared silences, unexpected closures, new inspirations, bigger aspirations.. it's been a rich journey. My heart feels full and I feel content'.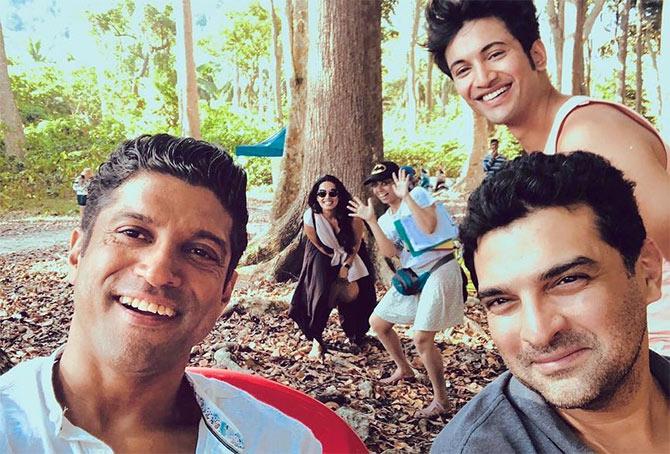 'And with all these emotions, I'll never see a coloured sky the same way again. It's a wrap on #TheSkyIsPink'.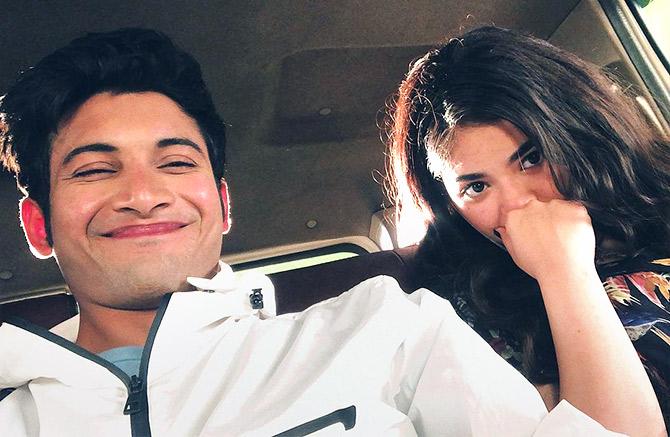 'I lived it and I loved it. Thanks to everyone who were a part of it. See y'all on 11th October'19!!'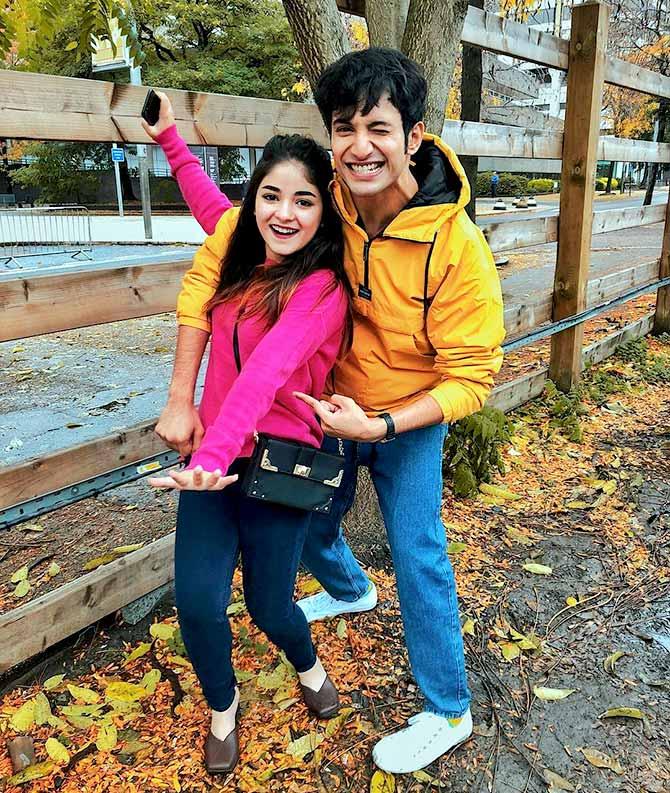 'It's a schedule wrap for #TheSkyIsPink. Thank you #London'.
Shonali posted pictures from the wrap up party: 'And it's a Picture Wrap (All But Song) finally on this momentous journey of shooting The Sky is Pink. It's been almost 9 months since we started shooting - with weddings and album releases for my actors in between'.
'It's very different than when you wrap a single schedule. So though I haven't shot more days for this film from my previous ones it feels like a lifetime since I started because of the scattered schedule. No wonder I have post partum blues now'.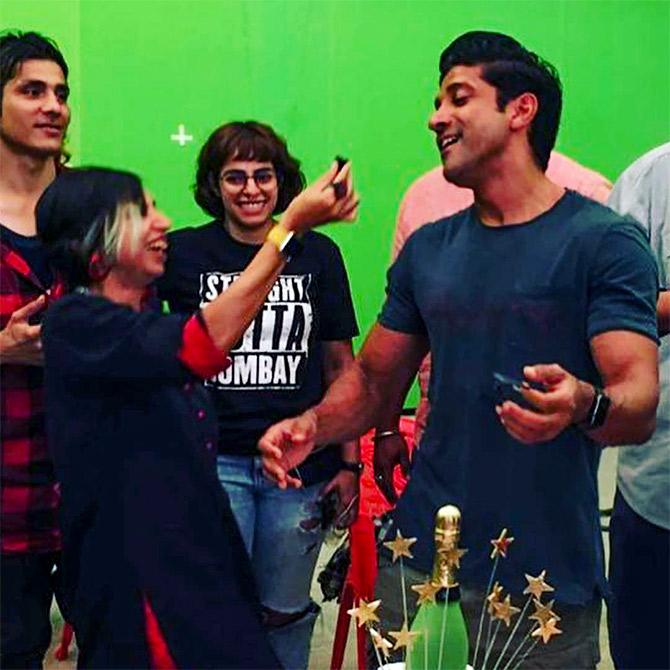 'I literally have a baby at the end of the shoot gifted me by the Art Department! Our nakli baby for some scenes. He feels so real in my arms. Of course I've named him Ishlu. As he has been the magical light bathing this film'.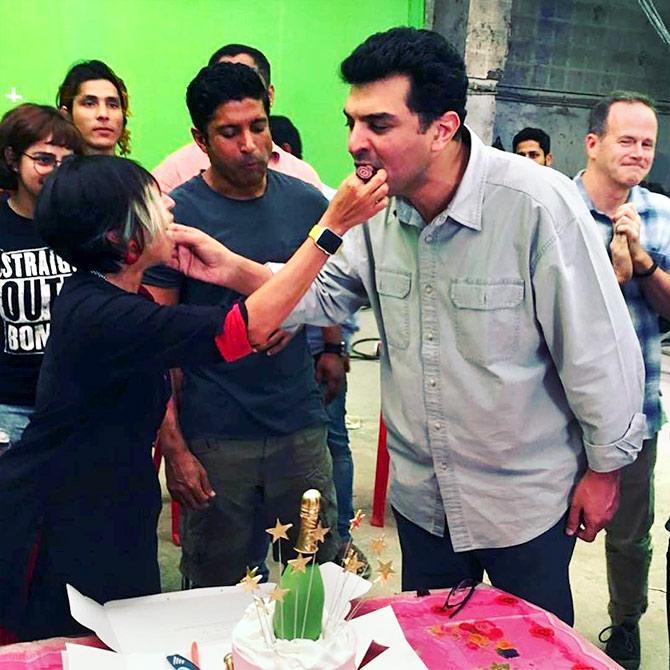 'I feel blessed with the Producers, Cast and Crew I had on this journey. I miss everyone already. Thank god we still have a song to shoot. Now it's a race for the Oct 11 release'.