Indians took to social media to pay their respects.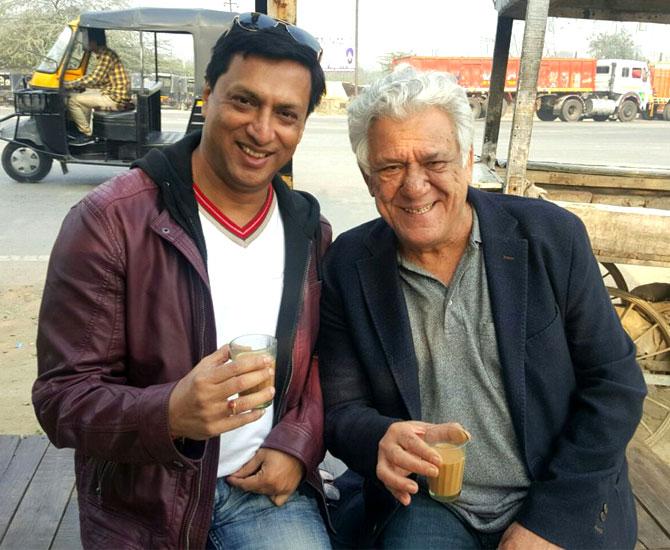 Legendary actor Om Puri passed into the ages on Friday morning.
Bolywood personalities took to social media to mourn his untimely death.
Shabana Azmi: Om Puri! You have left us all too early.. i am so so sorry..The fun the laughter the arguments so vividly etched in my mind..Will miss you
Amitabh Bachchan: Shocked to learn of OM PURI Ji's passing just now.. a dear friend a lovable colleague and an exceptional talent .. in grief !
Akshay Kumar: Sad to hear about the passing away of the very talented Om Puri, my co-actor in many films...heartfelt condolences to the family. #RIP
Sidharth Malhotra: Really sad to hear #Ompuri sir is no more,a genius performer ! My thoughts n prayers are with his family
Nawazuddin Siddiqui: The Best Actor in World, An inspiration 2 me & many, he was suppose 2 work with me in Manto.Deeply saddened by da news, RIP #OmPuri Saab
Ayushmann Khurrana: RIP #OmPuri saab. You've given us acting goals. You'll always be immortal with such a fine filmography. Tamas, jaane bhi do yaaro, chachi420
Shekhar Kapur: Devastated by news of Omji's death. One of India's finest actors, he spearheaded realism in India cinema n brought dignity to it #OmPuri. From sheer intensity of 'Ardh Sathya' to the overpowering charm of '100 feet journey' there was no actor like Om puri
Rithvik Dhanjani: The industry has lost a gem today a man who gave life to so many characters beyond imagination RIP #OmPuri ji
Johny Lever: A great actor & human being, Omji was my friend and neighbour. Sabse miljulkar rehne wala insaan, has left us...May his soul R.I.P. #OmPuri
Anushka Sharma: OmPuri's talent and versatility has brought so many characters to life. An inspiration to many actors. May his soul rest in peace.
Mahira Khan: The world loses a great artist, truly one of Indian cinema's http://best.Rest In Peace #OmPuri
Daisy Shah: Can't believe that the legendary actor #OmPuri ji is no more. Certainly a black Friday for Indian cinema.
Vishal Dadlani: In honour of #OmPuri saab & the bizarre times we live in, watch "Tamas" & "Jaane Bhi Do Yaaro". Both, still as unerringly accurate.
Sonam Kapoor: I remember driving with him every morning to set listening to old Hindi music during delhi6, So sorry to hear to hear of his passing #Ompuri
Kapil Sharma: It's sad to hear about the sudden demise of a great actor n friend Om puri sahib.. may his soul Rest In Peace.
Ali Asgar: Sad day ...Rest in peace 0m puri sir #OmPuri
Juhi Chawla: Sorry to hear of the passing of an amazing actor #OmPuri ji . Had the opportunity of working briefly in A Hundred Foot Journey ..
Parineeti Chopra: Om Puri saab,you put a small town like Ambala on the map.Will never forget the amazing conversations with you.Your legacy will live forever.
Sophie Choudry: A very sad day for cinema..One of our most gifted actors whose brilliant work here & abroad can never be forgotten #RIPOmPuri ji #OmPuri
Rahul Dev: Had the privilege of working with Om Ji in four films.A supreme talent, shocked to hear about his sad demise,can't believe it #RIP #OmPuri
Riteish Deshmukh: Shocked beyond words to learn that #OmPuri ji is no more. Will miss you sir. Condolences to the family. RIP #HugeLoss
Anupam Kher: I have known #OmPuri for d last 43yrs. For me he'll always b a great actor, a kind & generous man. And that is how world shud remember him.
PMO India: The Prime Minister condoles the passing away of actor Om Puri & recalls his long career in theatre & films.
Madhur Bhandarkar: Shocked to know that the immensely talented actor #OmPuri passed away. Big loss to our film industry. RIP.
Divya Dutta: This doesnt sink in.ompuri!!T super talented n witty one.Mymost cherished experience staging teri amrita with him.RIP sir..
Manoj Bajpayee: completely shocked to hear that om puri ji is no more.may his soul be blessed with peace!it will take long to come to terms with his demise!
Virender Sehwag: Condolences on the passing away of one of our finest ever actors #OmPuri
Karan Johar: Solid actor....Solid filmography....immense talent.... #RIPOmPuri ....cinema has truly lost a brilliant artist....actors
Boman Irani: RIP Om Puri. We have lost one of our finest. A talent, A Voice, A Spirit. Will miss you Puri Saab.
Kamal Haasan: So long Omji. Prided myself on being his friend peer & admirer. Who dare say my Om Puri is no more ? He lives through his work.
Varun Dhawan: Had meet #OmPuri sir a couple of months back only and had an amazing conversation.Saddened by his sudden demise. Rip #OmPuri ji.
Anupam Kher: #OmPuri lent dignity to d medium he worked for. Whether it was stage, TV or cinema. He elevated status of the projects was associated with.
Sunny Deol: Will miss you Omji ..will miss you..will miss you.
Rahul Bose: Worked w/ Om on an unreleased film. Funny, generous, warm & pitch perfect when the camera rolled. World cinema will miss him.
Sunny Leone: God bless #OmPuri 's family! Sad to hear this sad horrible news...R.I.P Om Puri Sir
Neetu N Chandra: Very sad to hear about #OmPuri jee. Rest in Peace A big lossssss
Sachin Tendulkar: You will live in our hearts forever through the impressions you have left with your versatility. We will miss you. RIP #OmPuri
Huma Qureshi: Cannot believe #OmPuri ji is no more .. spoke to him a few days back .. such an artist had the privilege of working with him recently .. RIP. It's such a sad day .. so much talent , humour, generosity and such compassion.. You will be missed much #OmPuri Abba
Alia Bhatt: Deeply saddened to hear about #OmPuri sir! He was such a huge part of the core of Indian cinema..RIP ! Truly and end of an era.
Jacqueline Fernandez: We lost a legend today. Your contribution to Indian cinema won't be forgotten #OmPuri
Mawra Hocane: RIP #OmPuri sir! You will always be remembered as the promoter of peace and Love between the two countries & for so much more...
Abhishek Bachchan: Very saddened by the news of Om Puri ji's passing. Worked with him on many films and learnt so much from him. Immense talent.
Shashi Tharoor: Stunned by the sudden demise of #OmPuri. Met him twice&admired him. InThiruvananthapuram he is mourned as a fine actor in 3 Malayalam films.
Sushant Singh Rajput: You were one of the finest we had. RIP Ompuri
Priyanka Chopra: The end of an era .... The legacy lives on.. RIP #OmPuri
Mohammad Kaif: My deepest condolences on the passing away of one of the most versatile actors of Indian Cinema.