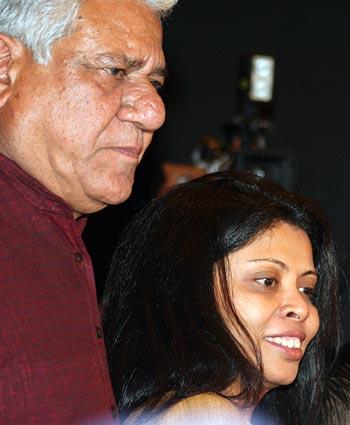 A court order has granted Om Puri and his wife Nandita a judicial separation.
A friend of the actor informs that the court verdict, in principle, gives the couple freedom to go separate ways, while remaining legally married.
Confirming this, Om Puri's lawyer Jalaja Nambiar said, "Om Puri has been granted a judicial separation and he has given his wife Nandita a maintenance amount that is unheard-of for in a judicial separation."
Says the friend, "To Om's relief, he has been granted unrestricted access to his 18-year old son Ishaan. The growing boy needs both his parents and Om's greatest fear was that any breach in the marriage would affect his equation with Ishaan."
"However, the court order very clearly gives Om unlimited visiting rights vis-à-vis his son. In fact, last week Om went for a holiday to Khandala with his son."
The only restriction imposed on the interaction between the two parties is that Om and Nandita cannot meet without the presence of a third party.