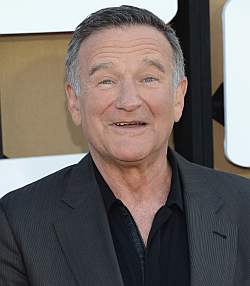 Raja Sen doffs his cap to Robin Williams, a comedian who believed in going all-out."
To me, he'll always be bright blue and forty feet tall.
Robin Williams, that most smiling of shape-shifters, that most ridiculously energetic of Academy Award winners, that man who defined both drag and deceased poets in our movies, is dead. It feels surreal just typing that and thinking "no more Mork." It feels peculiar and untimely and leaves a startlingly bitter taste in the mouth, because Williams -- with his hyperactive, go-for-broke zeal -- did anything he could to make us laugh. It is, make no mistake, a sad, sad day for the movies.
From voices to costumes, from impressions of vintage stars to creating his own outlandish characters, Williams threw the comedic kitchen sink at us, daring us not to laugh. Like his character in Good Morning, Vietnam, Williams was best when far out on a limb. And he made Hook -- where he played a grown-up Peter Pan who refused to, well, grow up -- look autobiographical.
Over the last decade or so, as comedy turned into a dryer art form, it's easy to look at Williams' more recent films and television appearances and label them desperate, with the actor propelling forth with his trademark rat-a-tat gusto.
But then isn't there something immeasurably wonderful about a man desperate to please us? Doing absolutely everything he can to give us all a snicker, a chuckle, a great big belly-laugh? He who goes the whole hog rarely believes in half-measures, and Williams was, above all, an entertainer.
I remember watching him, this Oscar-winning actor, on relatively recent episodes of the American version of the improved comedy show Whose Line Is It Anyway, just one of the gang with no stardust around him, and being the loudest, most farcical, most gleefully nutty. It's worth saluting.
We all have our favourite Robin Williams parts, and -- perhaps because I was eleven at the time it came out -- mine was the genie in Disney's Aladdin, a boisterous blue rubber-faced marvel who could do nearly anything. He hurled references from an already dated pop-culture at us, ones those of us faraway from Arsenio Hall could never quite comprehend, but it never mattered because of how delightfully heady his garrulousness was. I get all he meant now, but I fell for that character then without knowing, a lot of the time, just what he was winking at while singing. Just like Dead Poets Society where he, introducing us to Whitman, taught many of my age what "Carpe Diem" meant, Aladdin made me look up what a "Maitre'D" was.
Williams was a solid dramatic actor as well, one who mustered up a fair bit of pathos, often, naturally, in a Pagliacci vein. But as we read depressingly about his life, his crushing sadness and his apparent decision to end it himself, it is clear that the sad clown left behind a sadder audience. And that he'd do even better at making angels laugh.
Goodbye, Robin. We'll rub on lamps forever because you made us believe.
Image Courtesy: Jason Kempin/Getty Images.