To be able to bid farewell to Daniel Craig is an emotion all fans of the Bond franchise must experience, feels Aseem Chhabra.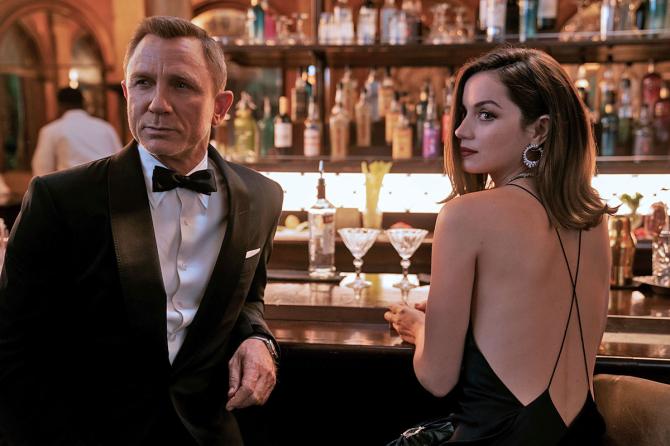 No Time to Die is quite a party.
Old friends, nemesis and new ones show up to mark the end of an era, as such -- the five-part James Bond 007 series of films that lasted 15 years, starting with Casino Royale (2006) and concluding with the latest offering, the Bond 25 project.
And it is a party to bid farewell to Daniel Craig who, at 53, has proven to be the best Bond of all.
Like the Bonds who came before him, Craig's 007 is suave, cool, sexy, witty, wears handsomely stitched suits and is great in action sequences, while also seducing women.
But unlike the other Bonds who seemed tad bit mechanical and predictable, Craig -- under the visions of directors Martin Campbell (Casino Royale), Marc Forster (Quantum of Solace), Sam Mendes (Skyfall and Spectre), and now the first American Cary Joji Fukunaga (No Time to Die) -- created a full-bodied human being, brooding, with feelings, emotions, guilt and carrying the weight of those who he loved and lost.
A Bond for this new century, Craig's 007 is a loyal friend. He cries, expresses his love and we immediately feel a connection with him.
In a way, Craig's Bond is no different from James Gandolfini's Tony Soprano, a ruthless mafia don, a brutal killer, who repeatedly cheated on his wife, but also fainted when he saw ducks in his backyard, and went through years of therapy.
CraIG's Bond also needed therapy but perhaps the only reason he did not seek professional help was because he had the emotional support (most of the time) from his three colleagues -- his boss M (Judy Dench and later Ralph Fiennes), Q (Ben Whishaw), who finally comes out as a gay man in No Time to Die and M's assistant Eve Moneypenny (Naomie Harris).
No Time to Die opens with Madeleine Swann's memory of a stranger with a white mask coming to her house when she was a kid (a story she also narrated in Spectre).
But while this visitor Lyutsifer Safin, in search of Swann's father Mr White, killed her mother, he saved her life.
Safin will later show up in No Time to Die and is played by an awkwardly cast Rami Malek.
With stunning cinematography by Linus Sandgren (La La Land) and the soaring music composed by Hans Zimmer (Dunkirk, Rain Man), we flash forward.
Swann is now living with Bond, who has retired from the professional life of an agent for MI6.
Swann arranges for Bond to visit the grave of his late love Vesper Lynd (Eva Green), who we met in Casino Royale. Bond was not able to save Lynd's life even though he knew she had double crossed him.
Despite his retirement in No Time to Die, Bond's life gets so complicated that once again, he is hounded by trust issues. He begins to believe that Swann may have also double crossed him.
The party I mentioned earlier gets more interesting when Bond gets a call and a request from his CIA agent friend Felix Leiter (Jeffrey Wright).
The call will set in motion Bond'S temporary return to his life as a secret agent, still hunted and chased by Spectre agents, and a trip to Cuba where he briefly meets another agent Paloma (the gorgeous Ana De Armas).
Back in London, MI6 is doing fine without James Bond and they have already assigned the 007 status to another person Nomi, a black woman played by Lashana Lynch. There are some hilarious moments between Nomi and Bond as their insecurities play up, until the two start to work well together.
Clearly, the producers are listening to the voices of fans of the franchise and saying, 'Hey, we are open to all possibilities when it comes to who will succeed Daniel Craig as 007'.
The official selection of Craig's successor will not happen until next year but seeing a black actor portray the character who only turned blond five films ago (the previous Bonds were white actors with black hair) is an exciting promise.
At 163 minutes, No Time to Die is the longest Bond film so far and at times, the narrative gets overburdened by the subplots.
Perhaps it has to do with the fact there are four scriptwriters on this project, including Fukunaga and the wonderful Phoebe Waller-Bridge. Waller-Bridge is a genius who can create Killing Eve as well as Fleabag.
Perhaps the length of the film becomes an issue since there are fewer chase sequences in No Time to Die.
And the film does not have a capable villain who can carry Bond's passion for action forward.
The best two villains Daniel Craig encountered were Le Chiffre (Mads Mikkelsen) in Casino Royale and Silva (Javier Bardem) in Skyfall.
In the new film, Christopher Waltz makes a brief appearance as Ernst Stavro Blofeld (without his cat this time) but he had a stronger presence in Spectre.
And I mentioned earlier Rami Malek is just not impressive in the film.
The length of No Time to Die also matters, given that most of us have not been in theatres for a year-and-a-half.
Images projected on the big screen look amazing but to sit with a mask on and two sets of glasses (I watched the 3D version of the film) can be a challenge.
But none of this overrides the fact that we are grateful the new James Bond film finally opened 18 months after its scheduled release date of April 2020. We are still living in the times of the pandemic but we are also thrilled to be able to return to movie theatres to watch films on the big screen.
And to be able to bid farewell to Daniel Craig (thankfully, he is not quitting films) is an emotion all fans of the Bond franchise must experience.
Rediff Rating: