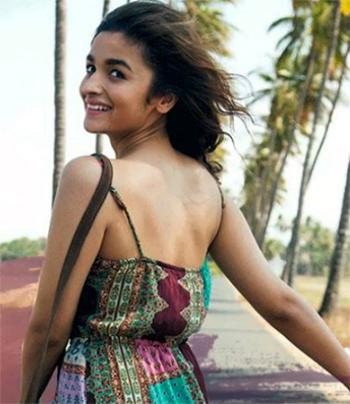 'I would feel bad when Shah Rukh Khan wouldn't eat.'
'During the shooting, the set would be very quiet. Nobody was allowed to speak as the scenes were heavy. We would take long takes, run the whole scene.'
'Suddenly in the middle, I would hear some sounds coming from his stomach.'
'So he would be given a biscuit or something.'
Alia Bhatt spills the beans.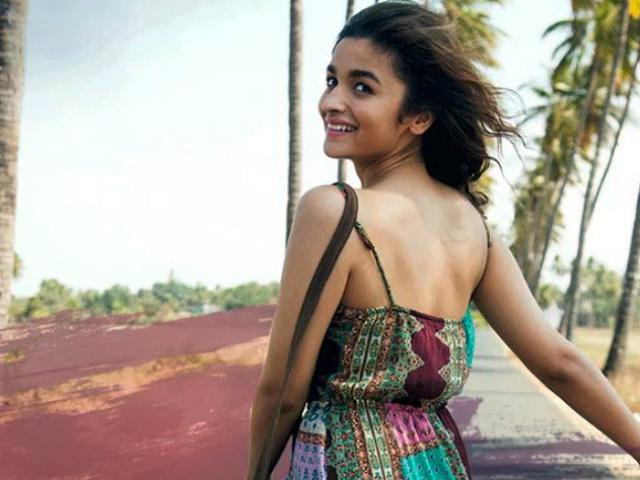 IMAGE: Alia Bhatt in Dear Zindagi
Like most of us, Alia Bhatt is addicted to her phone.
During the promotions of her new film Dear Zindagi, she forgot her phone in another room and got very upset with herself.
Yet, the actress was very obliging and dragged her heavy chair closer for a lively chat.
Wearing no make-up and looking very fresh, Alia cautions that she's a very secretive person and does not want to share much.
But she does open up about the film, her life, heartbreaks, Shah Rukh Khan and much more. Jahnavi Patel/ Rediff.com listens in.
Why is the film titled Dear Zindagi?
When you talk or write to someone, you address to them as 'dear'. So when you talk to life, what would you say? Hence, Dear Zindagi.
It's like a letter to life.
Could you relate to this character?
Yes, a lot!
I have related to this character the most from all my films because the situations are relatable.
There are some traits I can't relate to, like she is very impulsive. She says anything. But I think and speak.
She is moody, I relate to that.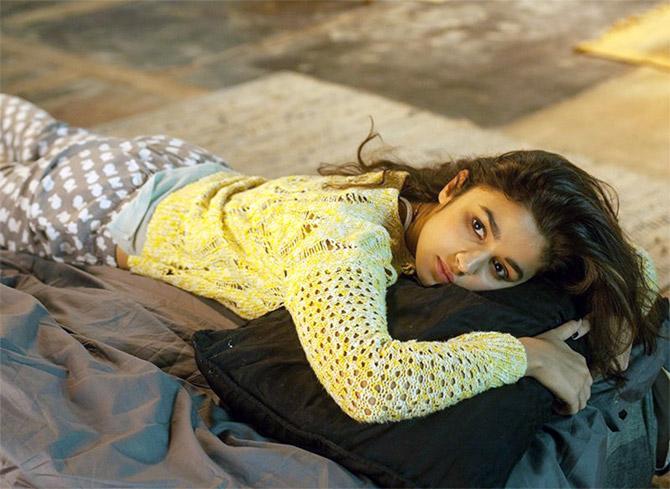 IMAGE: Alia Bhatt in Dear Zindagi
Have you told your dil to go to hell, like you do in the song, Just Go To Hell Dil.
Yes, of course. A lot of times.
When there is heartbreak, like a break up or if someone you love doesn't love you back, you say Just Go To Hell Dil.
There is no funda to deal with such things. With time, everything goes away.
Do you think today's generation deals with heartbreaks casually?
We should not judge anyone. People are doing what they want to for their own reasons.
I just feel that when you're in a relationship, you should know why you are doing this -- whether you want to do time pass or fall in love.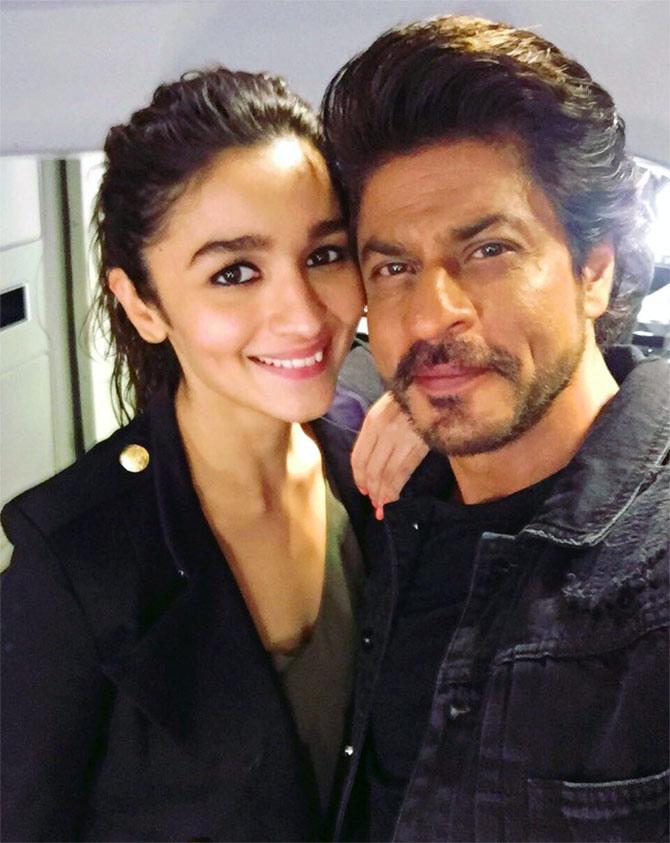 IMAGE: Alia Bhatt and Shah Rukh Khan. Photograph: Alia Bhatt/Instagram
What is your biggest take away from your co-star Shah Rukh Khan?
Even after so many years, being in the industry for 25 years, he still doesn't carry the baggage of being 'Shah Rukh Khan'. When he comes on set, he doesn't come as 'oh, I am Shah Rukh Khan'.
Obviously people see him as that but he doesn't come with that.
He will go out of his way to make you feel comfortable.
That quality is very rare, especially for a superstar like him.
He treats everybody like an equal.
Sometimes, when I would behave stupidly, he would be like, 'Baby, not now, later'.
We would talk about everything -- from brands, to what a particular poet said to how a table was made... he knows everything.
We are very similar in our thinking and behaviour. The gist of emotion is the same but the way we carry it out is different.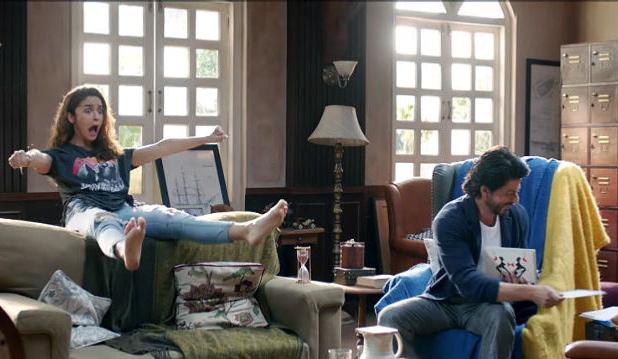 IMAGE: Alia Bhatt and Shah Rukh Khan in Dear Zindagi
Is there anything annoying about him?
I wouldn't say annoying but I would feel bad when he wouldn't eat.
During the shooting, the set would be very quiet. Nobody was allowed to speak as the scenes were heavy. We would take long takes, run the whole scene.
Suddenly in the middle, I would hear some sounds coming from his stomach.
So he would be given a biscuit or something.
He drinks a lot of coffee as well. I still tell him that he should eat.
Do you think Dear Zindagi will be the hit SRK needs?
He is Shah Rukh Khan! He is doing films because he is passionate about it.
Unko iski zaroorat nahi hai, chahat hai (Film aren't his need, they are his love).
Everybody has hits and flops but I feel he's looking to making some good, interesting and different kind of movies. He is doing all types of films, from Fan, Dear Zindagi, Raees, The Ring, Aanand L Rai's film…
It is very interesting that he is broadening his ground so much.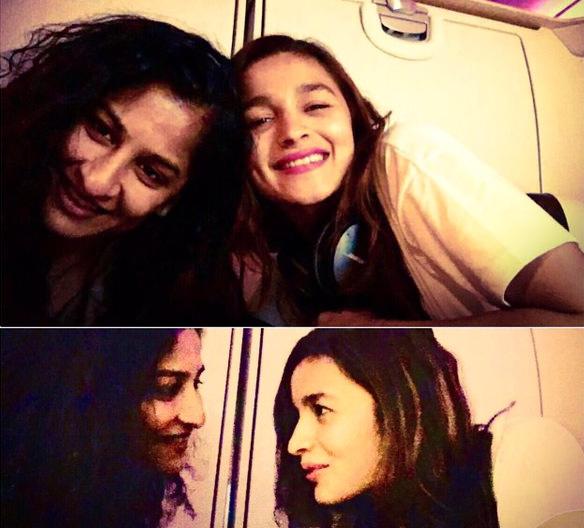 IMAGE: Gauri Shinde and Alia Bhatt. Photograph: Gauri Shinde/Twitter
How was it working with director Gauri Shinde?
I liked that fact that she is so frank.
That's why our sync was so strong. We would flow with the scenes very beautifully.
Do you remember meeting him as a child?
No, I don't. But I remember that once my dad's friends had come and they wanted to meet him. We had gone to his place.
Shah Rukh and my father have a very easy relationship. Shah Rukh always says that there's one person's call he doesn't avoid and that's Mahesh Bhatt.
I was 11 or 12 years old then. I had worn an ugly top and had messy curly hair.
He had kept sandwiches on the table and I was having one.
I was so much in awe.
Strangely when we were shooting, my dad sent that photograph to me. I showed it to Shah Rukh and he couldn't believe it. That was quite sweet.
Other than that, I don't remember meeting him.
Do you feel the pressure of carrying a film on your shoulders?
I don't feel it's only on my shoulder. It is more on the director's shoulder.
We are actors, we do our work.
Obviously I feel very close to the film and am very passionate about it. I feel that way about all my films.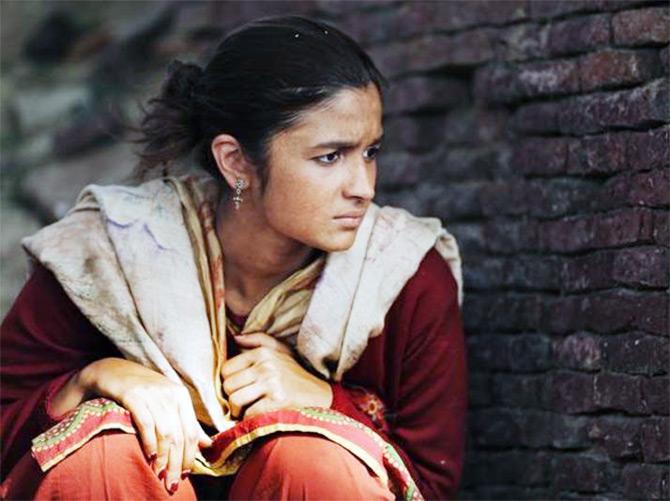 IMAGE: Alia Bhatt in Udta Punjab
Would you be disappointed if you don't get an award for Udta Punjab?
The best man will win. It's not like I'd be upset. I would wonder why not.
But I'll move on.
Sonam (Kapoor) has done a great job in Neerja and she should be awarded for it.
If at the end of the year people feel she was the best, then yes, she was the best.
After Udta Punjab, you will be seen in Dear Zindagi. Is it a conscious move to balance the kind of roles you are going for?
Nothing is deliberate. I choose different roles because that's the way I look at things. I like being different. I get bored of doing the same thing again and again.
Dear Zindagi is a light-hearted film. It's a happy film but to pull it off wasn't easy. To pull off the journey of a girl very convincingly was difficult.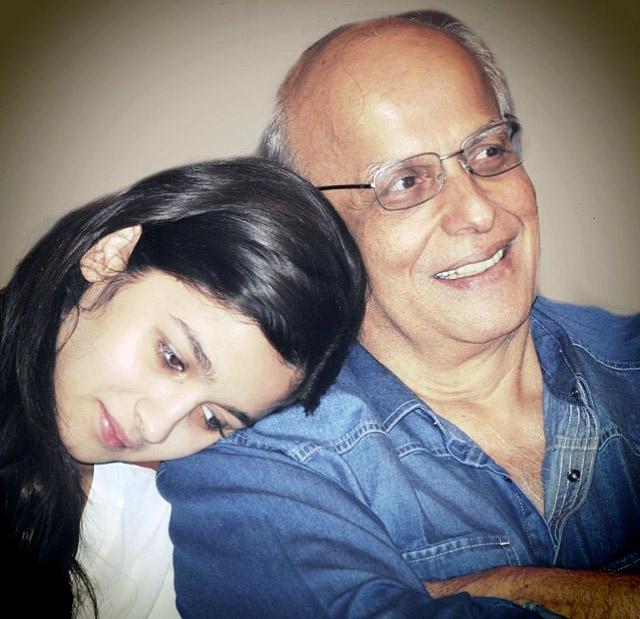 IMAGE: Alia Bhatt and Mahesh Bhatt. Photograph: Alia Bhatt/Instagram
Mahesh Bhatt had said in an interview that you are already a star and he wouldn't want to cast a star in his film.
Rubbish! He is talking rubbish!
It will happen. I don't think he won't cast me because of that.
There were reports of you doing Aashiqui 3.
Yes, we did meet to do Aashiqui; the film has come to me. The script is still in the process of writing, so I am waiting.
I would like to do the third part of Aashiqui.
He also said that you are a better actress than Pooja Bhatt.
May be. I wouldn't say I am a better actor but I feel she possesses other qualities that I don't.
She has a great artistic approach. She is a producer, which is a very difficult job. She has been a director which I will never be able to be.
Watch Alia Bhatt sing 'Ae Zindagi'. Video: Hitesh Harisinghani/Rediff.com
Anything about yourself you'd want to change?
I get hyper at times; I'd like to change that.
I get angry very fast. I say things and then I want to take them back. I want to change that.
Is there anything that you've done in your teenage years and your parents don't know?
They know everything. Honestly, I haven't hidden anything from them.
Actually, I am very bad at lying.
People say that I am a good actress but I think I am the worst person when it comes to lying. I lie so creatively that people figure out I am lying.
But now, I lie to my mom sometimes. If I have a late night pack-up and want to go to the gym in the morning, she gets angry. So I tell her I'm going for a meeting but go to the gym instead.
How was it working with Kunal Kapoor?
It was amazing. He is a super actor.
I know many people who have a big crush on him, they find him sexy.
Once, we were shooting in Singapore and it was pouring heaving.
So we started playing antakshari in a corner because if Gauri would have heard of it, she would have said, 'You guys are playing antakshari here and there my set is getting wet!'
Shah Rukh is known for his on-screen romance but you don't get to do any of that in this film. Do you miss it?
No. I don't think there was scope for it in this film.
Also, the way people look at things (at the age difference), the typical romance wouldn't fit in for them.
I always say that no relationship exists without love.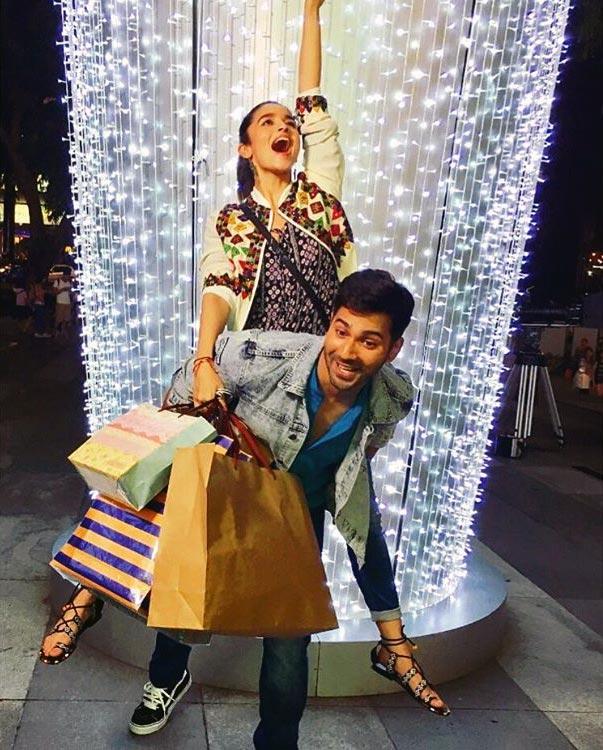 IMAGE: Alia Bhatt and Varun Dhawan. Photograph: Alia Bhatt/Instagram
How is Badrinath Ki Dulhania shaping up?
It is shaping up coolly, differently.
We were in Singapore for a very long time, so Badrinath has gone international now.
We shot in Jhansi before and then in Singapore, so you will get to see both sides.
Have you gone through heartbreak?
Of course!

But recently, there has been no heartbreak. I am really happy.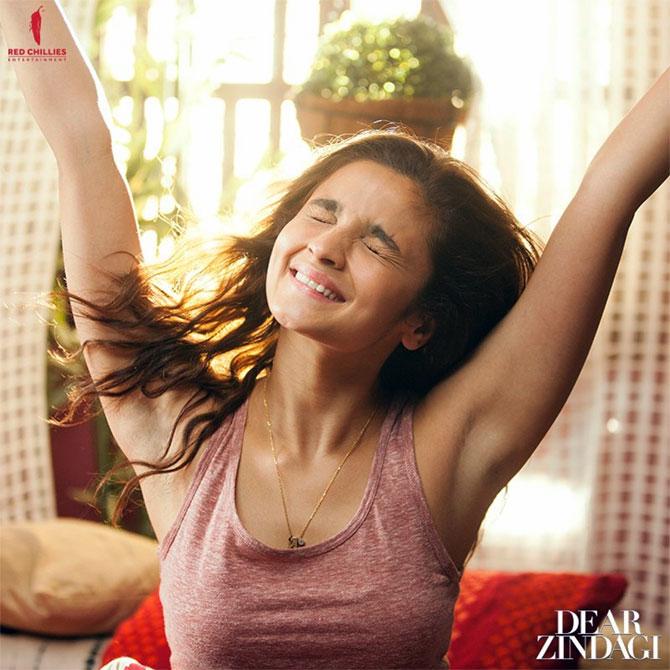 IMAGE: Alia Bhatt in Dear Zindagi.
There were reports of you doing Zoya Akhtar's Gully Boy opposite Ranveer Singh.

I would love to be in any gully with Ranveer Singh and Zoya. If that is happening, I'd be very happy.

When do you start shooting for Ayan Mukerji's Dragon with Ranbir Kapoor?

After Ranbir finishes Raju Hirani's film (a biopic on Sanjay Dutt).

Tiger Shroff is a part of Student Of The Year 2. What do you think about it?

It's great and who better than Tiger! He is a very unique star and can take the franchise forward.