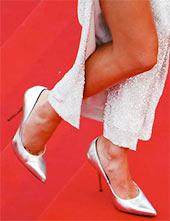 The only quiz that'll settle for once and for all the debate over heels!

Amidst hundreds of celebrities in attendance, red carpet epicness and films that generated buzz, Cannes was also widely discussed this year for some rules that were labelled loony and sexist.

While selfies were officially banned on the red carpet by festival director Thierry Fremaux, certain reports revealed that a bunch of middle-aged women, who had turned up for the screening of Cate Blanchett starrer lesbian romance Carol, were turned away by the security.
Why?
Because they weren't wearing heels!

Needless to say, it sparked worldwide outrage among feminists following which Fremaux issued an official apology.

If we keep female liberation and patriarchal standards of beauty aside for just a wee bit, how much do heels really contribute to a glam look?

Did you watch all your favourite stars' heels closely on the Cannes red carpet. Can you identify them correctly?

Take this quiz and settle this debate for good!

Answer the question by clicking on the image.