'The entire journey was beautifully nourished and I was very lucky that Lion came out the way it did. Otherwise, I would have really regretted it.'
Priyanka Bose is ready to take her film Lion to the Oscars.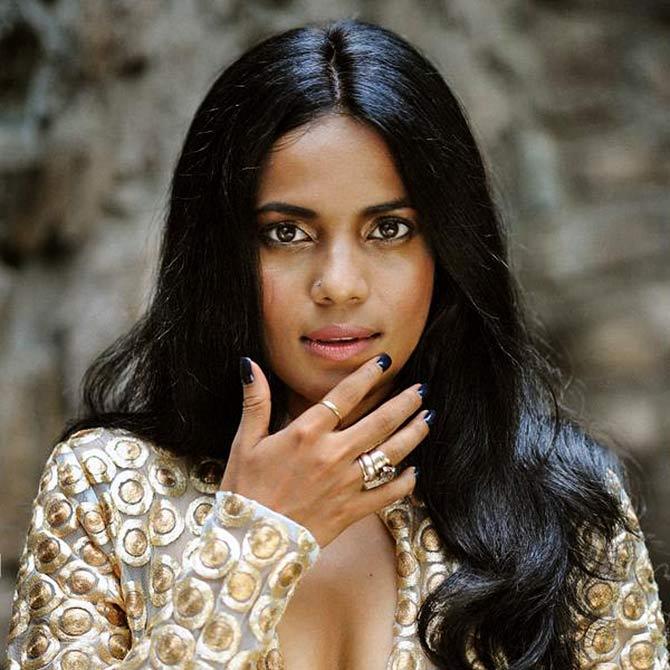 Photograph: Priyanka Bose/ Twitter
Priyanka Bose might just be the next big thing in Hollywood.
The actress has a beautiful part in the Oscar-nominated film Lion, and is raking in the compliments. Even former US president Bill Clinton said he was moved by her performance in the film.
Priyanka plays protagonist Saroo Brierley's mother. Saroo, played by the fantastic Sunny Pawar and Dev Patel, in an Oscar-nominated role, gets separated from his mother at a young age in a heart-wrenching way.
Priyanka tells Patcy N/ Rediff.com more.
Why did you play a mother -- to Sunny Pawar as well as Dev Patel -- at such a young age?
(laughs) I know, it's a big joke. (Lion producer) Harvey Weinstein introduced me to Bill Clinton saying this is Priyanka Bose and I wonder why she plays Dev Patel's mother, and we just rolled with laughter.
Having said that, I didn't even know that Dev was cast in the film. I read Kamla's part and fell in love with it.
I knew the trajectory would be really interesting to follow technically, as an actor. I needed to explore because I was not pushing the envelope. But I would be able to do it better next time.
It just happened that Dev Patel was in the film. He goes from five to 27 in the film.
The entire journey was beautifully nourished and I was very lucky that it came out the way it did. Otherwise, I would have really regretted it.
What is the age difference between Dev and you in real life?
Maybe six years, I am not sure.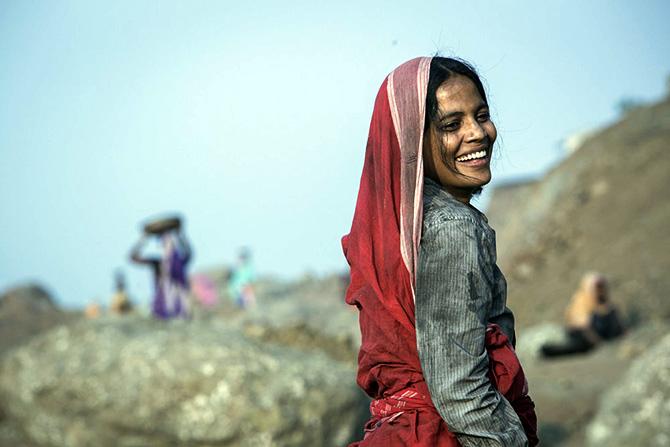 IMAGE: Priyanka Bose in Lion
Rohini Hattangady once told me how she got typecast after she played Kasturba in Gandhi and an elderly woman in Saaransh.
I get what you say. You do something really well and then it becomes a catch twenty-two situation -- whether you should capitalize on it and do well or say no and tell them that you are a diverse actress who wants to explore other things.
This (typecast) thing happens here as well as there (Hollywood). I am already getting offers for such roles.
How many have you got?
A lot! (laughs) I think I came into the industry playing a mother. Don't get me wrong, it's not a bad thing. I get cast as a prostitute as well because they find me sexy.
I tell them that they are being one-dimensional and not imaginative at all.
I want to do dark roles, like a heroin addict.
Are you open to commercial cinema?
Yes. I have grown up on Chitrahaar.
Geeta Bali, Waheeda Rehman and Sridevi have been my role models, and that's as commercial as it gets.
Do you think Indian cinema has changed?
People are looking at Indian cinema as competitors in world cinema. So I think that the supporters need to be out there. If Court has got selected for the Oscars, it needed that kind of money and support to lobby it to get selected as a Best Foreign Film nomination.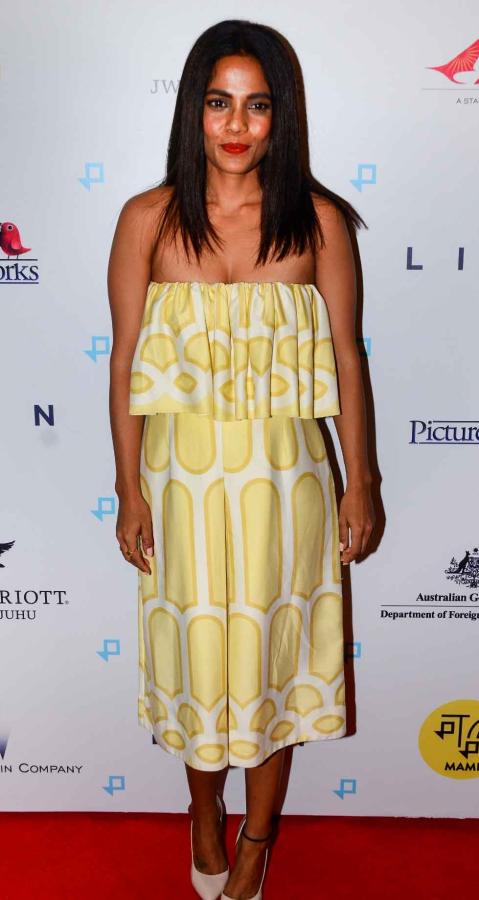 IMAGE: Priyanka Bose at the Lion screening in Mumbai. Photograph: Pradeep Bandekar
Saroo Brierley's mother recently said that he hasn't been helping her out since the last two years. You played his mother in Lion, how would you feel in the real situation?
I would feel bad but I don't know if she has really said it or has been misquoted.
I am aware that there are a lot of people in the village, who have been jealous of their entire journey. So I don't know how much of this is true.
As far as I know, Saroo has bought a house for her in the village and he does support her financially. He has been raised very well by Sue Brierley and will never abandon her.
I think he knows what abandonment feels like so I hope that he will never do that because this is not justice of the story in the first place.
How did you prepare yourself for the role?
I go into a part with the confidence that I am like that. But after I become the character, I ask the director to tell me the real deal because he has spent more time with that character than I have. Unless I get the material and brainwashing from the director, I cannot transcend into that character well.
My job is not to be Priyanka Bose, but be the character in its true self, so you have to give me something to play with.
I look for magic in what the director tells me. I need to see the colours of her or his emotions. I think (director) Garth Davis significantly understood that about her.
This is his first feature film. What was it like working with him?
Garth is intelligent, emotional, live-wired and a spiritual human being. He comes from a different brain and I understand that brain.
His casting is very interesting as well.
I am looking forward to his next film Mary Magdalene.
How was it shooting with Sunny?
We were in good hands with Garth and the acting coach on set. He only had to respond to my energy and I had to respond to his. We had to be on an equal level, so I had to have the respect and connectivity and that could come only if we take our children seriously.
If we take their voice seriously, we are capable of much more as human beings. He carries this film on his shoulders, that's the magic of kids. We give too much importance to being adults and our ego.
Dev Patel was a phenomenal guy. I had only known him as the Slumdog Millionaire actor, but I got to know him as a human being as well.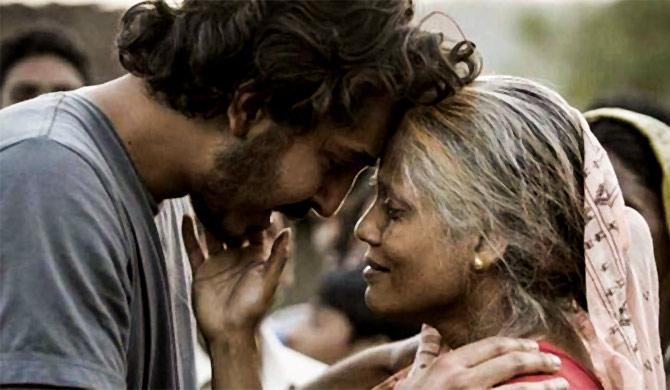 IMAGE: Dev Patel and Priyanka Bose in Lion
Tell us about the scene where you meet Dev Patel's Saroo after all those years.
Garth didn't let us see each other for two days before that scene.
That was Dev's first scene that he shot for the film. I was already shooting with the kids.
It was really mind-boggling because it felt as if we were meeting each other for the first time. There was so much love between us. It was pure energy, so genuine and authentic.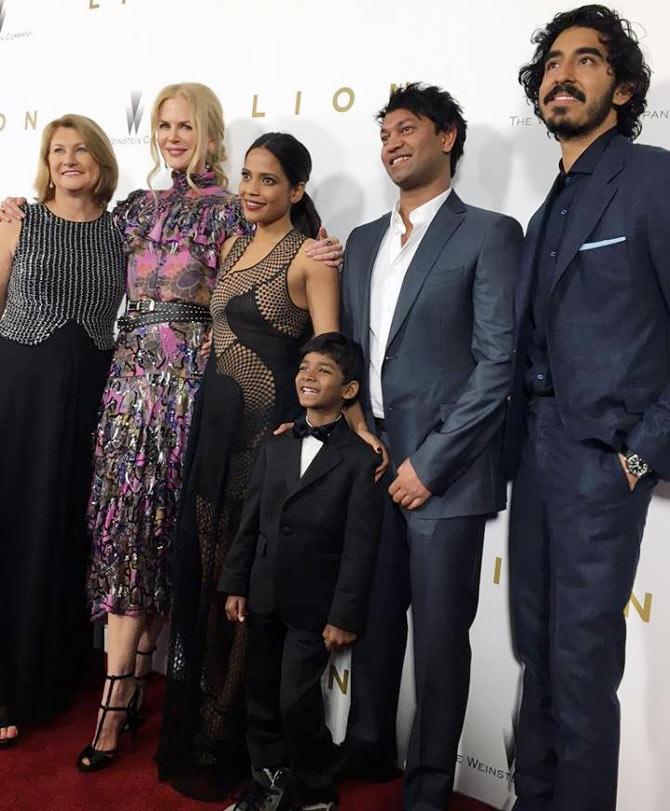 IMAGE:

From left, Sue Brierly with the cast, Nicole Kidman, Priyanka Bose, Sunny, Saroo and Dev. Photograph: Lion Movie/ Twitter
You don't have any scenes with Nicole Kidman, but did you meet her?
We did test runs together in Toronto, New York and Los Angeles.
She is amazing but I am not a fan girl. Yes, they are superstars but they also started where I did. At the end of the the day, you will be as successful as you are only if you don't forget where you come from.
We connected at a very deep level, being mothers (in the film).
Even though we didn't work or say lines together, we were connected in frequency. I remember we had gone to the Governor's Ball and we were sitting at the parking lot. We were chatting about patriarchy and misogyny in the industry.
Sunny had just landed and his mother said he was not well, he was vomiting and being dizzy. We put him in Nicole's car and made sure that he got his rest. After that, he was sent to the hotel room.
What does Nicole Kidman think about India?
She is willing to explore India and is very intrigued by it. I told her India is magical.
Will you be going for the Oscars? What will you be wearing?
Yes. I have been selected to be the face of a campaign called Red Carpet Green Dress, and Vivian Westwood is collaborating to make sustainable gowns. Emma Roberts and I are the faces of this campaign.
I will also be wearing diamonds. I am waiting to be surprised as much as you are.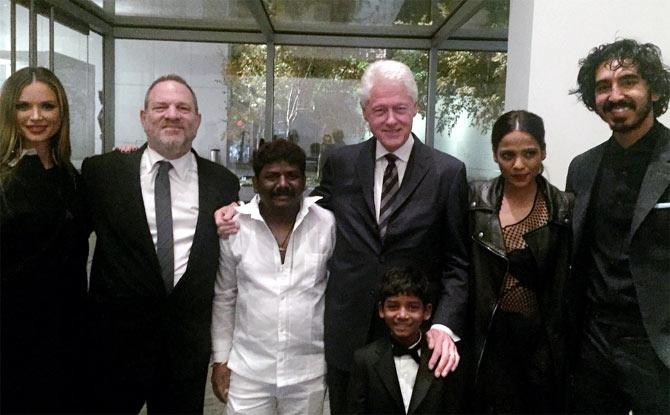 IMAGE: Bill Clinton, third from right, poses with the stars of Lion -- from right, Dev Patel, Priyanka Bose and child actor Sunny Pawar, Sunny's father Dilip Pawar, producer Harvey Weinstein and his wife designer Georgina Chapman. Clinton attended the premiere at the Museum of Modern Art in New York City as Weinstein's guest. Photograph: Lion Movie/ Twitter
Tell us about your meeting with Bill Clinton at the premiere.
I was in the lift with Nicole Kidman and (her husband) Keith Urban.
We -- along with Deepti Naval -- were having fun and suddenly, we had to go to the stage, where the producer was praising the film. He also mentioned the US elections and Bill Clinton. And then, Mr Clinton got up from his seat and waved at everyone. It was surreal.
The producer took us to meet him. Mr Clinton told Dev that it was a breakthrough performance and he told me how moved he was with my performance.
He connected with everyone, including Sunny Pawar. He shared something with us -- he said that he was a young boy, he lived in a house with thin walls, and one could hear through them. He said his stepfather wasn't a very nice man and one day, he took a gun out and shot at him. He moved to the right, and that's why he was still alive that day.
I thought that was so powerful. I narrated the story in Hindi to Sunny and I just hope he remembers this. I know I will. It's about the choices you make in life.