Since its entry in 2016, Netflix has announced over 60 titles to be sourced from India.
Vanita Kohli-Khandekar reports.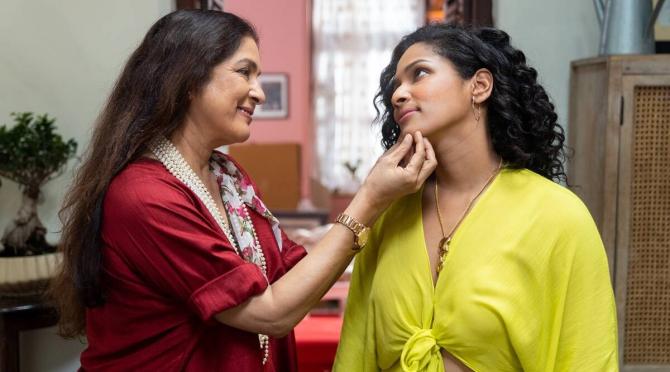 Masaba Masaba is a strange show.
The banter between Neena Gupta and her daughter Masaba seems real.
What genre is this mix of documentary, drama and sassy writing that's been trending on Netflix?
"It is scripted reality -- reality morphed into fiction," says director Sonam Nair.
When Producer Ashwini Yardi took the idea to Netflix, it promptly said yes.
Nair says, "They didn't try to mainstream the show. They told me, just say what you want and it will find its audience."
That anecdote tells you why the $20.2 billion firm that birthed the streaming video industry continues to dominate it.
"We aren't about one size fits all," says Monika Shergill, vice president, content, Netflix India.
"The creators's vision is the core of Netflix. We partner with creators and give them the freedom to tell their stories and get out of the way," she adds.
That is true on the business side as well. When Raat Akeli Hai or Cargo are released on Netflix, they reach all its 193 million subscribers across 190 countries, many sub-titled and dubbed in up to 32 languages.
If Masaba Masaba appeals to 5 million subscribers across, say, Japan, New Zealand and Peru, it would have done its job.
Netflix's wide availability and on-demand nature mean that the world is truly its market.
Where exactly does India fit in?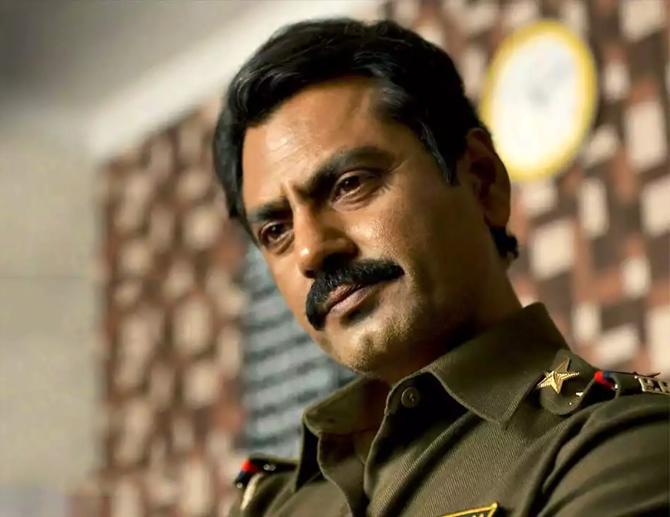 There is no straight answer.
India is a huge market in volumes -- 662 million broadband users of which 395 million are streaming video, according to Comscore data.
Last year, the Indian OTT market had revenues of Rs 8,000 crore. However, at about 3 million subscribers, over 35 million unique visitors and an estimated Rs 750 crore in revenues, Netflix India isn't quite the powerhouse it is elsewhere.
Google's YouTube with 388 million unique users and an estimated Rs 3,000 crore in Indian revenues may not be a fair comparison. But Amazon Prime Video, which entered India the same year (2016) as Netflix is. It has done better with over 14 million subscribers and an estimated Rs 1,500 crore in revenue.
Those numbers, however, don't capture the weird, kaleidoscopic relationship Netflix has with India. Think of it as a relationship that operates on three dimensions.
Indian matchmaking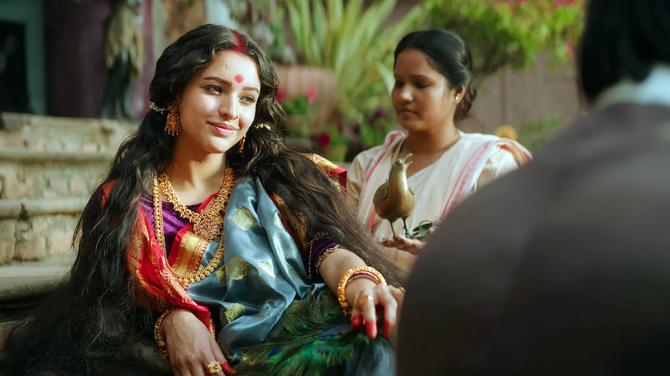 First, India presents an unprecedented opportunity across product and content, says Abhishek Nag, director, business development. For instance, the mobile only plan was made for India, as Todd Yellin, the global vice president for product, says.
In India, a bulk of streaming video watching happens on mobiles, usually low-end ones. That led to a mobile plan at Rs 199 a month in addition to the usual Rs 499 to Rs 799 in 2019.
Its success has meant that Netflix is now rolling it out in markets like Malaysia, Indonesia, Thailand, Philippines to ramp up access to Netflix.
Yellin points to several experiments -- whether it's a 30-second trailer you see or personalising the ending of a show.
India is an integral part of many such experiments.
Second, there's the appetite for content. Indians love watching not just local shows such as Delhi Crime or Ghoul but much beyond.
After English and local language content, Spanish, Korean and Japanese titles drive the highest viewing.
The biggest reset Netflix has had to do on content is on films. India continues to have the highest viewing of films (80 per cent) as a percentage of the viewing of all content in the country.
Srishti Arya, director, international original film, reels off all the films commissioned/bought from India -- Ghost Stories, Bulbul, Rajma Chawal -- each an intriguingly different story.
"The variety of material coming to us is huge. By the end of 2020, we would have introduced 10 new directors," says Arya.
"People in India love movies and it is a great source of some of the best storytellers. Two-third of the viewing for Sacred Games was outside of India," says Yellin.
Sacred Games (2018), the first Indian original from Netflix, has been mentioned dozens of times in earning calls and conferences by everyone from CEO Reed Hastings downwards.
Also, Mighty Little Bheem was viewed by over 27 million households across the world, including in Australia and Latin America.
That is the third and the most critical dimension of Netflix's India connect.
Since its entry in 2016, Netflix has announced over 60 titles to be sourced from India.
Of these, 15 series (Bard of Blood, Jamtara etc) and 23 films (Choked, Yeh Ballet etc) are already online.
By the end of 2020, it would have invested Rs 3,000 crore in programming, making it one of its largest markets for sourcing.
It has, along with many other OTTs, liberated storytellers from the constraints that TV or film place on the stories and formats.
"It is great for writers, actors, directors," says filmmaker Vikramaditya Motwane, who co-directed Sacred Games.
Much of this has meant a diversity of storytelling that has surprised even Indians.
This creative freedom is helping re-emphasise India's soft power a la Dangal.
In 2019, four Indian originals and this year three, have been nominated for the international Emmy's.
The science behind the screen
Earlier, Hastings had told me that the starting point for any show is the script, not the data.
"Different tastes and moods of the audience define what you want to watch today or over the weekend. What comes first is your understanding of the audience and intuition. Metrics come later," says Shergill.
In an industry driven by ratings, page views and box office figures, giving creators carte blanche seems risky.
But there is the Netflix logic behind all of this.
Read No Rules Rules, a book on the Netflix culture by Hastings and INSEAD professor Erin Meyer.
Netflix essentially operates on three dictums -- stockpile talent, pay them their market value or more, give them complete freedom and have no processes -- like a leave or expense policy.
This has over the years created an unusual, incredibly high-performing company by any standards.
At just about $500, Netflix is trading just over four times Disney, a company that is three times larger than Netflix in revenues.
This has also created a high-pressure work atmosphere, murmur analysts.
"The Netflix culture is high performance. It is not about creating psychological and creative safety. You should feel great pressure, to create great stories," says Yellin.
That is where it begins and ends for Netflix.