'It may be just coincidence but my first release after marriage is Soorma and it has brought me recognition that I've never experienced before.'
Bolly Gupshup with Subhash K Jha.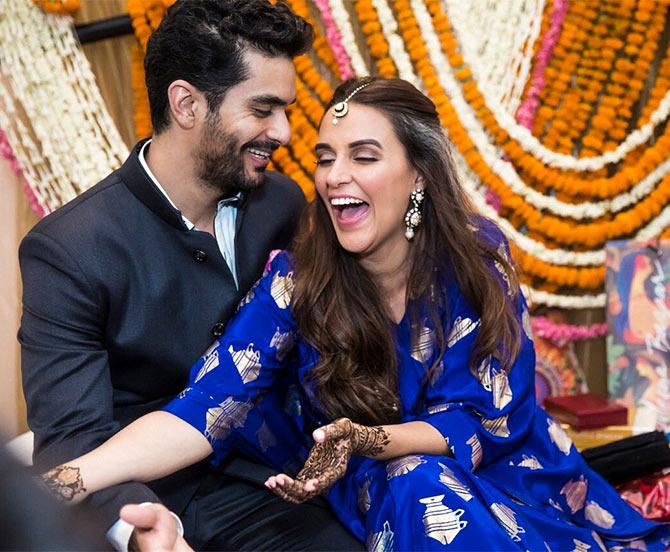 Angad Bedi cannot stop raving about his wife, Neha Dhupia.
"Neha is such a positive person, and spreads such good vibes in all the lives she touches," he says. "It may be just coincidence but my first release after marriage is Soorma and it has brought me recognition that I've never experienced before."
Angad attributes the Soorma success to God, his wife and destiny.
"I've been working very hard to build a portfolio of work that some day our children would be proud of. Luckily for me, this is a time when stars and superstars no longer rule forever. That era will end with Shah Rukh, Aamir and Salman Khan."
"Actors today have to prove themselves every Friday. Audiences go for the character and the performance, not the actor. My inspirations are actors like Rajkummar Rao, Ayushmann Khurrana, Ranbir Singh... Look at how Varun Dhawan combines a Judwaa 2 with an October. And see how Vicky Kaushal is making a mark," he says.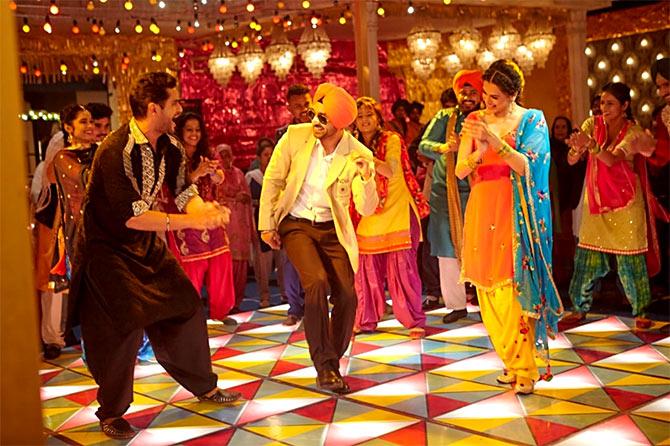 Is it Angad's turn now?
"I certainly hope so!" he exclaims. "If Soorma is getting me noticed, I have the director Shaad Ali to thank for. He let me play Diljit Dosanjh's brother the way I wanted to. He was there to guide me."
The fact that Angad shared great vibes with Diljit only made the job easier.
"He is like my real brother. I wish another director would again cast us together. How I used to love watching Mr Bachchan and Mr Shashi Kapoor together! They too must have shared a great bond together. My rapport with Diljit is very special. And he's such a sorted actor. I think it's really important to have competent co-stars, only then can one give a good performance. Diljit would give me cues from behind the camera even when he was not required. I guess I was just lucky to have him as a co-star."
Angad feels marriage is the best thing to have happened to him.
"Neha and I were part of a small tightly-knit group of close friends. Others in the group like Yuvraj Singh and Gaurav Chopra got married. That left only the two of us, so we decided to get married! Seriously, Neha is my best friend and so independent-minded. She comes from a Naval family and knows her mind. I love the work she does with Rajat Kapoor, Saurabh Shukla and Vinay Pathak."
Angad is eager for his father, the legendary cricketer Bishen Singh Bedi, to watch Soorma. "He saw PINK with Mr Bachchan and was very pleased with my work. He hasn't seen Soorma so far. He is in Punjab to pay condolences to the family of a deceased sportsperson."
***
Hrithik-Tiger face-off in October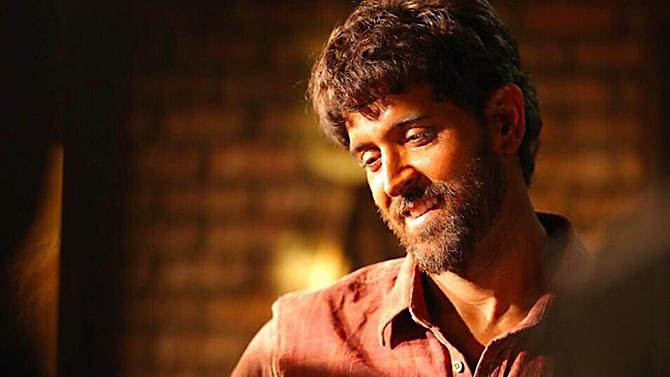 Flab may be fab when you are playing a Bihari mathematician. But when you have to face one of the fittest young actors of Bollywood, you need to get back into shape.
Hrithik Roshan realised this while putting on kilos to play mathematician Anand Kumar in the bio-pic Super 30. Now, the actor needs to shed the weight and become sinewy.
The actor will take a break to get into fighting-fit shape after he completes Super 30 this month.
Says a source close to the development, "Hrithik needs a couple of months to get back into shape for his film with Tiger. The film has been pushed to October to give him time. This film will see him get into hand-to-hand combats with Tiger."
Says Tiger enthusiastically, "Hrithik sir is my idol and role model. To share the screen with him is a dream-come-true for me. I can't wait for the film to start. We have a lot of fights together on screen and I wonder how I will manage them because I am his greatest fan. I can't see myself confronting him physically. I will have to make myself strong from within to be able to take on my childhood idol."
The film will be directed by Siddharth Anand (who had directed Hrithik in Bang Bang) and produced by Yash Raj Films. It will release on October 2, 2019.