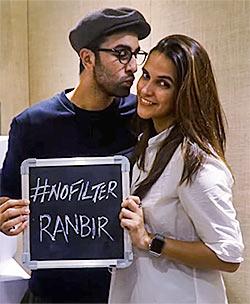 'Farah Khan had the most outrageous things to say on the show.'
'Yuvraj Singh was more emotional than fun.'
Neha Dhupia gets chatty with Bollywood's stars.
Neha Dhupia says it's fun interviewing celebs and we can't help but agree.
Especially when the first guest on her weekly celebrity chat audio show #NoFilterNeha on Saavn is Karan Johar, uncensored!
Here are a few things that Karan reveals on the show:
*He believed that Margaret Thatcher was a man.
*Karan turned down Neha's marriage proposal thrice saying, 'Sex is a deal-breaker and if we land up having sex, we will break this deal because you won't be satisfied, I will be appalled and we'll end up fighting. Neha, you're not my type. There are so many parts of your body that don't interest me.'
*Karan lost his virginity at 26 in New York, right after his directorial debut Kuch Kuch Hota Hai released.
*Karan talks about orgasm shopping, which is shopping after having sex.
*Karan prefers sexting because he is 'kind of flirty' and so much 'better with words than action'.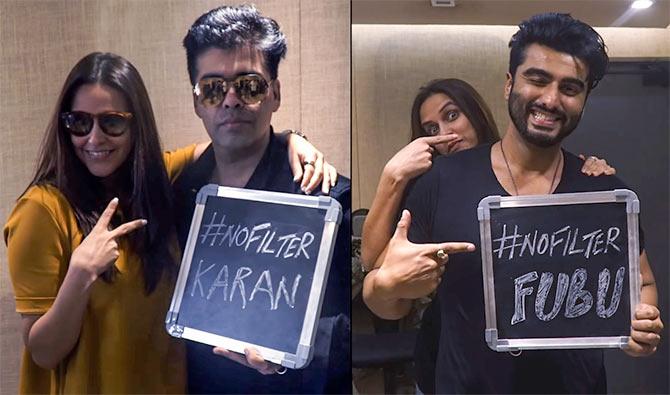 IMAGE: (L) Karan Johar and Neha Dhupia. (R) Arjun Kapoor and Neha Dhupia.
"They had no filter while talking to me. It was like a 2 am conversation, where you are sitting across a couch and getting chatty over a cup of coffee or green tea," Neha says.
Neha, who is also the producer of the show, and her team spoke to people who knew her celebrity guests so that they could get access to uncharted information.
"The minute I would think of a celeb, I would try to see who I knew in that person's family tree. Then I would reach out to that person," Neha tells us.
Neha has also conceptualised the show, and helped her writer with the content.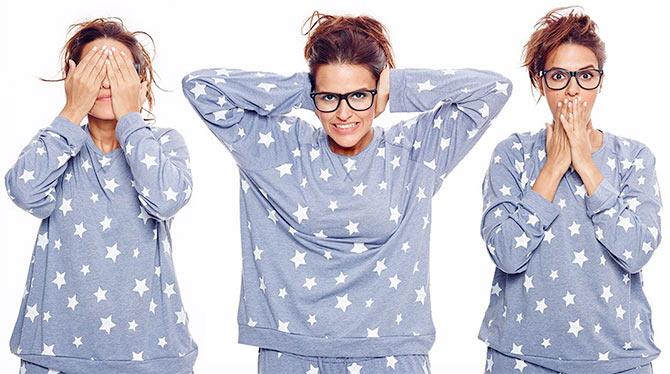 Photograph: Neha Dhupia/Instagram
Of course, that meant a lot of hard work. Neha claims she lost three kilos during the two weeks of research.
"I was on black coffee. That's all!" Neha exclaims. "Someone's designer friend would be like 'Hey, I am in Italy. Can you call me at this time?' And that would be 4 am here!"
Neha's research was so thorough that it took some of her guests by surprise.
"Kangana (Ranaut) and Sonam (Kapoor) were surprised because I don't know them at all!" Neha explains. "They were like 'How do you know this stuff?' And I was like, that's what a good producer has to do -- do the research and have the content in place."
Now that the show is ready, she's not complaining.
"If I had my way, I would announce the second season too but we don't know the plans yet," she says.
She agrees that it's a comfortable environment when the host belongs to the industry. But she made it a point never to cross the line.
So who's the most fun to interview?
"It's unfair of me to answer that but Farah Khan and Karan have a different vibe altogether. They have no filter," she replies. "Farah had the most outrageous things to say on the show."
"Yuvi's (cricketer Yuvraj Singh) was more emotional than fun," she adds.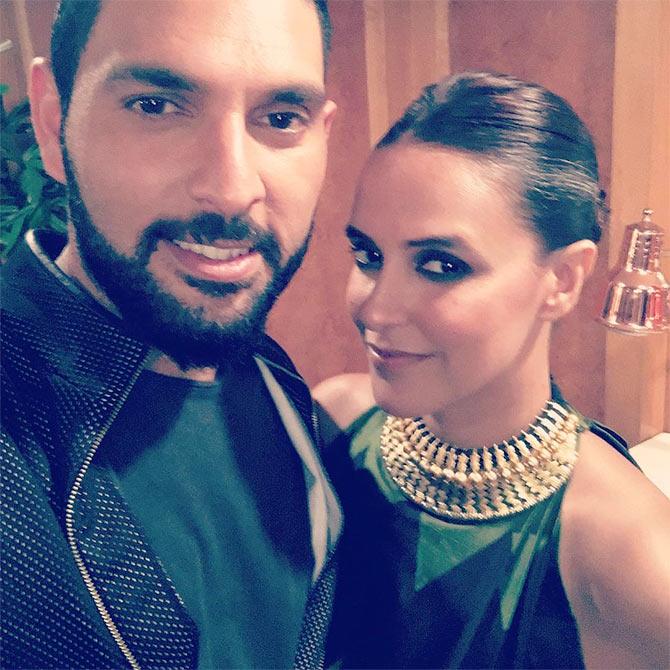 IMAGE: Yuvraj Singh and Neha Dhupia. Photograph: Neha Dhupia/Instagram
Though Neha managed to get a lot of good content, editing became tricky due to time constraints.
"There were some really amazing things that we had to remove. The show is 25 to 45 minutes, so ya, there were parts we didn't want to edit but had to."
What made her opt for an audio show?
"People don't open up when there's a camera. I wanted my friends to come on the show and say things we haven't read about on the internet. The only way to do this was through an audio show."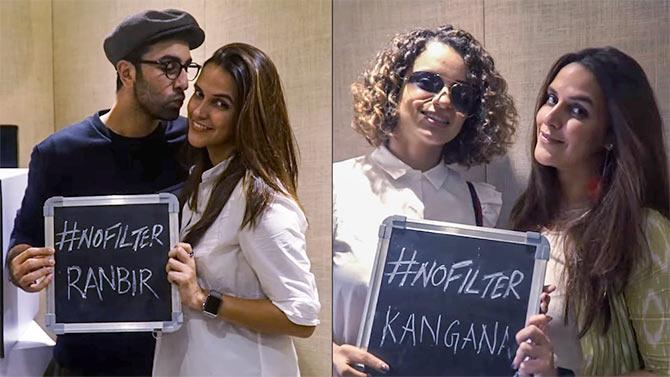 IMAGE: (L) Ranbir Kapoor and Neha Dhupia. (R) Kangana Ranaut and Neha Dhupia.
The celeb who really surprised Neha was Ranbir Kapoor.
"What a great talker Ranbir is! What a great voice he has! How uninhibited he is!" she exclaims.
She adds: "Anurag (Kashyap) is so honest and candid. Vishal (Dadlani) apparently charges a lot to sing one line but he sang three songs on the show for free!"
Kareena was on Neha's wishlist and was as keen to be featured on the show.
"She is pregnant and in the middle of so many things. Yet, her manager would call and ask when we would do it," Neha says.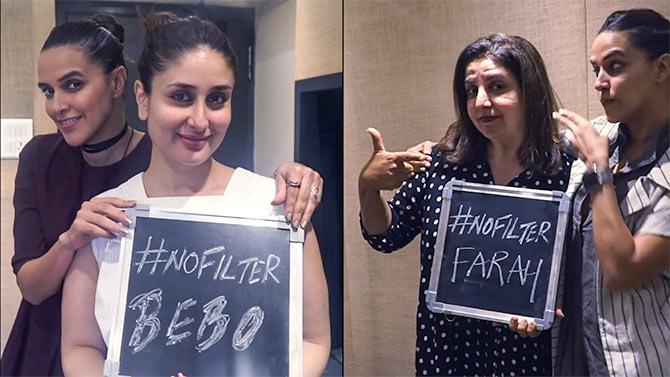 IMAGE: (L) Kareena Kapoor Khan and Neha Dhupia. (R) Farah Khan and Neha Dhupia.
There will be 12 guests on the show: Karan Johar, Kareena Kapoor Khan, Ranbir Kapoor, Kangana Ranaut, Farah Khan, Arjun Kapoor, Sonam Kapoor, Yuvraj Singh, Anurag Kashyap, Vishal Dadlani, Chetan Bhagat and a surprise guest.
"That person is an actor who everyone would want to listen to," Neha hints.