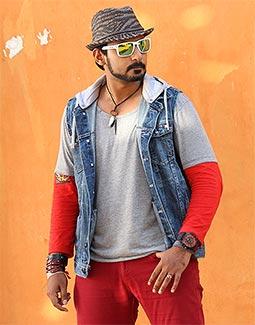 Popular Kannada actor Devaraj has forayed into film production with his family's maiden venture Neenaade Naa (I have become you) releasing today, October 17, across Karnataka.
Devaraj, who is popularly called 'Dynamic Hero' in Kannada cinema, is theatre's contribution to cinema. He has named his family production banner 'Dynamic Productions'. His son Prajwal Devaraj plays the lead in the film.
Devaraj rose up the ranks, from playing the villain and supporting roles, to playing the anti-hero before playing the hero in his 28-year-old career.
He has been typecast as the typical tough cop in films such as Lockup Death, Golibaar and Circle Inspector.
He won the best actor award from the Government of Karnataka for playing the title role of the forest brigand in Veerappan.
Devaraj was particularly impressive as a psychopath killer in the blockbuster hit Utkarsha. He also acted in the critically acclaimed films Huliyaa and Tarka.
In this interview, Devaraj talks about his foray into film production and his future plans to keep his production house afloat.
Why did it take you so long to turn to film production?
I have wanted to produce a film for a long time. I think now is the right time to get into production.
My children were young and my wife had to shoulder the responsibilities of running our home and looking after our children.
As both our children (sons Prajwal and Pranaam) are interested in movies now that they have grown up, we thought this was the right time to get into production.
My wife is also now relatively free from those big responsibilities of bringing up our children. It was our desire to set up a production house but we didn't have anyone to look after the production activities and that delayed our plans.
How did you go about producing your first movie Neenaade Naa?
We were scouting for stories from the time the idea of producing a movie germinated in our minds.
The stories that we listened to were too cinematic (sic) and so I was looking for some freshness in thought, idea and narration.
Choreographer Kandas, who has worked in more than 100 films, narrated a one-line story to Prajwal, and we wanted him to develop it into a film script.
What is the film all about?
Neenaade Naa is a love story and a family entertainer.
It is also a true story that happened in director Kandas's life.
The film deals with relationships with the necessary twists and turns that are fresh in approach.
How did you go about constituting your team for the movie?
Once Kandas came up with the full narration, we wanted to buy the story from him. But he declined the offer as he wanted to become a director himself.
He had already cast Prajwal in the lead. We gave it some thought and decided to go ahead with our production plans as the story was more important to me.
We roped in Srinivas Ramaiah as the cinematographer. This is his first film.
Srikanth was asked to pen the dialogues. When it came to music, I was weak but both my sons rooted for Arjun Janya.
How did you choose the heroines?
We wanted to cast heroines from Bangalore but they were busy or our dates did not match as Prajwal had to take a month's break after a schedule to lose weight for his role.
We got videos and photos from co-ordinators and finalised Mumbai girls Priyanka Kandwal and Ankita Maheshwari.
Priyanka's role is meatier and demands more emotion. I was surprised by her performance despite the language barrier. She worked quite hard on her lines.
Ankita's role is plain and it doesn't require much histrionics.
You once said you wanted to be a director. What happened to those plans?
The option of becoming a director is still open. I didn't want to take up direction and production work together.
Directing is there at the back of my mind. I had a script ready some four years ago that I intended to direct. I have to see if the same script can be revived to suit today's situation, or whenever I take it up.
When you announced plans to get into production, it was speculated in media circles that you would launch your younger son Pranaam, who was a child artiste years ago. Will Pranaam be launched?
Yes, we were actually planning to launch Pranaam who was more interested in acting than my elder son Prajwal.
I never thought Prajwal would get into films because he was shy as a kid. When he expressed his desire to become an actor, I warned him that it was a tough profession.
Pranaam was still studying then and has now completed his graduation. I wanted him to graduate first.
We are looking at launching him some time soon. But in the meantime, if anything interesting comes his way, we will encourage him to pursue it.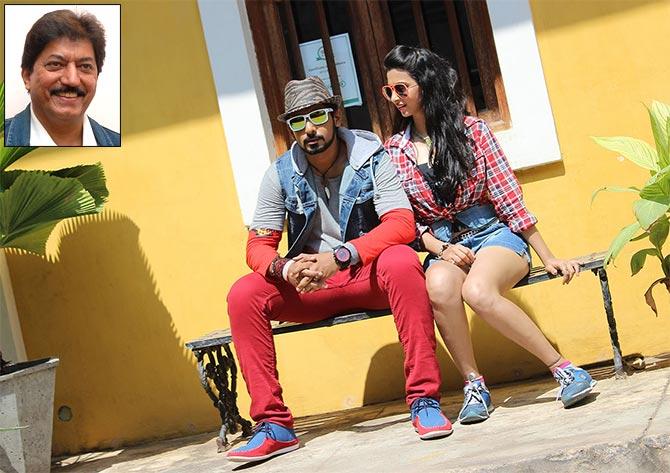 How did you manage to pull off such a stressful exercise as producing a film?
My wife handled the money and managed it quite well; she was used to doing that while bringing up our children and running the house.
I told her to tolerate some amount of seepage and pilferage that occurs at the production stage as that is unavoidable.
I handled the creative part of film-making, which included planning and location hunting. My younger son was co-opted into the unit as a co-producer to oversee all the arrangements like getting permissions, logistics and coordinating with various departments.
How are you releasing your film?
The task is humungous. We searched for theatres in taluks and districts all over the state. The primary task is to disseminate information about the film and the release date to the public.
We are doing multi-channel promotions, including the social media and road shows. Since I wasn't aware of post-production activities and the use of digital technology, we have seen a lag of 30-45 days in getting the film ready for release.
Which are your current acting assignments?
I am selective about choosing my roles. I am now acting in Ranna, which stars Sudeep among others.
I have finished a film with P C Shekar which is titled Arjuna in which I am pitted against my son Prajwal as his opponent.