Naxalbari has some really good and unexpected twists and turns, observes Moumita Bhattacharjee.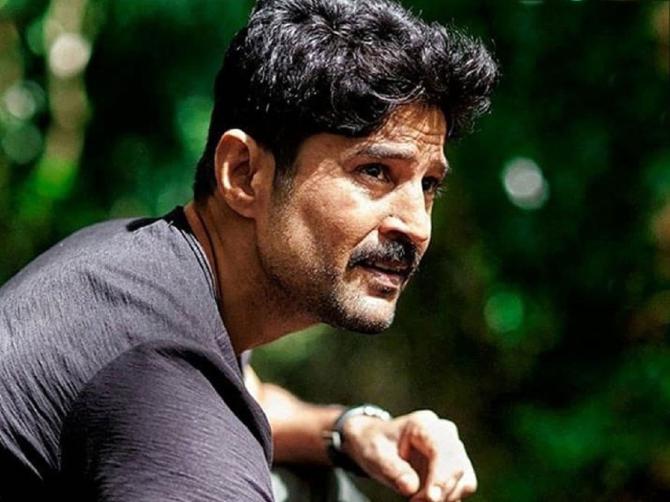 The Naxalbari Web series begins with a blast in Gadchiroli, Maharashtra, which kills an MLA and his entourage.
The fact that a police officer, who was heading the convoy and abandons it in the nick of time, raises concerns about Naxalite sympathisers in government ranks.
Special Task Force officers Raghav Joshi (Rajeev Khandelwal) and Mohit (Sameer Roy) bust a Naxal hideout and win a lot of acclaim.
Raghav has a great life with his wife Ketki (Tina Dutta), but has a strained relationship with his demanding father, who is also Mumbai's police commissioner.
When Raghav delves deeper into the Naxal issue, he gets kidnapped.
That's when the wheels churn for the worse and a lot of big reveals leave Raghav questioning everyone he has ever came across in his life.
Naxalbari has some really good and unexpected twists and turns.
Although the beginning seems similar to a lot of movies of this genre, it gradually sucks you into the narrative.
The action sequences by Aejaz Gulab are fascinating, so is the background score.
Pulkit Rishi and Prakhar Vihaan's screenplay and dialogues may not have chest-thumping lines, but are effective in portraying what a character is feeling.
Partho Mitra's direction is efficient because there's so much happening on screen.
Given that I have watched a lot of movies on the Naxal movement from Hazar Chaurasia Ki Maa to Chakravyuh to many more, Naxalbari doesn't have a novel concept.
Infiltration by the comrades into government ranks is not something that baffles us anymore.
Also, father-son strained relations....come on! It's done to death now.
Get innovative, people!
Had it not been for a tight screenplay, the series would have fallen apart.
Rajeev Khandelwal, Satyadeep Mishra and Shakti Anand never lose the grip on their characters.
Tina Dutta is passe, but the biggest drawback is Aamir Ali. His role is crucial to the narrative and yet, he comes across as rather dull.
All in all, Naxalbari, streaming on Zee5, is a good watch for people who like crime dramas.
Rediff Rating: