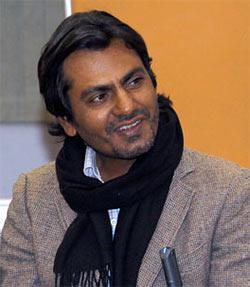 Nawazuddin Siddiqui is no stranger to international recognition.
He will now be honoured at the Chicago South Asian Film Festival, and will leave for the US on September 16.
"I am being honoured for Outstanding Achievement at the South Asian Film Festival. That's something I am quite kicked about," Nawaz says.
The actor will then proceed to various other cities in the US, including Los Angeles, New York and Washington DC to explore his bearings among the non-Diaspora audience.
"Awards and recognition still mean a lot to me," he says. "I have not become jaded about awards. But yes, there is a genuine space problem regarding the awards. I hardly have room for any more trophies in Mumbai, so I am sending my trophies to my native home Budhana in Uttar Pradesh."
So who is dressing up Nawaz for his distinguished Chicago appearance?
"I am very shy about taking up these offers from very generous designers. I'll probably pick up a suit from a readymade rack and wear it. I am not into looking groomed as yet. Maybe someday," he concludes.
Photograph: Hitesh Harisinghani