If the stories weren't bound by their themes or expectations or if they weren't limited to the time and the medium, Mani Ratnam's Navarasa could have been something better, feels Divya Nair.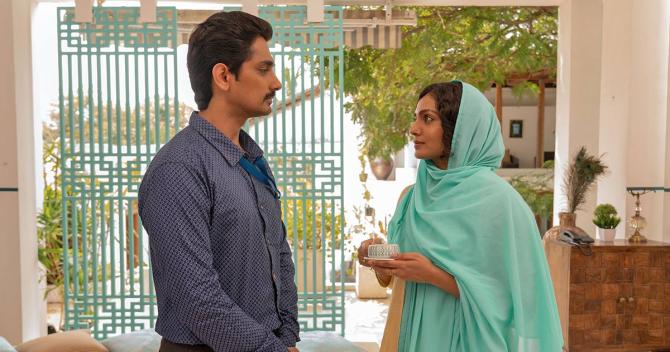 What happens when you bring together some of the best actors and directors to make a film?
It either becomes a masterpiece or you end up getting disappointed.
Mani Ratnam's ambitious project Navarasa has all the ingredients required to make an exquisite meal. But when they come together, one course takes over the other, leaving you part satisfied, part hungry.
Navarasa (meaning nine emotions) is an anthology of nine Tamil films covering nine emotions and directed by different directors.
While some were impressive (Edhiri, Summer of '92, Rowthiram and Immai), a few were dull.
The first film is Edhiri directed by Bejoy Nambiar in which Dheena (played by Vijay Sethupathi) kills an elderly man (Prakash Raj) because he believes the latter's actions led his younger brother to commit suicide.
Revathy plays the wife of the man who is murdered.
After the crime is committed, there are questions to be asked and answered -- answers that no one knows or is sure of.
It's about revenge followed by guilt, the lack of it. But it's also about compassion.
Three fabulous actors and an intelligent director set the ball rolling making you believe that Navarasa could be a promising package.
The second film Summer of 92, inspired from the lives and times of Malayalam actor Innocent is directed by Priyadarshan.
Velusamy (Yogi Babu) tells a fascinating story of how silly, unfortunate incidents ruined his academic life but also pushed him to be a successful comedian.
Nedumudi Venu as the quintessential school principal along with young Velusamy provides ample comic relief in this nostalgia driven drama.
Project Agni, directed by Karthick Naren is a sci-fi story where a genius (Arvind Swami) discovers a potentially dangerous key linking the past, present and future, blurring the lines of realism. His invention, the Drifter, helps him travel to the past but ends up making a tiny glitch forcing him to reassess his present and future plans.
It's a fascinating story, but not quite impactful.
The next film Payasam is about a Brahmin (Delhi Ganesh), who is jealous about his nephew's success and the disgusting act he commits at a wedding.
The plot is well-conceived and aptly built up, but doesn't impress.
Karthik Subbaraj's Peace presents a preachy subplot amid the Sri Lankan civil war in which a militant at war risks his life to save the life of a dog from an army-occupied village.
Gautham Menon as the group leader is as blah as they come.
Blame it on the poor Lankan accent or the sheer execution of the idea, but the film didn't strike a chord.
In stark contrast, Roudhram, directed by Arvind Swami, narrates a story that not only does justice to the emotion it tries to convey but also unlocks the different dimensions of anger with sincerity.
The story navigates between past and present keeping the viewer engaged with the characters.
Similarly, Inmai, presented by Rathindran R Prasad, is a thriller featuring a rich woman with a muddled past who has a charming visitor.
The story is like a puzzle that develops and grows on you.
The powerful backstory is interrupted by Parvathy's accent leaving a lot to be desired, but Siddharth is a real treat to watch.
The next segment Thunindha Pinn is about an officer, who is caught in an ambush situation with a rebel.
It talks about courage and valour presented from two different perspectives, and is directed by Sarjun KM.
The idea of courage is defined nicely but somehow when you look at the film, I felt it deserved a little more depth and screen time.
They say, you save the best for last.
But Gautam Menon's Guitar Kambi Mele Nindru comes across as too clichéd, drawing from an overdone plot.
Just how many more ways can you show that the hero's first love, that is almost too beautiful and perfect, will not have a happy ending?
It worked beautifully in Vaarnam Ayiram and even in Vinnai Thandi Varuvaya where the hero glorifies his ex despite her betrayal but let's move on.
It's time to practice what you preach in your own movies.
Love is not just about a boy and girl, there are different elements and facets to love than having butterflies in your stomach and obsessing over the guitar.
When you've finished watching all the nine films, perhaps each one will realise and appreciate or criticise the films for different reasons and that's the beauty of it.
While learning Navarasa in Bharata Natyam, my dance guru used to say: 'Makkale, I can only train you to perfect the navarasa. But truth be told, no artiste is perfect or right.
'One rendition of the rasa may always almost overshadow the other and there will always be a better, finer way to do it. It's not your fault because art is very subjective, so just learn to embrace it.'
Maybe if the stories weren't bound by their themes or expectations or if they weren't limited to the time and the medium, Mani Ratnam's Navarasa could have been something better.
Navarasa streams on Netflix.
Rediff Rating: