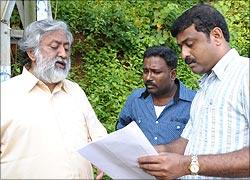 Adaminte Makan Abu, directed by debutant Salim Ahmed, bagged four major honours in the 58th National Awards, including the Best Film.
Salim Kumar, usually seen in comic roles, has been adjudged the Best Actor for his role as a 75 year old man, who, along with his wife, has a burning desire to go for the Haj pilgrimage.
Madhu Ambat was adjudged the Best Cinematographer while Isaac Thomas Kottukappilly won the award for its Background Score.

"This award announcement has been quite a heartening one and indeed surprising as well. I had decided to set my debut film in an atmosphere that is known to me. I have dealt with many Haj travellers and watched them closely during my stint in an airlines company. The anxieties, excitement and the preparations that go into the trip were interesting to be made into a movie," says director Salim Ahmed. He had earlier assisted scenarist T A Razack and director G S Vijayan.

Salim Kumar, who has done some serious roles before in films like Achanurangatha Veedu, Bridge in the Kerala Café anthology and Perumazhakkaalam among others, is usually regarded as one of the finest comedians in Malayalam cinema. He started as a mimicry artiste and has been an integral part of almost every entertainer for several years now.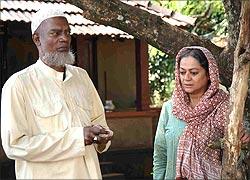 "I was fascinated by his performance in Bridge. The character in Adaminte Makan Abu was going through a similar sense of helplessness. He got into the skin of the character pretty well," says the director.

Well-known actor Zarina Wahab played Salim Kumar's wife in the film. Mukesh, Kalabhavan Mani, Nedumudi Venu and Suraj Venjarammood also starred in the film.

"Adaminte Makan Abu is an entertainer which uses a simple language and can be enjoyed by all. The film will hit the theatres in June," says Salim Ahmed.