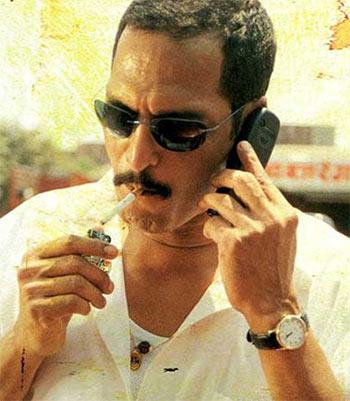 The formidable actor is one of Bollywood's best.


Nana Patekar is one of the best actors in the film industry, giving us some brilliant movies through his career, spread over three decades.
This Friday, we will see him in the sequel to one of his most successful and well-made films, Ab Tak Chappan.
Here's a look at some of Nana Patekar's top 10 movies.
Parinda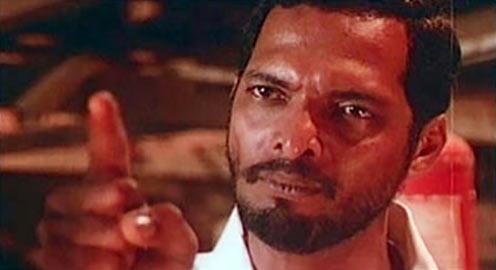 Image: Nana Patekar in Parinda
When director Vidhu Vinod Chopra conceived this brilliant gangster movie, he cast Nana Patekar, a relatively unknown name then.
Despite the presence of superstars like Anil Kapoor and Jackie Shroff, Nana came up with a brilliant act as a gang-lord who was forced to make some tough choices when it came to balancing his business and personal relationships.
His climatic fire sequence chills till date!


Krantiveer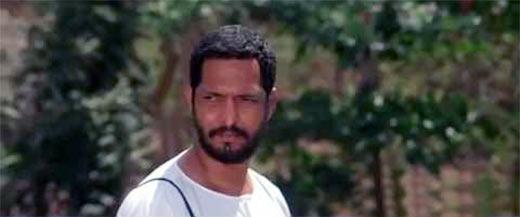 Image: Nana Patekar in Krantiveer
'Yeh Musalman ka khoon, yeh Hindu ka khoon. Bata, is mein Musalman ka kaunsa Hindu ka kaunsa. Bata!' (This is a Muslim's blood, and this is a Hindu's blood. Now tell me, whose blood is whose?)
The dialogue, which Nana Patekar cried out so passionately, has become iconic now.
If he was dancing along to a disco number (Love Rap) with Bindu in one episode of the film, he was busy making people understand the meaning of communal harmony later.
Krantiveer would be remembered as a film that opened a totally new career dimension for Nana Patekar.

Agni Sakshi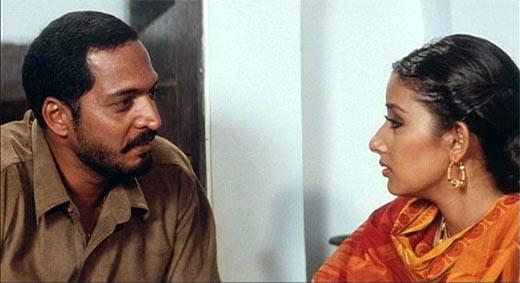 Image: Nana Patekar and Manisha Koirala in Agni Sakshi
Nana Patekar showcased impressive range as an abusive husband to Manisha Koirala's character in this 1996 drama directed by Partho Ghosh.
The audiences loathed his obsessive Vishwanath and yet were intrigued by his villainy.


Khamoshi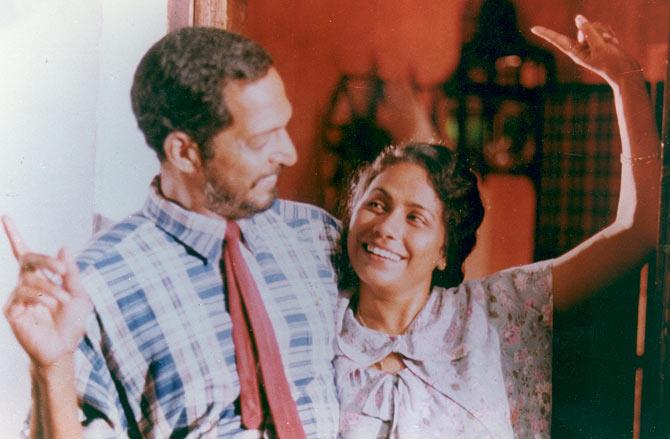 Image: Nana Patekar and Seema Biswas in Khamoshi: The Musical
As the deaf and mute Joseph Braganza who struggles to come to terms with his daughter's life choices, Nana Patekar delivered a memorably restrained performance.
His silent outburst when her daughter (played by Manisha Koirala) is in a coma was a standout scene. Even though the film tanked at the box office, Nana received widespread acclaim for his role.

Ghulam-E-Mustafa


Image: Raveena Tandon and Nana Patekar in Ghulam-E-Mustafa
In this sensitive portrayal of the communal divide and diversity in India, Nana Patekar played a gangster named Mustafa.
His love story with a dancer, played by Raveena Tandon, was endearing, but what remains etched in one's memory is the love-hate relationship that he had with the character played by Aruna Irani.
Wajood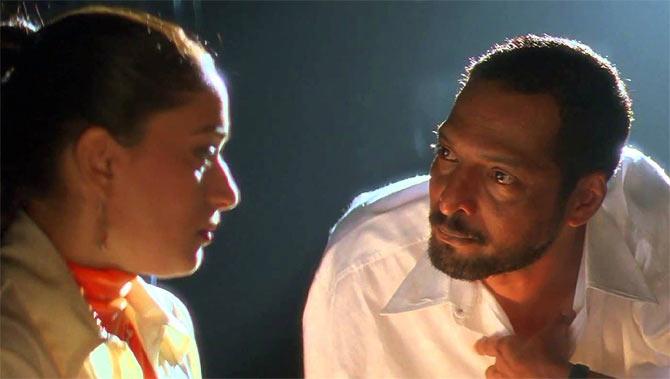 Image: Madhuri Dixit and Nana Patekar in Wajood
In Wajood, Nana plays a gifted actor, who falls in love with a rich girl named Apoorva (Madhuri Dixit).
Blissfully oblivious of the fact that his is a one-sided romance, he goes to great lengths to unite with his lady love.
The moment of truth makes his world come crashing down.


Ab Tak Chappan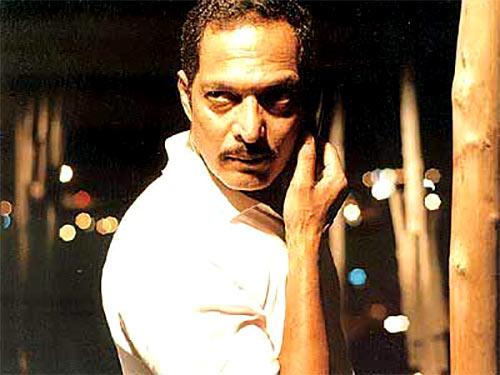 Image: Nana Patekar in Ab Tak Chappan
Inspired by the life and times of encounter specialist cop Daya Nayak, Ab Tak Chappan is a hard-hitting drama. It is also one of Nana Patekar's best performances.
As Sadhu Agashe, who equated the act of killing criminals as his duty, Nana Patekar demonstrated multiple shades in his characterization by coming across as a family man, who carried his calm and calculated persona on field as well.

Bluffmaster


Image: Nana Patekar in Bluffmaster
In Rohan Sippy's well-liked con film, Patekar played an underworld don who has a super interesting face-off with the protagonist, played by Abhishek Bachchan.
The film oscillated between thrilling and funny, and Nana seemed to be enjoying his part to the hilt.

His volte face towards the end of the film was a good touch.


Welcome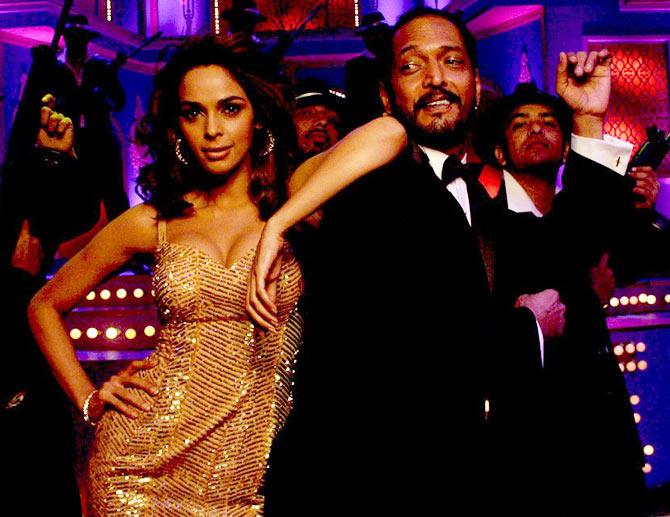 Image: Mallika Sherawat and Nana Patekar in Welcome
With Welcome, Nana proved that he could do comedy just as well as he tackled dark subjects.
As a much feared don who secretly harbours dreams of becoming an actor, he was endearing and hilarious in equal measures.


Raajneeti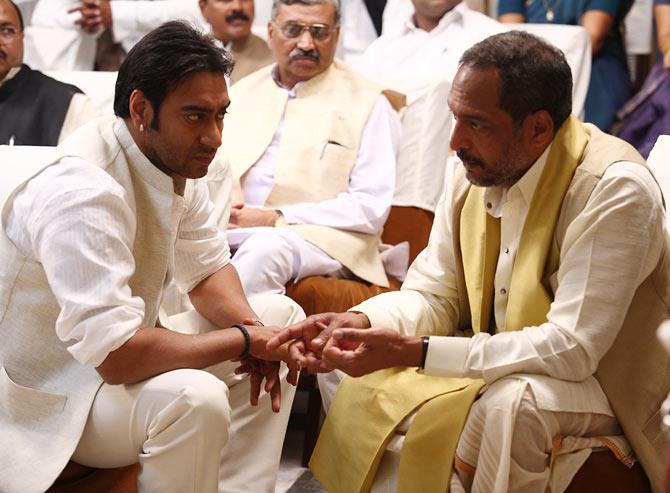 Image: Ajay Devgn and Nana Patekar in Rajneeti
In Prakash Jha's modern-day adaptation of the Mahabharata, Nana portrayed the contemporary Krishna with much success.
As the silent, calculative and cold Brij Gopal to whom manipulating came naturally, Nana was admirably convincing.


Shagird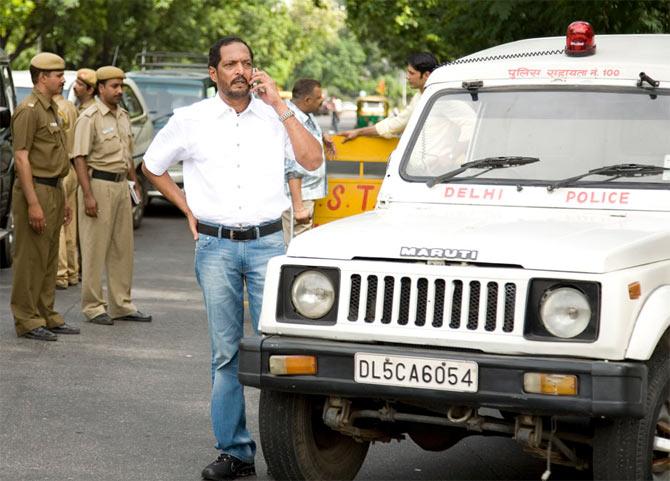 Image: Nana Patekar in Shagird
A film that went mostly unnoticed was Tigmanshu Dhulia's much delayed Shagird.
The story of a senior cop and a rookie (played by Mohit Ahlawat), who learns under his tutelage, Shagird was a dramatic film that deserved a better release.
Nana Patekar gave a superb, realistic performance in this gritty film.