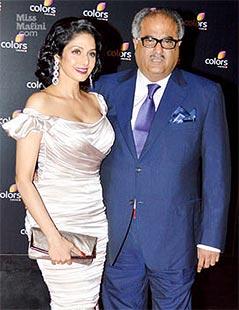 As women celebrated Karva Chauth on October 11, Sridevi and her husband Boney Kapoor had to deal with Ram Gopal Varma's upcoming film on a teenage boy's fantasies with an older woman, called Sridevi.
"It really hurt her that Ram Gopal Varma, who claimed to be her ardent fan, would use her name to promote sleaze. Boney was away in Jaipur when she got to know of Ramu's film. By the time Boney rushed back on Saturday evening, the damage was done," says a source.
"It came as an unpleasant shock to know that Ramu was using my wife's name in such a way," says Boney. "He has always claimed to be her fan. Ramu and I have collaborated on three films. He has been closely associated with me. He has worked with Sri in a Telugu film called Kshanam Kshanam."
"Doing something like this shows a perverse mind and an absolute bankruptcy of ideas," Boney adds.
Boney spoke to RGV about it as well.
"I spoke to him, asking how he could do something like this, considering our long association and his repeatedly-confessed admiration for Sri. Ramu told he will call me back the next day. When he didn't, I rang him. But he wouldn't take my calls. Instead, he sent me the press release announcing the film," Boney adds.
Boney has sent Ramu a legal notice but that isn't the end of the matter.
"I will go to any length to protect my family," promises Boney. "There are many legal ways to stop slander."
Photograph: Abhijit Mhamunkar