Legendary theatre personality Habib Tanvir passed into the ages on Monday. Stage director Nadira Babbar salutes his memory.
I have known Habibsaab since I was a child. He was associated with the Left movement. He would come to my home regularly as my father Syed Sajjad Zaheer was also involved in the movement. My father was like a father to him. He started doing theatre with the Indian People's Theatre Association and also joined the Progressive Writers Association with which my father was associated.
He became famous after he introduced his Chhattisgarhi style in his plays. He also brought theatre actors from villages in Chhattisgarh -- his home region -- to act in his plays.
By the time I joined the National School of Drama, he was a well-known theatre personality. After I graduated from the NSD, I joined him and acted in his play Suthradhar in 1977. I stayed in his group for a year. After that, I went abroad.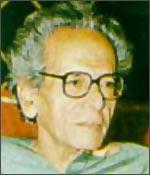 Habibsaab was a very innovative and creative writer. He was not a taskmaster. He was hard working and like a father figure to Indian theatre.
He wrote a play for the Congress party, Indra Sabha. The Congress was then pro-Left and believed in socialism; (then prime minister) Indira Gandhi had nationalised banks and the country made a lot of progress during her time. This play was written in praise of her.
When I started the Ekjute theatre group, we did his play Charandas Chor many times. It was well appreciated.
A couple of years ago, I met Habibsaab in Bhopal. I had gone with my theatre group to perform there. He came to see the play and liked it so much that he came backstage to congratulate me. He was healthy then.
He has been sick for a year, and had stopped working. I last spoke to him six months ago. I had inquired about him, and he sounded happy, not sick at all. He was discussing plans, and what he wanted to do.
I always admired Habibsaab's political convictions. No matter how much he was harassed by the ruling party or the fundamentalists, he stood his ground.
As told to Patcy N