'Himanshoo has become a typical Indian husband after marriage. I needed to take his permission to remove the mangal sutra and sindoor for some acts (in Nach Baliye), as it did not suit the costumes.'
'He also has become more demanding in terms of my affections and food!'
Nach Baliye 7 winners Himanshoo Malhotra and Amruta Khanvilkar discuss their relationship and the big win.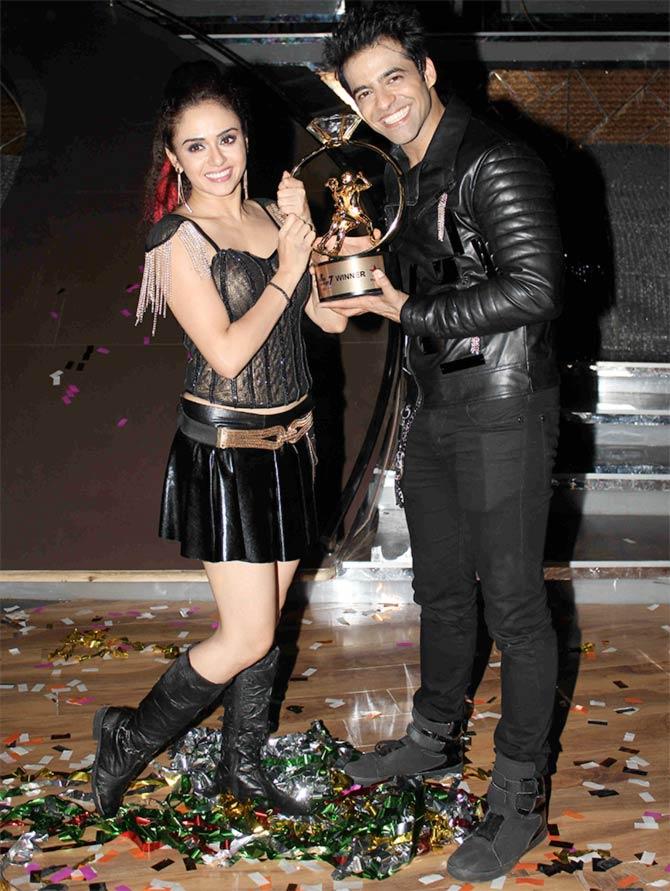 "Our prayers have been answered and our hard work has been paid off," gushes Himanshoo Malhotra, who won the Nach Baliye 7 title, along with his wife Amruta Khanvilkar. "We are grateful to all those who voted for us!"
The actor says that the Nach Baliye journey has been a 'fabulous journey'.
"The show gave me an adrenaline rush!" he exclaims. "I am in love with dancing! The show helped me bond with my wife on a different level,"
The actor couple have been one of the most consistent and loved performers on the show.
"Both of us were considered to be underdogs, as compared to some of the well known couples but we had no problem with it. We began with the perfect 30 in the very first round and kept up with consistent performances. We happily took on challenges, and our acts were appreciated by all three judges (Preity Zinta, Chetan Bhagat and Marzi Pestonji) and the audiences. That helped us to qualify for the finals," Amruta says.
They have, in fact, always enjoyed audience support.
"The love we received on social media was amazing," Himanshoo says. "When we were told that public voting gave us a broad victory, it was a great feeling. Audience not only appreciated our efforts but also recognised the heart-to-heart connection. We didn't retort any cheap gimmicks to get publicity."
Amruta says the 'Bhool Bhulaiyaa act' was their most memorable performance, as they had less time to prepare for it and yet, they got a standing ovation after they finished. In this act, Amruta transformed into the 'bloodied' Manjulika (one of Vidya Balan's characters in the Akshay Kumar-starrer Bhool Bhulaiyaa) and surprised everyone.
But the most memorable moment on the show was "when our choreographer Prateik jumped on Himanshoo when the winner's name was announced," she says happily.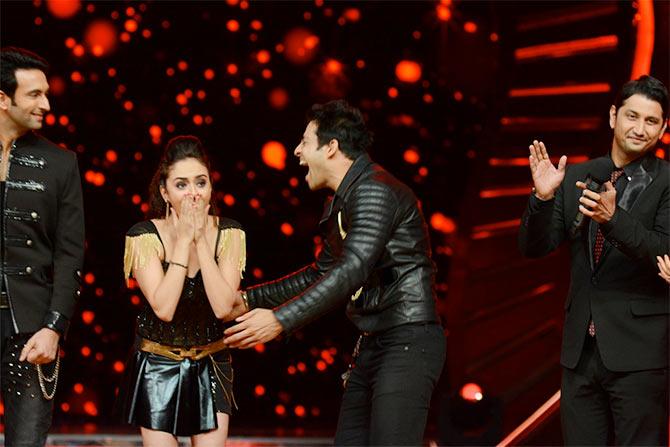 "I have never really taken up dance seriously. It was quite a task for me to match up to Amruta. But I am glad that our hard work worked," Himanshoo says.
Amrita quickly adds in praise of her husband: "During one of my lifts, I slipped from Himmanshoo's back. That's when I realised that apart from talent, you also need presence of mind. And Himmanshoo exhibited that so well to save the act then."
Himanshoo claims their relationship has evolved through the course of the show.
"I don't think there is anything about each other we didn't know before. But we moved a step forward in exploring ourselves and our relationship," he says.
Amrita, on the other hand, has a different take. "Marriage has changed Himmanshoo in some ways," she says. "Throughout our 10 years of courtship, he was more liberal. But after marriage, he has become a typical Indian husband. I needed to take his permission to remove the mangal sutra and sindoor for some daily acts (in the show), as it did not suit the costumes," she says, adding with a laugh: "He also has become more demanding in terms of my affections and food."
"Marriage automatically makes you responsible toward your wife," Himanshoo returns with a smile.
The couple has won Rs 35 lakh as prize money and a Honda Jazz car. So what will they do with the prize money?
"Honestly, we haven't thought about it but we will definitely have a big party with friends and family," they chorus.