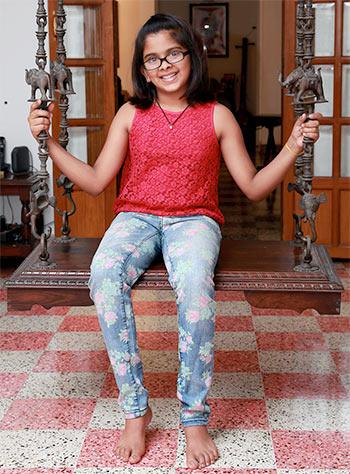 Ten-year-old Uthara's beautiful rendition of the song Azhagu, from the Tamil film Saivam, has won her the National Award for Best Female Playback Singer.
Uthara is the daughter of popular Carnatic vocalist and singer P Unnikrishnan.
This was her maiden song. More than two decades ago, in 1994, her father had won the National Award for his debut song Ennavale Adi Ennavale from the film Kadhalani.
The excited youngster, who is busy preparing for her exams, tells Rediff she wants to be a singer like her dad.
Congratulations. How does it feel to win the award?
Thank you, I feel really happy and excited. My grandmother from Calicut called us to convey the news.
My mom got so emotional, she hugged me tight and so did my brother.
All my friends and teachers are excited. Yesterday it was announced in school and everybody clapped and congratulated me.
A teacher who taught me ,when I was younger, wanted to take a selfie with me!
How did you get to do the playback for the film?
I had once sung at a Golu function at the home of Saindhavi Aunty (music composer G V Prakash's wife).
She called and asked my dad if I could sing this song. She just wanted me to try.
My dad encouraged me. But he was out of town so my mom accompanied me to the studio.
GV Uncle gave us a paper, on which he had written the lyrics in Tamil.
I can read and write Tamil, but I do it very slowly. My mom wrote it for me in English.
I practised for about 15 minutes and then I was called to record.
We completed the song in about three hours. I had a cold and cough that day and was not well, but we managed to record the whole song.
Later, changes were made to the lyrics, so I had to go and sing it again.
The second time they recorded it, my dad was with me.
Was it a very difficult song?
No, it was pretty easy because everybody helped me.
They were very patient and told me what to do, especially GV Uncle.
By then, I had already learnt the lyrics. We finished the recording in about two hours.
I love singing. I want to become a singer like my dad.
From the time I was three or four, I have been hearing him sing, and tried to imitate him.
I have been learning classical music for the last three years. We have classes three days a week. I practise for an hour every day.
My brother plays the piano. I sing along with him. It is a lot of fun.
Which is your favourite song?
There are many, but I love hearing Narumugaye and Uyirum Neeye sung by my father.
I also enjoy singer Shreya Ghoshal's songs.
I hear a lot of M S amma's songs.
Do you have time for other hobbies?
I love to play games outside with my friends.
I watch TV. I read books.
I enjoy watching movies; my favourite stars are Vijay and Suriya.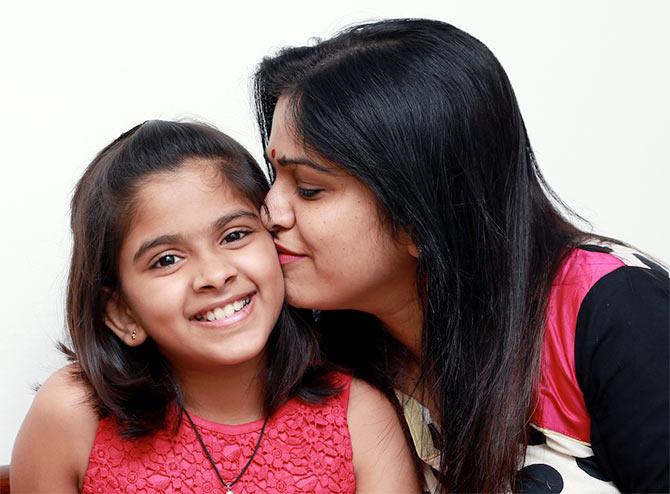 Uthara's mother Priya Unnikrishnan shares her thoughts on her daughter's success:
To be very honest, we did not even know that the National Awards were being announced.
My son is in the 12th standard so for the last couple of months we have almost stopped watching television.
My mother called me from Calicut with the news.
I was totally stunned. We were both crying over the phone.
There is so much competition and talent these days, and to think my daughter won the National Award is overwhelming!
But also a little scary.
She is so young and innocent. She barely understands the significance of the Award.
She loves singing. When I took her to record the song, she was so cool about it. I was more nervous.
When I heard the song for the first time, I was shocked.
It was beautiful. I have heard her sing plenty of times at home, but this came as a total surprise.
It is definitely a proud moment for us.