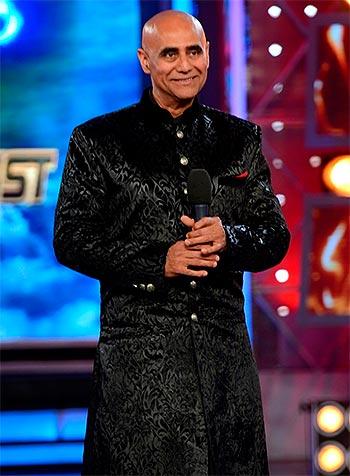 'I was nominated 13 times during my 15-week stay in Bigg Boss but they couldn't get me out. That is because I was truthful and entertained the audience with my good sense of humour,' Puneet Issar tells Rajul Hegde/ Rediff.com
Days after Salman Khan left Bigg Boss 8, his closest pal in the house Puneet Issar got evicted, along with Sonali Raut.
Puneet thinks he has made history on Bigg Boss. "I am the first contestant above the age of 56 to have completed 105 days inside the house. I am proud of it," he says.
The actor became famous for his role as Duryodhana in B R Chopra's 1988 telly serial Mahabharata.
Puneet claims he found he could control his anger even though there were times when he came close to losing it. "I have achieved what I wanted to. I would say I have become very patient now," he says.
His biggest achievement was losing 17 kilos during his stay in the house.
"I used to work out for eight hours a day, which includes running, boxing and martial arts.
"I completed all the work assigned to me with the same enthusiasm. Everybody in the house said that though I was the oldest, I was the fittest among the lot.
"Gautam (Gulati) called me 'Iron Man' and Upen Patel, 'Super hero'. Ali (Quli Mirza) said I was a 'human machine'," he says.
Most of the contestants who have been evicted so far have said that Puneet was the mastermind behind their evictions and played a dirty game. Puneet naturally doesn't agree.
"My sympathies are with those bad losers. I can understand their frustration and awkwardness. To come out and blame me is heartbreaking. These contestants couldn't face the fact that a man double their age lasted much longer than they did in the Bigg Boss house," he says.
He calls it "a tale of sour grapes."
He says the most he could have done was to nominate them for eviction.
"If they played a fair game and entertained the viewers, why would they evict them? I was nominated 13 times during my 15-week stay in Bigg Boss but they couldn't get me out. That is because I was truthful and entertained the audience with my good sense of humour. I gave them a run for their money," he boasts.
Some contestants have accused Puneet of influencing Gautam. "That is total rubbish. He is a great kid and he is doing so well," Puneet said.
Aarya Babbar said in an interview that he did not want to stay in touch with Puneet because he had lost respect for him for the way he behaved in the house. For those who came in late, Puneet got violent with Aarya, during a task on the reality show. Puneet was asked to leave the show, but was brought back after a few days, and jailed for a week.
Puneet is unfazed by this criticism.
"My father has written a song for Raj Babbarji (Aarya's father). There were several instances where Aarya was jealous of me. Aarya is like my kid brother. If I meet him, I will greet him in a good way. If he doesn't wish to stay in touch with me, God bless him," Puneet says.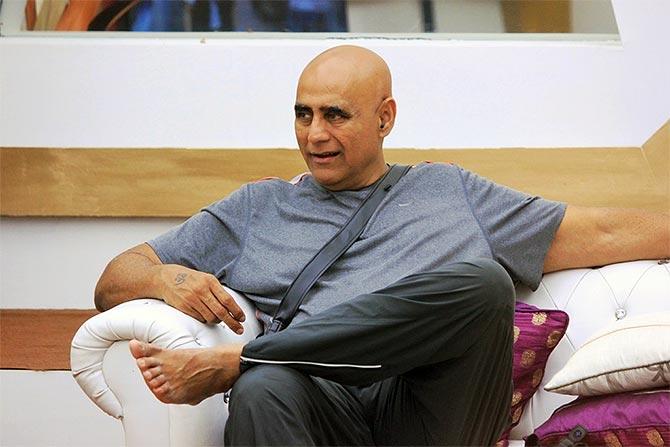 Image: Puneet Issar in Bigg Boss 8
Puneet refused to comment on the Twitter controversy, which involved his daughter's tweet against housemate Karishma Tanna and her late father.
"My daughter has spoken about it and it ends there. Karishma and I had a difference of opinion but it's all sorted out. What's the harm in playing a game? We are all contestants; it's part of the game," he says.
The 56-year-old actor discovered that he could dance quite well and now wants to participate in a dance reality show like Jhalak Dikhhla Jaa.
"Given a chance, I would love to host a television show as I have good communication skills and am fluent in Hindi, English and Urdu. I was a diction, speech and method acting professor before I became an actor," he says.
Of the new extension of Bigg Boss Halla Bol, Puneet says, "I am one of the most physically and mentally fit contestants. I wish I could be there. I would have given them a run for their money. It's unfair that the new challengers also have the chances of winning the show."
Post Bigg Boss, Puneet will direct a film called Gama Phelwan. He says Salman Khan is producing the film. The shoot will start either in January or February.