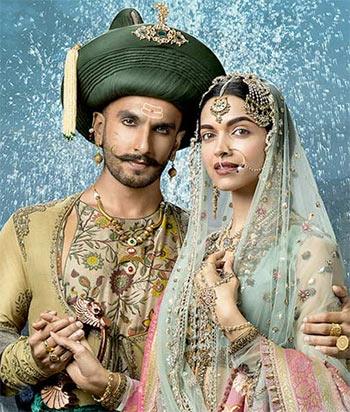 'People from unknown numbers kept calling me. I just picked up one such call and they asked me to give a reaction on winning the National award.'
'Then my mother just screamed. Her happiness means a lot to me.'
The winners of the 63rd National awards seemed quite overwhelmed with their big wins, and they spoke happily about them.
Here's taking a look:
'My mother's prayers are answered'
Image: Priyanka Chopra, Sanjay Leela Bhansali and Deepika Padukone during the shooting of the Pinga song in Bajirao Mastani.
Sanjay Leela Bhansali said his National award for Best Director for Bajirao Mastani was 'very special' because the win fulfilled his mother's longstanding wish.
This is Bhansali's first National award as a director and the 53-year-old filmmaker is glad that finally his mother's prayers have been answered.
"This is my first National Award as a director. It is really very special to me. My mother always prayed that I should get one and here I get it. Her prayers are answered," Bhansali said.
The director said he learnt about his National award win through a leading news channel.
"People from unknown numbers kept calling me. I just picked up one such call and they asked me to give a reaction on winning the National award. Then my mother just screamed. Her happiness means a lot to me," he added.
Bajirao Mastani, starring Deepika Padukone, Ranveer Singh and Priyanka Chopra, was not only a blockbuster but also swept the award season this year.
Bhansali, however, never anticipated a National award.
"With Bajirao Mastani, we have created history. I am too thrilled to receive the honour," he said.
The film has earned five other awards -- Best Supporting Actress for Tanvi Azmi, Best Choreography for Remo D'Souza, Best Cinematogrpahy, Production Design and Re-recordist.
***
'Bajrangi Bhaijaan is the greatest film of our times'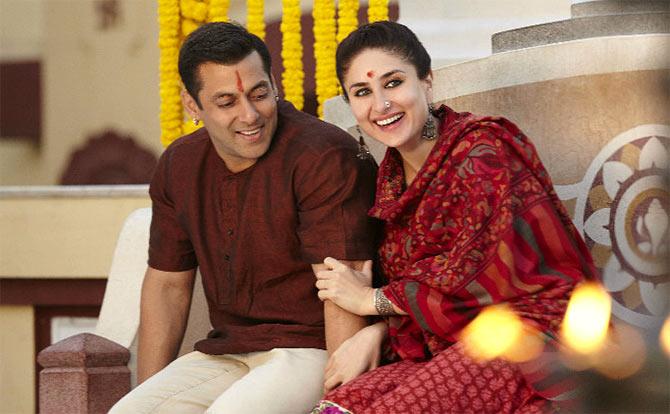 Image: Salman Khan and Kareena Kapoor Khan in Bajrangi Bhaijaan
Kareena Kapoor Khan is proud that her film Bajrangi Bhaijaan was named the Best Popular Film Providing Wholesome Entertainment at the
63rd National Film awards.
The 35-year-old actress gave the credit of the film's success to its lead Salman Khan and director Kabir Khan.
"Bajrangi Bhaijaan is the greatest film of our times. It spoke a lot about humanity, love, support and integrity, so I am really proud of the film. Of course, great going for Kabir Khan and Salman, who believed in the script and made this film happen," Kareena said.
Bajrangi Bhaijaan, a cross-border drama, revolved around a little Pakistani girl, who loses her way on the Indo-Pak border and finds herself in India.
Salman's character finds her and takes it upon himself to re-unite her with the family in Pakistan.
Kareena played 50-year-old actor's love interest in the film.
***
'Three awards for Visaranai mean triple the joy'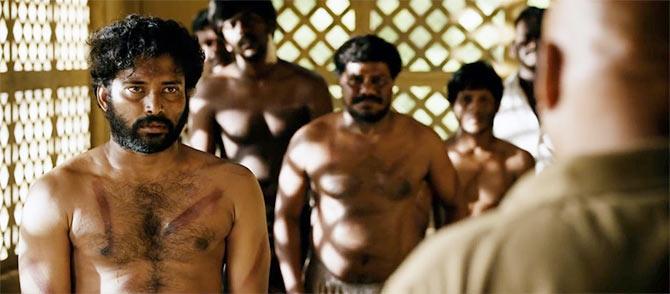 Image: A scene from Visaranai
With his production venture Visaranai bagging three National Awards -- including Best Tamil Film, Best Supporting actor for Samuthirakani, and Best Editing for the late TE Kishore -- Dhanush said the joy was 'triple.'
"Three awards for Visaranai mean triple the joy and I am duty bound to thank (the film's) director Vetrimaran," he said in a statement.
A National Award winner himself, Dhanush said he was sure the film would earn a 'special place' when he took up the venture, adding Tamil audiences will accept such 'creations' and that he was encouraged to support more such efforts.
Visaranai, based on M Chandrakumar's novel Lock Up, has already received international accolades.
***
'The win will act as the booster for Shankhachil'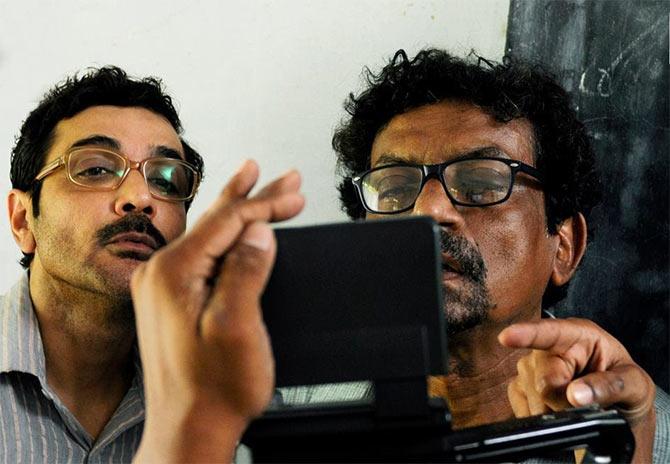 Image: Prosenjit and Goutam Ghose on the sets of Shankhachil
Director Goutam Ghose said Shankhachil getting the Best Bengali Film will boost the film's chances at the box office before its release in April.
"Feeling happy that Shankhachil, based on the Partition, has been adjudged as the Best Bengali film by the 63rd National Award selection jury. It will undoubtedly act as the booster for the film. I remember my previous Indo-Bangla production Moner Manush had got the IFFI Golden Peacock before its release. Such crowning before release definitely whets audience expectations," the Paar director said.

Ghose added that the selection trend this year showed the thrust was more on mainstream genre films which strike a chord with the larger audiences but said he had 'no issue with that.'
"I had been part of the jury for years. It's a highly subjective issue and their discretion. My wishes to the other recipients," he said.
Shankhachil, co-produced by Prosenjit Chatterjee, will be released in both West Bengal and Bangladesh on April 15, the day of Bengali New Year.
© Copyright 2022 PTI. All rights reserved. Republication or redistribution of PTI content, including by framing or similar means, is expressly prohibited without the prior written consent.