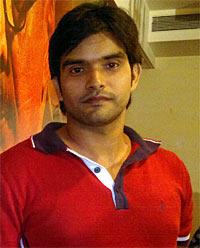 Jharkhand-born Sanjeev Jaiswal has reportedly been ostracized by family and friends in his hometown for playing terrorist Ajmal Kasab in Ram Gopal Varma's The Attacks Of 26/11. He has also been flooded by hate-mail.

"I am going through mixed feelings," Jaiswal says. "On the one hand, I am proud that my nine years of struggle as an actor has finally ended. Today, I'm being recognised . But it's a recognition that brings no triumph to me because audiences react to me as Kasab, the most hated man in this country."

Jaiswal has not even been able to see the film with the the public.

"I'm not allowed to go out," he says. "My friends, who watched the film, saw shoes being thrown on my character on screen. My family in Jharkhand has not reacted well to my screen debut.

"My mother broke down when she saw my hanging scene," he continues. "My father didn't like what I've done. He feels after all these years of struggle, playing Kasab is not what he hoped to see from his son. My four brothers and other family members feel humiliated. We come from a very conservative family in Jharkhand, where we have a small business. My brothers are far removed from the film industry, and so was I until now."

Jaiswal claims he studied Kasab, and his 'twisted interpretation of religion and Jihad.'

"I read books, including Rodrigues Rommel's account on Kasab. By the time I was ready to shoot with Ramu, I knew Kasab inside out and I despised the man. And I began to despise myself for thinking, speaking and acting the way Kasab did," he says.


"I regimented my mind to respond to Kasab's mindset as soon as I wore the Versace t-shirt and shoulder bag that he carried," he adds. "The minute the shooting was done, I was done with Kasab. I became Sanjeev Jaiswal and went home. It was important for me to distance myself from the character. Otherwise, I'd have become a wreck."
Jaiswal worked extensively in theatre in Delhi before he landed the role.
'It took me 13 years to get this part. In between, I did a small role in a serial called Sasural Gainda Phool. I was a hungry actor. Now I am waiting to be recognised as an actor beyond this role. Before playing Kasab, I didn't even know I resembled him. Now that I've played him, no one wants me to forget that I look like him," he says.