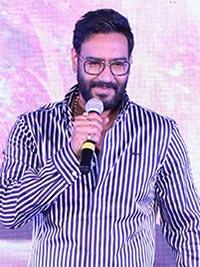 'People will talk about the action but I want the people to talk about the emotions.'
Ajay Devgn unveils his directorial comeback Shivaay.
Hundreds of fans started shouting Ajay Devgn's name when he stepped out on a make-shift stage at Indore's National Basketball Stadium.
These fans -- members of Devgn's 122 fans clubs from all over India -- wanted a part of the actor, and tried to touch him and reach out to him.
Devgn was in the city to promote his new film Shivaay, and launch its first official trailer.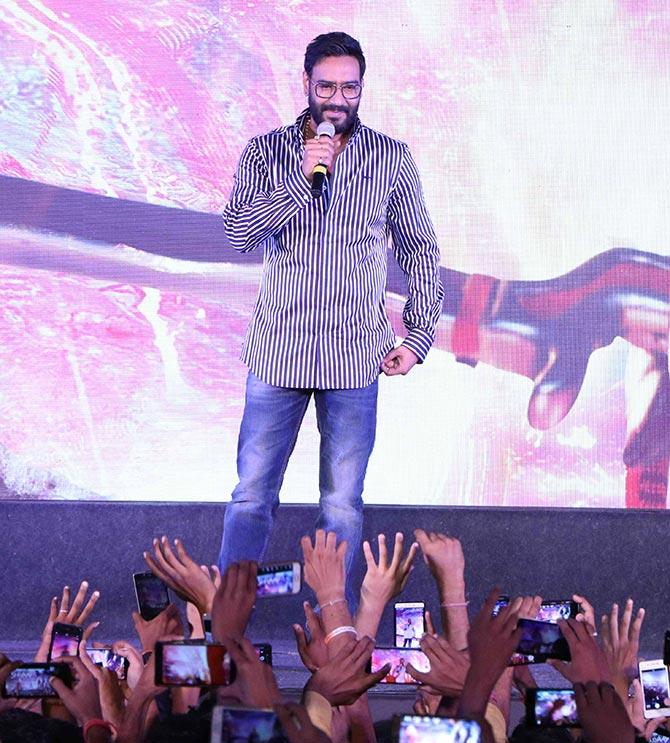 IMAGE: Ajay Devgn meets his fans at the launch of Shivaay in Indore.
The actor, who directed U Me Aur Hum way back in 2008, makes his directorial comeback after eight years. What took him so long?
''I was too occupied. I was working continuously and then I needed to take a break," Ajay explained. "I took a two-year break as a film of this scale needed a lot of planning.
"Once the scripting was done and the way I designed the film, my team felt that such a film could not be designed in India. God helped me make this film, as there were times when we thought it would not be possible and yet, things happened easily. I was very lucky," he added.
Devgn claims the story is simple but there is "strong emotional drama."
"Sandeep Srivastav narrated this story to me long ago. The subtly, emotion and drama in the screenplay really caught on to me. I said that if I ever decide to direct, this is the film I will make," he said.
The action sequences in the trailer look wow, and we can't help but wonder if action comes naturally to him. After all, his father Veeru Devgan was one of the best action directors in the industry.
"When I assisted my father and Shekhar Kapur (in 1995's much delayed Dushmani), action always came easily. People don't even apply the kind of technique that I have used. There are thrilling sequences like an avalanche, and many more," he said. "People will talk about the action but I want the people to talk about the emotions."
How much has he grown as a director? That's for you to decide," Devgn said. "My first film was a small one. It was about Alzemier's. Half the people here did not know about the disease, but the response I got from overseas was very nice. People understood the depth of the love story," Devgn said.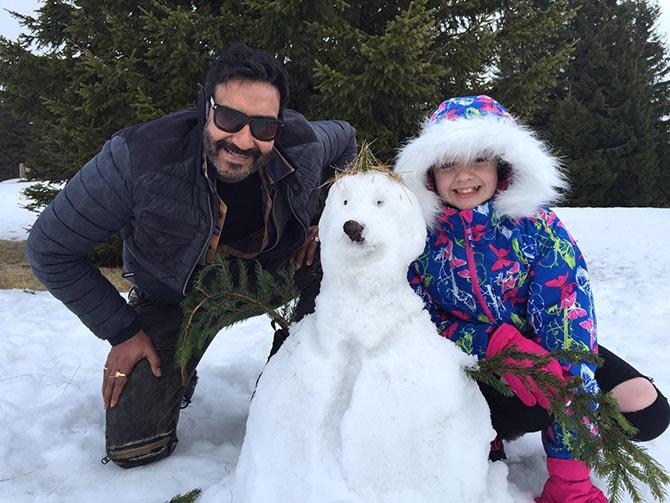 IMAGE: Ajay Devgn with his onscreen daughter Abigail Eames in Shivaay.
Much of the film has been shot in Bulgaria.
"Bulgaria was cold! I thank my unit for shooting at minus 20 degrees," he said. "There was practically no lunch break because the sunlight was only from 9 am to 4 pm, so we could shoot for five-six hours a day only."

IMAGE: Ajay Devgn's Shivaay stunt, shot in Bulgaria.
The cold was so bad that Devgn got hypothermia once.
"That was quite bad. There, doctors get scared very easily. They told us that with this kind of hypothermia, a person can die. They asked me not to work for two days. But after an hour's break, I resumed the shoot," he said.
Devgn says he chose the Bulgarian mountains rather then the Himalayas because access was a problem here. "The kind of shots and sequences we have done, we cannot reach such places here and shoot. Plus, they have equipment and safety measures, which we don't have here. It's very sad. We have beautiful locations but how do we reach there?" he asks.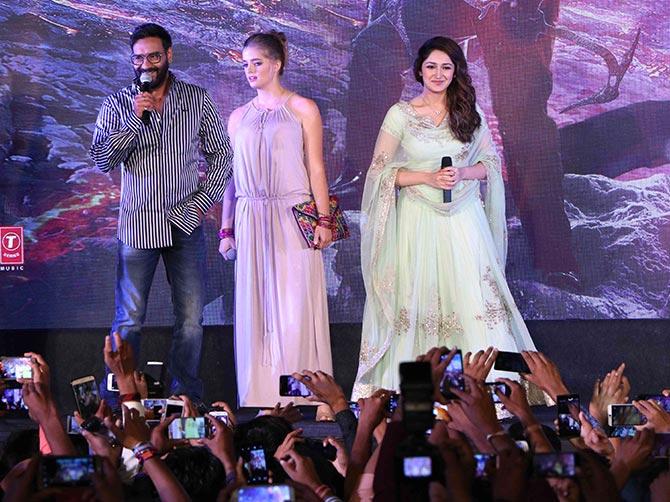 IMAGE: Ajay Devgn, Erika Kaar and Sayyeshaa Saigal at the trailer launch in Indore.
The film stars two heroines, Polish actress Erika Kaar and Sayyeshaa Saigal. Sayyeshaa, incidentally, is the daughter of yesteryear actors Sumeet Saigal and Shaheen Banu. Shaheen is the daughter of Saira Banu's brother Sultan Ahmed.
Sayyeshaa, who has worked in a Telugu film called Akhil, said she was grateful to Devgn for giving her a break in Shivaay. She lists her favourite Devgn films as Omkara and Drishyam.
Devgn's own personal favourite is Zakhm, for which he had won a National Award.
Erika has dabbled in television in Poland, and is excited about working in her first Hindi film. She has even learnt some Hindi through Skype before she started work on the film.
But she's not too fond of make-up and heels, and rues the fact that she had to put them on during the trailer launch.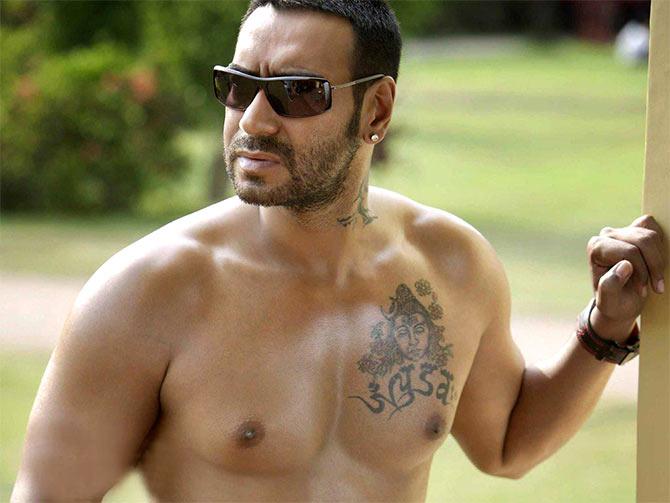 IMAGE: Ajay Devgn shows off his tattoo.
Devgn's character in the film is named Shivaay. He's a staunch follower of Lord Shiva, and has a Shiv tattoo on his chest. He also wears a rudraksha mala.
"I have been worshiping Lord Shiva since I was a child. I feel some kind of connection," he said.
Shivaay will release with Karan Johar's Ae Dil Hai Mushkil on Diwali, October 28, but Devgn feels there will be no clash.
"There is enough space for both films," he reasoned. "When you are confident about your product, nothing matters. I should concentrate on my film, and my hard work will show. That's what matters to me."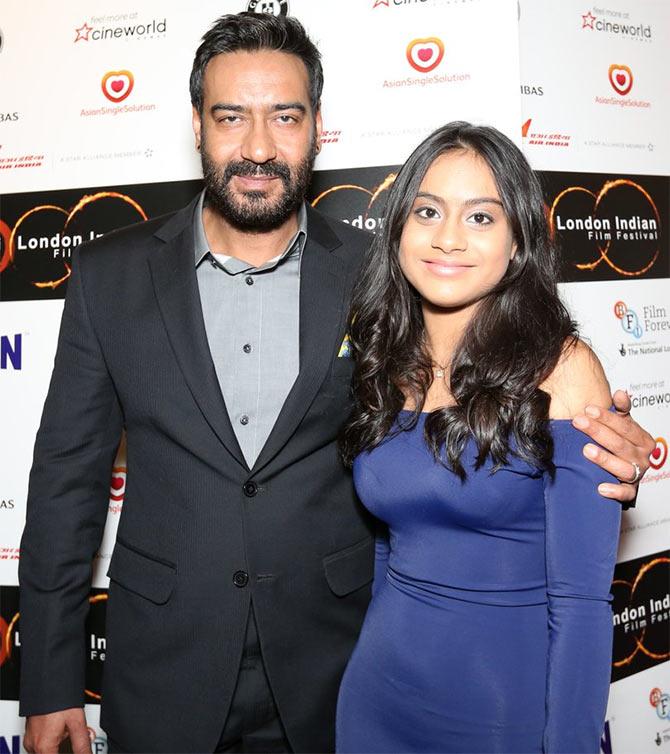 IMAGE: Ajay Devgn with daughter Nysa. Photograph: Ajay Devgn/Twitter
What did his family think about the trailer?
"They freaked out!" he exclaimed. "My daughter is my biggest critic. She doesn't like anything I do. But she said, 'Pop, I have never felt so many emotions in one film that I have felt in one promo." Maybe it's also because she knows the story."
The music, by Mithoon, will not disappoint, Devgn assured.
"The songs are not out of place. They take the film forward. There are no dance numbers in the film," he said.
After Shivaay, Devgn will start Golmaal 4.