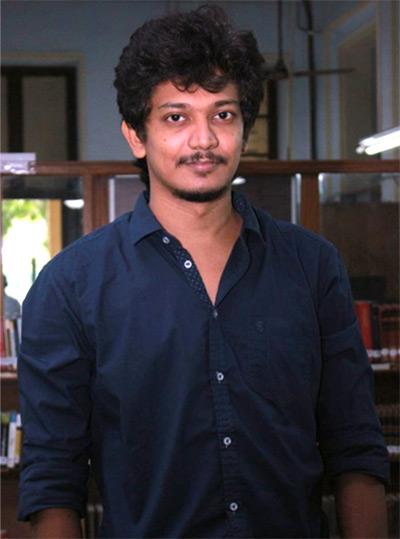 'I did not always want to be an actor. The initial plan was to become a filmmaker.'
Sri gets candid about his movie career.
After making an impressive debut with Balaji Sakthivel's National award-winning film Vazhakku Enn 18/9, Tamil actor Sri is back with yet another remarkable performance in Vil Ambu.
Directed by debutant Ramesh Subramaniam, the film tells the tale of two youngsters from different social backgrounds, drawn into each other's lives by circumstances.
Sri plays a hot-headed school dropout and lawbreaker with effortless ease, garnering much appreciation.
In this conversation with Rediff.com contributor S Saraswathi, the actor discusses his big break, and rejection.
Vilu Ambu has opened to rave reviews and your performance has been praised. How does it feel?
It feels wonderful, more so because it's been a while since my last film.
Everything worked out well for this film. We had a brilliant script, a director, who knew exactly what he wanted and a great production team.
Working under the banner of Suseenthiran was very reassuring.
Any truth in the rumours that the project was to be helmed by Suseenthiran himself?
No. Suseenthiran sir had always maintained that he would produce the film for his friend Ramesh Subramaniam.
How did you get this opportunity?
Your work speaks for you. My performance in Vazhakku Enn 18/9 got me an opportunity to work with director Mysskin in Onayum Aatukuttiyum. Perhaps it was the combination of both these films that helped get a role in Vil Ambu.
Your character in this film was quite unlike your previous more serious roles. Did you have any apprehensions?
I don't think there were any apprehensions. I felt quite confident that I could do the role.
After a few rehearsals, I knew I was on the right track. It is all about instinct. When I first heard the script, something told me that I should accept this role.
What excited me was that unlike my previous roles where my characters were introverts, Karthik was outgoing, with an attitude that was quite challenging. There was a certain intensity to the character. His 'I don't give a damn attitude' appealed to me. I felt there was a lot of scope for me to perform as an actor.
You have worked with senior directors like Mysskin and Balaji Sakthivel. How different was it working with a debutant director?
Everyone has their own unique way of making a film. Balaji sir has his own style.
Mysskin sir works in a different way. He always made sure we had rehearsals before every shot. That way, there was no doubt about what was expected from us. We knew what kind of emotions he wanted in a particular scene. So there were less inhibitions when we faced the camera.
Ramesh Subramaniam also has his own distinct style of making films.
But the one thing that is common between them is that they all want to make good movies. In that way I feel very lucky.
Did you always aspire to be an actor?
I did not always want to be an actor. The initial plan was to become a filmmaker.
I think this desire to act grew on me when I was at college. I did my Visual Communications in Loyola College, Chennai. During those days, we did a lot of mime shows.
A friend suggested I try to get an audition for a role in Balaji's Kalloori. It was a coming-of-age drama that revolved around college students.
I met them but was rejected. I did not even get to audition for the role. Now when I look back, I feel that it was this rejection that strengthened my resolve to choose an acting career.
You were rejected for Balaji's Kalloori, and later went on to debut under the very same director for his next film Vazhakku Enn 18/9.
It was in 2006 that I tried to get into Balaji's film and was rejected. I went on to work in a sitcom called Kana Kaanum Kaalangal for Vijay TV, which received a good response. I also worked as a voice artist for the radio.
By then, I knew that I wanted to pursue acting as a career, but was taking it one step at a time.
One day, I got a call from Balaji's office to audition for the role in his next film Vazhakku Enn 18/9. I auditioned, they were happy with my work and everything fell in place.

The funny part was that Balaji was not even aware that I had auditioned for his previous film. He came to know of it only after reading about it in one of my interviews.
It was probably for the best. Maybe this had to happen when I was more mature, both physically and emotionally. I probably needed those years to grow up as a person, as an actor.
Did any actor inspire you?
There have been so many who have inspired me -- Vikram sir, Suriya sir, Kamal Haasan sir... I enjoyed watching Rajinikanth sir, especially his old films.
Is there some particular director you want to work with?
It has been my dream to work under Mani Ratnam sir. Even the character I play would not matter; being in his film would be enough.
Other than that, I have no definite plans. I just want to take it one script at a time.
If, as an actor, I see some potential in the character for me, I would take up that role.
Any new projects in the pipeline?
I have just finished shooting for Lokesh Kanagaraj's comedy thriller titled Mahanagaram. The film also stars Sundeep Kishan and Regina Cassandra.
It is in the final stages of post-production. If all goes well, it will release in April.