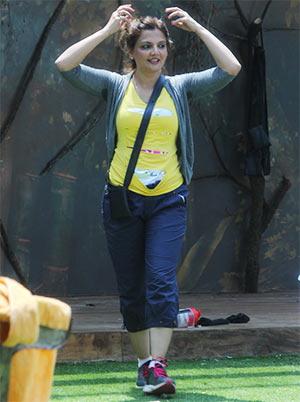 "Because I was a strong contender, I got nominated," Deepshika Nagpal tells Rajul Hegde.
Deepshika Nagpal's elimination came as a shocker to everyone, as she was considered one of the strongest contestants in Bigg Boss 8.
The actress had entered the house as one of the three members of the 'Secret Society' along with Punit Isaar and RJ Pritam.
"Honestly, even I was shocked," Deepshika says. "I was not pretending to be someone else. I am very strict and disciplined in real life too. It looks like people took my attitude in a wrong way. Because I was a strong contender, I got nominated."
Talking about her experience, Deepshika says, "I was in the house for 21 days. It was like a holiday for me. I detoxed myself and lost weight.
"The Bigg Boss house is so beautifully done up. I had a blast. Everyone thought I was bossy but they never understood that I was not being someone else," she adds.
Though her attitude did not go down well with the contestants, they loved her culinary skills. Deepshikha especially bonded with Diandra Soares, Upen Patel, Karishma Tanna and Natasa Stankovic.
"Back-stabbers like Praneet Bhat, Puneet Issar and and Pritam Singh were insecure because they knew I was a strong contender. I am really upset with Puneetji. He is a double-faced person," Deepshika says.
"When we were part of the Secret Society and locked away in a room, I looked after him like a mother because he got claustrophobic and sick. He was grateful for my care and concern but when he came into the Bigg Boss house, his behaviour changed," she explains.
Deepshika's children are quite upset about their mother's eviction from the show.
"My children are asking me when will I go back to the show. They are very disappointed. My husband Keshav assured me that he would take care of the house and children when I would be away in Bigg Boss. He is my biggest support system," she says.
The actress says being on the show was challenge but she is 'proud' of the way she conducted herself. "I am very grateful to have got a chance to be in the Bigg Boss house. I was offered every season but things didn't work out earlier," she says.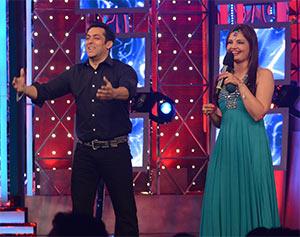 "I agreed to this season because it's a huge challenge for me to survive in a house with limited food. The show also tests my patience," she says.
"Bigg Boss had told me that Keshav will enter the house when it's time for me to break the Karva Chauth fast but that did not happen. That's when I had an inkling that I would be eliminated. After the elimination, I reached home at 3.30 am and broke my fast," she says.
Deepshikha condemned Aarya Babbar's behaviour towards Minissha Lamba, calling it highly immature. "Aarya should not have spoken about their past when both of them have moved on in their lives. It was an immature move and a bad way to get publicity," she said.
Future plans? "I was a last minute addition on Bigg Boss. Life is never about what you want it to be. I had a couple of Hindi films offers before I went inside the house," Deepshikha says.