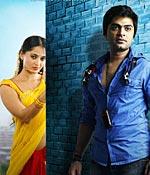 Cloud Nine Movies' Tamil film Vaanam (Sky), a remake of the Telugu hit Vedham, starring Allu Arjun and a host of other actors, has been making waves.
The new film stars STR, Bharath and Anushka Shetty.
Directed by Krish, who took the Telugu industry by storm with his unique way of storytelling, the Tamil version has music by Yuvan Shankar Raja, while Na Muthukumar, STR, Abhishek, Lawrence have contributed the lyrics.

Here's a listen at the album which has already created a buzz:

There's very little to be said of the number that was released ahead of all the others and swiftly climbed to numero uno position on the charts: Evandi Unnai Pethan. STR has always been known to add plenty of shock value to his works and this one's no different. Even the start makes you sit up as he rails at the father of his girlfriend, asks to be shot with a gun, shouts announcements like Facebook and Twitter and yet, it can't be denied that perhaps, these are the very things that do make the song, somehow intriguing. Perhaps its biggest appeal is that it showcases the push-pull attraction between young lovers; one minute it's hate, the next, its love. The English lyrics, are, of course, icing on the cake.

Vaanam begins with Yuvan Shankar Raja's nasal voice and a nice burst of guitar that touches all the angst buttons. The lyrics also take a turn off the beaten path; the words 'Deivam Vaazhvadhu Enge?' seem to have special significance. From here on, the number veers off into synthesized music and into romantic fare. The charanam loses some appeal, but thankfully it touches the pallavi soon. The ending is sweetness itself.

Thundering beats assault your ears and Cable Raja kicks off as Abhishek and Lawrence crackle through the song in their hoarse voices. Cable Raja, the refrain pops in at regular intervals, but obviously, it's the rhythm that sustains this number.

It's almost sounds like the beginning of one of Agni Nathchathiram's numbers, but of course, it's a throwback to the 1980s' disco compositions and to give credit where its due, it does rock. Who am I, rendered by Benny Dayal, reminds you instantly of strobe lights and psychedelic visions; it rises and ebbs in approved eighties pop-music fashion. Perhaps those who have been weaned on such songs might not find this brilliant but it does have its appeal.

STR, Andrea, and Srikanth Deva pitch in for No Money No Honey, which seems a strange blend of ethic dappankuthu and synthesized music. The beats that seemed interesting in previous numbers seems to lose their attraction here because of an overload. Obviously, STR's voice has been chosen for its ability to skate off the rails on occasion, while the lyrics, all about the purchasing power of money in a mixture of English and Tamil aren't that exciting, either. A lacklustre number.

Like some of Yuvan's most recent albums, Vaanam too, scores in some areas: the number Vaanam and Who am I. The rest fall into the Yuvan template, while the appeal of Evandi Unnai Pethan is almost purely its in-your-face lyrics. For those who hoped for melodious numbers, this one might prove a dampener.
Rediff Rating: