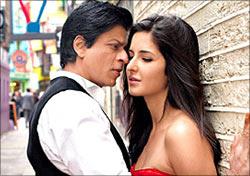 Something is sorely amiss in the songs of Jab Tak Hai Jaan, writes Sukanya Verma.

With the exception of

Dil To Pagal Hai

(which too has a nice ring), just about every title of a Yash Chopra creation articulates its gist in very little.

And so when the mysteriously long wait for the name of his latest (and perhaps last) came to an end with

Jab Tak Hai Jaan

, the response ranged from 'dated' to 'dramatic.'  It wasn't a selection I had hoped for but I reasoned if we could get used to

Jab We Met

, we'll probably get used to this too.

Then came out its first poster with some of the hottest credits in the business reduced to inconsequence and my immediate reaction was 'Who okayed this mess?' But if inventive posters lead to inane films like

Rowdy Rathore

, I'd rather make my peace with

JTHJ

and get used to it.

When it's hugely anticipated soundtrack released a schmaltzy recital of an Aditya Chopra poem in Shah Rukh Khan's ardent voice followed by the smashing song teaser

Challa

, I felt better about my conciliations. What more could a year, brimming with remarkable movie scores like

Gangs of Wasseypur, Vicky Donor

and

Barfi!,

ask for above the exquisite combination of A R Rahman's melody and Gulzar's mood as icing?

Alas, something is sorely amiss in the songs of Jab Tak Hai Jaan. It has its moments of technique and finesse but not the soul that soars or stirs.


Now I love Rahman. Even his lesser appreciated albums like Yuvvraaj and Raavan are absolute favourites of mine. But here's what I discovered about his compositions for the Yash Raj romance starring Shah Rukh Khan, Katrina Kaif and Anushka Sharma.

Things begin on an upbeat note with the infectious strumming of guitar and Rabbi Shergill's spirited rendition of Challa resonating a wanderer's philosophy in Gulzar's free flowing Punjabi. Beaming with charm and a catchy hook, Challa falls in the category of songs that make great first impressions.

There are songs that become epic and others that labour to sound epic. Even a whiff of Tu hi re (Bombay), Pyaar yeh jaane kaisa hai (Rangeela), Nahi saamne (Taal) or Satrangi re (Dil Se..) invariably leads to goose pimples with its wholehearted, unbridled display of passion. Saans, with its ardor-filled expressions and heightened drama in Rahman's arrangement, strives so hard to be evocative it only ends up sounding showy and synthetic in the process.  

Shreya Ghosal returns to offers a slower, sadder version of Saans with just one thing in mind --

melodrama.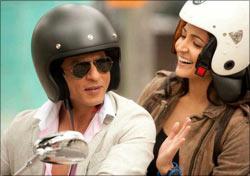 Rahman lends an inexplicably 1990s treatment to Raghav Mathur and Shilpa Rao's gingery play of Gulzar's words in Ishq shava. While the singers do their bit with gusto and the percussion hits a snazzy note every now and then, this semi-Arabic pop number may or may not catch your fancy.   
Things hit a mellow, sentimental note with Harshdeep Kaur's delicate delivery of Heer. Kaur who collaborated with Rahman on Ik Onkar (Rang De Basanti) and Katiya karun (Rockstar) gets the nuances of Gulzar drawing metaphors from the legend of Punjab's romance icons like Heer-Ranjha and Mirza-Sahiban to create a lovely, lilting melody.
'Khudi se maine ishq kiya re,' admits Neeti Mohan in her steady, vivacious attitude. As irresistible as I find Gulzar's voice in her dynamic delivery of Jiya re, wish Rahman hadn't gone overboard introducing too many elements in this otherwise sorted out ditty. The uneven tempo and constant shift in disposition is most exasperating.  
There's no dearth of pronounced grandeur and high-pitched romantic assertions in the title piece, which alternates between tender and towering. Performed flawlessly by Javed Ali and Shakthisree Gopalan, Jab Tak Hai Jaan is designed to showcase the undying love in the face of impossible circumstances between its lead protagonists. It is here that Rahman achieves the afore-mentioned 'epicness' with his lavish spread of sur and spectacle.   
And breaking that up enters Rahman's bizarre instrumental creation, Ishq Dance which is basically an energetic play of drums accompanied by an eager chorus mouthing mechanical 'Heys' is better suited as the background score for a jungle scene between a ferocious beast and a bunch of exotic tribals.
The album concludes with SRK reading out Aditya Chopra's adjective-loaded verse against Rahman's striking imagery, reminiscent of Argentine composer Gustavo Santaolalla's elegant use of the instrument charango in The Motorcycle Diaries OST (La Partida in particular).
Save for a few inspiring notes, even a die-hard Rahman fan will admit to feeling underwhelmed with what Jab Tak Hai Jaan has to offer. I've heard the songs of over and over again with the hope of, well, getting used to them. But it just doesn't work that way. It shouldn't have to.
Rediff Rating: