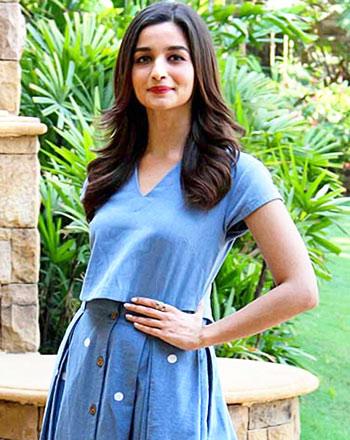 'Mumbai stands tall yet again.'
Mumbai was pounded by rain on Tuesday, August 29.
Like most Mumbaikars, Bollywood wallahs had tough times as well.
Bollyfolk took to social media to tell Mumbaikars to be safe and shared their stories.
Alia Bhatt: Heard about the heavy rains in Mumbai!!! Please be safe.. And PLEASE make some room for stray dogs and cats in your buildings & compounds!
Amitabh Bachchan: Lashing rain .. flooded water logged .. but so admirable to see Mumbai Police, common man helping out .. true Mumbaikar Spirit.
Don't try to fight nature .. don't put blame .. what did the most powerful nation in the World do against Hurricane Harvey ??
Flooded roads, Police common man helping against terrible odds .. amidst this 'Visarjan' with band music still on .. amazing Mumbai.'
'A peculiar eerie quiet in the morning of Mumbai .. and now the rain has started again .. BUT Mumbaikar Spirit is tough .. JAI HIND.'
Dilip Kumar: Watching the rains from my window all day. I am praying for your safety and health in this downpour. May Allah keep all of you safe.
#mumbaiRains. I've been told the authorities are doing their best to make it easy for you. God bless.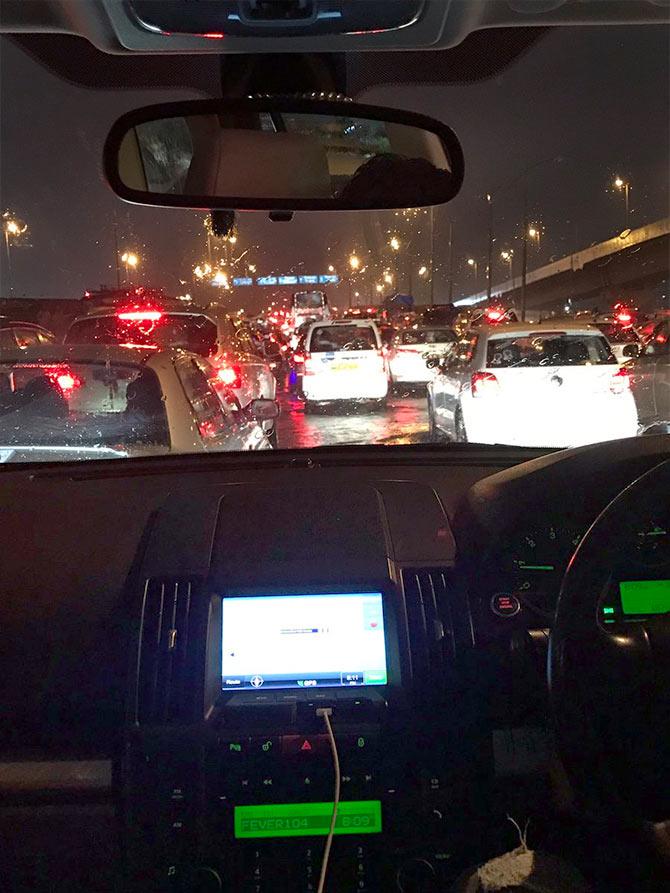 Huma Qureshi posted a picture, above, and noted: Was stuck for 3 hours on the highway ..saw so many people help each other out !! that's my #Mumbai... hope everyone is safe .. now I'm off.
Priyanka Chopra: BMC helpline 1916. Police Helpline 100..Home is the safest.. for most. Find shelter and give shelter. Be safe Mumbai #mumbairains
Torrential Mumbai Monsoon. The wrath of nature. Pls be safe everyone. Pls allow strays into dry spaces.
Varun Dhawan: Mumbai stands tall yet again. The greatest city in the world. Mumbaikars can overcome any adversity. Love the spirit of Mumbai #mumbairains
Everyone please stay safe.please refrain from spreading rumours.
On the way home today I saw so many people helping one another.
I saw the Mumbai police braving the rain and helping people I was also helped to reach home by some people that's why i say#mumbaimerijaan.
Suniel Shetty: A big shout out to the #RainHosts in the city who define what #Mumbai is all about! God bless you all! #MumbaiRains
Anil Kapoor: Mumbaikars, be safe & lend a helping hand to those in distress! We got through this before & we'll get through it again! #mumbairains
Jackie Shroff: Stay safe mumbaikars and help each other.
Shraddha Kapoor: Everyone please stay safe and indoors. Feel terrible about people and animals with no proper shelter or no shelter at all. #MumbaiRains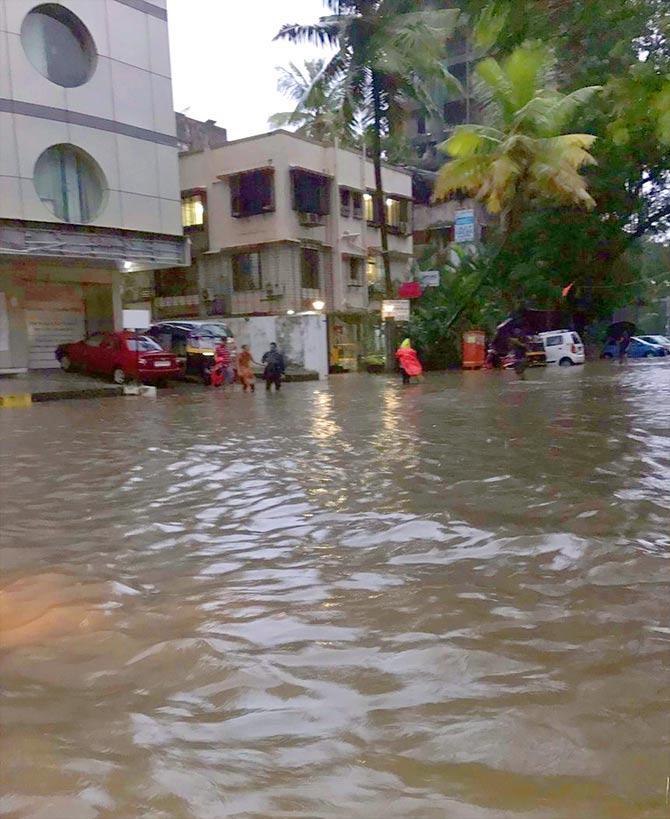 Kailash Kher posted a picture, above, and wrote: Ek Ghante Ki barish ne Juhu ki Main sadak ko Lake bana Diya. Dear Authority now is the time when we can think how to manage better this city.
Juhi Chawla: Buying chocolates and biscuits to distribute to homeless and hungry, in the streets close by. Children may be wet and cold.
Emraan Hashmi: #MumbaiRains The BMC emergency helpline number is 1916. For traffic emergencies, call the police at 100. Stay safe everyone!
Anupam Kher: My car got stuck in heavy rains. Called a friend. He & his daughter came to my rescue. Now I am in his house. #StaySafe #HelpfulMumbai.
There is no financial capital of any country like Mumbai which is treated so shabbily & irresponsibly by the authorities years after years.
There is NO city in the world like #Mumbai when it comes to Human Bonding & Resilience at the time of crises.
We see that again & again.
Taapsee Pannu: Stay safe people and stay indoors! BMC EMERGENCY NUMBER 1916 #MumbaiRains
Lara Dutta: Putting our Wimbledon, US Open, Aus Open &French Open towels to good use!@Maheshbhupathi #MumbaiRain.Stay safe & indoors if possible folks!
Abhishek Bachchan: Happy National Sports Day. Today's sport of choice is swimming. Enjoy! #MumbaiRains
Farah Khan: There's no better feeling than that of coming home! Hope everyone reaches their home safely today ! #MumbaiRains
Mahesh Bhatt: Wake up Mumbai !! This is the worst monsoon 'nightmare' !!! Just spoke to 2 of my sisters. They almost drowned in Khar West.
Sophie Choudry: Was headed to a meeting & a tree just fell on my car! Have no idea how we escaped safe. The roads are a mess.Don't go out unless u have to!
Sonakshi Sinha: #mumbairains really lashing down. Please stay indoors and be safe everyone. Help those who need it. BMC helpline 1916, police 100.
Vishal Dadlani: Mumbai. If you're getting into a car, make sure you have water, food & something to break windows with, if needed. Stay safe, help others.
Vikram Bhatt: Home finally! One insight I bring home; is the resilience of the people of this city taken for granted? Time and again? #MumbaiRains
Raveena Tandon: Decades of overdevelopment, bad planning, corruption, no infrastructure, trashing rivers, City is bound to collapse!years to undo/restructure.
Easy to blame authorities,rightfully so.
We also need to get more aware of how we can help to keep our city clean/maintained as well.
Radical environmental steps be taken. stp plastic,clean Mithi,control overdevelopment.
let mangroves live,above all keep neighbourhood clean.
Unprecedented deluges happen other countries too,they also end up unprepared at times.tho met dept should've warned.citizens caught unaware.
Dia Mirza: Please do not venture out! If you can offer shelter to strays and people stuck in the rain please do. MCGM helpline number 1916 #MumbaiRains
Photograph: Pradeep Bandekar