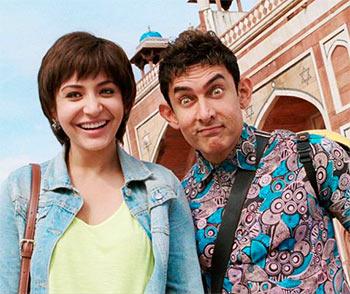 A handful of Mumbai's oldest theatres have decided to forgo the release of Aamir Khan-starrer PK, which releases December 19.
Regular patrons of Gaiety-Galaxy and Maratha Mandir will not get to watch Rajkumar Hirani's latest movie.
Reason? Producer Vidhu Vinod Chopra wants a substantially increased price for the film. This will result in a hike of almost 100 percent in the ticket rates.
Manoj Desai, the owner of Gaiety-Galaxy theatres, says: "We are not releasing PK because Vinod Chopra is demanding an unreasonable price. We have been trying to reason with him for three days but to no avail. Now I have no choice but to move on. We are screening Lingaa instead."
Does Desai regret not screening PK? "This is one business that goes on regardless of the films that come and go but Mr Chopra doesn't think so," he says. "He told me I will go into losses but I firmly believe no one loses out by not releasing one film. He is blinded by the impending success of PK."
In any case, Desai thinks it's time someone belled the cat. "Someone had to take a stand. It is painful to see films starring the Khans being pitched at double the normal price. I'd like to remind them no one is infallible, and no one's shop will close down just because one customer walks away."
Desai feels Aamir should not be a part of this practice of ticket price-hiking. "Aamirji does a show about the nation's conscience like Satyamev Jayate. It is saddening to see him talk like this," he says.