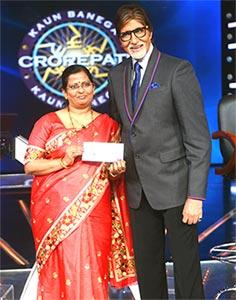 Megha Patil, a cancer patient from Mumbai, has won Rs 1 crore on Kaun Banega Crorepati 8.

Patil recently recovered from breast cancer but now she has been diagnosed with liver cancer. She says the prize money will be a big help for her medical treatment and her kids' studies.

"I was diagnosed with breast cancer in 2006 and Rs 35 lakh was spent on my treatment. Now, with liver cancer, we don't know how much more will be needed. This win is like world bank for me, God has been has been kind. My daughter wants to be an architect and son is trying for an MBA degree. So we use the money for their fees," she said in an interview.

Patil credits her family for supporting and encouraging her to live a normal life despite her illness.

"My husband made cancer look so small. He never used to show that he was tensed. He just told me to be happy and concentrate on our kids and slowly I got tuned with that. Eventually, the illness seemed
like nothing to me. I am living for my kids and their smiles give me life," she said.
Patil says her win on the show is yet to sink in.
"I never thought I would win such a big amount. I went with an open mind and prayed to God to bless me with whatever he wants. I have always been like this. Even when I was diagnosed with breast cancer, my husband and I took it lightly so that we could keep our sanity intact. My will power and optimism has brought me this far," Patil said.
Patil has always been a follower of the game show but it was her son who prompted her to participate.
"I am glad I agreed to my son as this win means so much for me. Two years back, my son saw me giving correct answers for the questions that was being asked to the contestants and he asked me to prepare for it," she said.
Patil says she loves the attention her winning stint on the show has brought.
"Many men in my locality are telling their wives to be like me, it feels so good. My female friends say that I inspire them. I am loving the VIP attention but it has not gone to my head," she said.
The episode in which Patil won, will be aired on October 20 on Sony Entertainment Television.