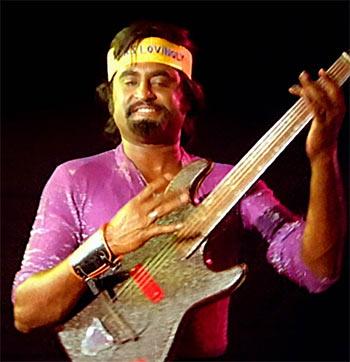 Saluting the late MS Viswanathan and his brilliant music.
Legendary music composer Manayangath Subramanian Viswanathan, or MSV, was popularly known as Mellisai Mannar or the King of Light Music. He started his career with Panam (1952).
Since then, he composed music for over 1,700 films in Tamil, Malayalam, Telugu and Kannada.
During the 1950s and early 1960s, he composed music in association with noted composer and violinist T K Ramamoorthy.
MSV began his independent career in 1965 and continued working until 2013. He was known for introducing new trends like blending western music and disco with Indian classical tunes. Humming and whistling also formed an essential element of his music.
MSV holds the distinction of working with four chief ministers -- MGR, Karunanidhi, NT Rama Rao and Jayalalithaa -- in films.
One of his most noted compositions, Neerarum Kadalodutha, was declared the State Song of Tamil Nadu.
Here's a look at some of his most memorable soundtracks over the decades.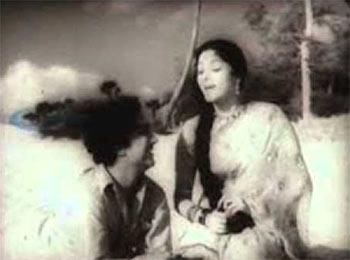 Pudhaiyal (1957)

The MSV-Ramamoorthy duo worked their magic together in over 100 films between 1952 and 1965.

Pudhaiyal, starring Sivaji Ganesan and Padmini, was one of their more popular films.

The song Vinnodum Mugilodum was tastefully picturised on the lead pair at Chennai's Elliot's Beach and was a huge hit.

Hello, My Dear Raami and Unakkaaga Ellam Unakkaaga sung by JP Chandrababu were also big hits.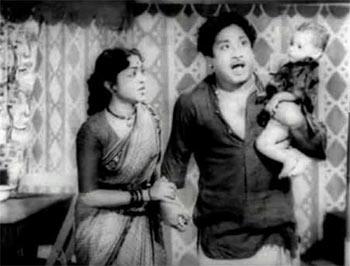 Bhaaga Pirivinai (1959)

National Award-winning film Bhaaga Pirivinai had sensational music by the MSV-Ramamoorthy duo.

Starring Sivaji Ganesan and Saroja Devi, the film was one of the biggest blockbusters of 1959.

With lyrics by the legendary Kannadasan and Pattukkottai Kalyanasundaram and singers like T M Soundararajan, Seerkazhi Govindarajan and P Susheela, all the songs were a rage.
Paalum Pazhamum (1961)

Paalum Pazhamum, also starring Sivaji Ganesan and Saroja Devi, is known for its timeless melodies like Naan Pesa Ninaippathellam, Aalaya Mainiyin and Ennai Yaar Endru.

Kannadasan penned the lyrics for the songs, and singers T M Soundararajan and P Susheela were brilliant with their distinct vocals.

This film also had music by the MSV-Ramamoorthy duo.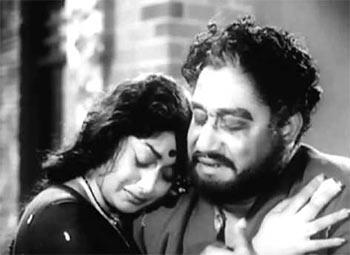 Paasamalar (1961)

The same team came up with yet another blockbuster soundtrack in Paasamalar.

The film dealt with a sibling relationship and had Sivaji Ganesan and Savithri in the lead.

Songs like Malargalai Pol Thangai, Engalukkum Kaalam Varum and Vaaraayen Thozhi are popular even today.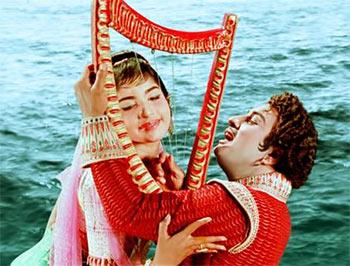 Aayirathil Oruvan (1965)

M G Ramachandran and a 17-year-old Jayalalithaa created a huge sensation in B R Panthulu's 1965 cult film, Aayirathil Oruvan.

The film was a major commercial success. One of its biggest strengths was the music by MSV and Ramamoorthy.

Adho Andha Paravai Pola, Naanamo Innum Naanamo, Odum Maegangalae and Unnai Naan Santhithaen are some of its evergreen hits.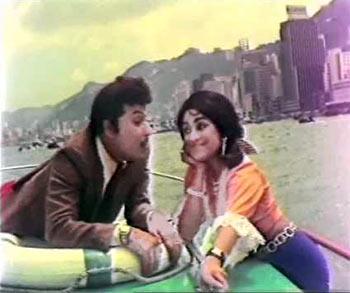 Ulagam Sutrum Vaaliban (1973)

Ulagam Sutrum Vaaliban is considered to be one of MGR's all-time blockbusters that broke box office records when it ran for over 200 days.

He not only played the lead role but also directed and produced the film.

MSV composed the superhit music.

Aval Oru Navarasa by S P Balasubrahmanyam, Thangath Thoniyile by K J Yesudas and P Susheela and Sirithu Vaazhavendum and Ulagam Ulagam by T M Soundararajan are the pick of the lot.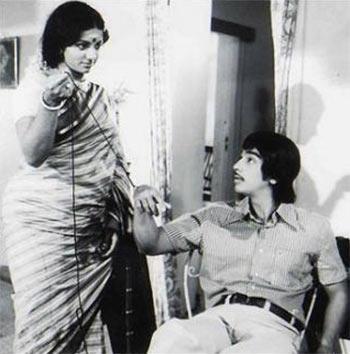 Apoorva Raagangal (1975)

K Balachander's Apoorva Raagangal, starring Kamal Haasan and Srividhya, won three National and Filmfare awards.

The soundtrack was composed by MSV while the lyrics were penned by Kannadasan.

The film will be remembered for KJ Yesudas's beautifully rendered classical song, Adhisaya Raagam.

Ezhu Swarangalukkul by Vani Jayaram also became a rage.


Ninaithaalae Inikkum (1979)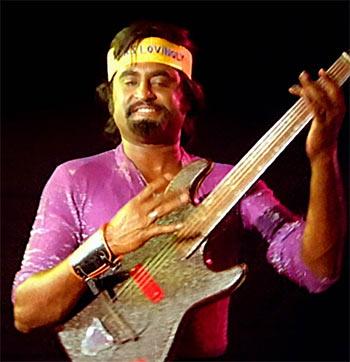 There came at a time when the youth was slowly getting bored of the kind of films made by K Balachander and MSV's music. It was a time when Western music was slowly catching on, and suddenly there was talk of what the youth wanted.

So this ageing duo made Ninaithaalae Inikkum, based on a music band that travels to Singapore, and the film had some amazing western beats.

The film did okay business, but the songs are still talked about. Sambo Siva Sambo, sung by MSV himself and mouthed by Rajnikanth, is still recalled today, as are the other songs.

With that one film, MSV showed that he could score pop music, and also match RD Burman, whose music was becoming popular Chennai.

Ninaithaalae Inikkum starred Rajnikanth and Kamal Haasan; the story was by popular Tamil writer Sujatha.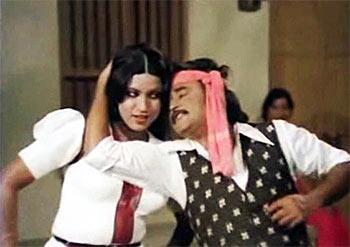 Billa (1980)

The 1980 cult classic Billa, featuring Rajinikanth and a remake of Amitabh Bachchan's Don, also had music by MSV and lyrics by Kannadasan.

The songs My Name is Billa and Vethalayai Potendi were later remixed in the 2007 film Billa directed by Vishnuvardhan, with Ajith reprising Rajinikanth's role.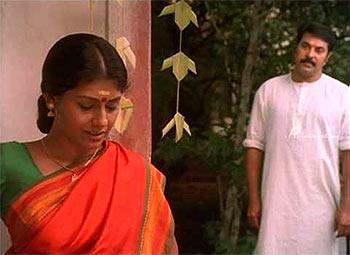 Vishwa Thulasi (2004)

Vishwa Thulasi was directed by Sumathy Ram and starred Mammootty and Nandita Das.

The music was jointly composed by MSV and Ilayaraaja.

The excellent background score and soft melodious numbers won the legends the Gold Remi Award for Best Music Score in 2005.

The film had a beautiful mix of Carnatic and Hindustani music.

The songs -- especially Nizhalin Kadhiyidhu by S P Balasubramanyam and Engu Pirandhadhu by Thippu and Chinmayi -- became very popular.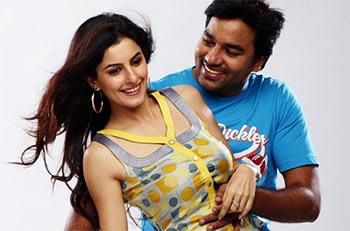 Thillu Mullu (2013)

MSV paired up with Yuvan Shankar Raja for the first time in the 2013 film Thillu Mullu.

He composed the tunes, while Yuvan orchestrated and recorded them.

The film was the remake of Rajinikanth's blockbuster film of the same name -- which itself was a remake of the Hindi original Gol Maal starring Amol Palekar and Utpal Dutt -- which also had music by MSV.

Two songs from the original were retained in the film.

Thillu Mullu, which was remixed and later sung by MSV himself along with Yuvan Shankar Raja and Rajeev 'Tha Prophecy' and the memorable Raagangal Pathinaaru sung by Karthik.