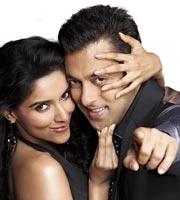 Preeti Arora says Ready is full of stale gags and contrived humour but makes for a perfect weekend watch if you are a die-hard Sallu fan. Post YOUR reviews here!
After two films,
Dabangg
and
Wanted
, both of which were successful at the box-office Salman Khan returns in Anees Bazmee's
Ready
.  Since
Dabangg
was the top grosser of the year, or possibly even the decade, the hangover was bound to linger for a couple of years. And it was obvious Sallu baba would reappear in his
Dabangg
avatar as his fans screamed for more. The pertinent question being 'How much more?'
Salman (Prem) is a spoilt brat from a rich family who worships him even as he does his bit to irritate them. There is no trace of a career or profession. He's passionate about rubbing people up the wrong way. 
As a hobby, he helps people find their soul mate in life. Even if it means helping a bride to escape from her wedding at the eleventh hour. Or keeping tabs on his uncle's love life and extramarital affairs. Taboo topics in the 'almost perfect' household. 
Salman's father Mahesh Manjrekar (Rajveer Kapoor) plays an industrialist plagued with weird memory loss. As he struggles to remember commonplace words like
beta
and
shaadi
, his dialogues are punctuated with double meanings and bordering-on-obscene gestures.  
Manoj Joshi is the
chacha
who alternately encourages him or disparages him in public as per the demands of the situation.
In a rather bizarre turn of events Asin (Sanjana) stumbles into his life. She's no pushover and has her own agenda. Unfortunately for Salman his eccentric family completely dotes on Asin. But Asin hasn't entered his life with any romantic intentions. She's on the run as her uncles' (mamas) Akhilendra Mishra and Sharat Saxena have their eyes on her wealth.
The supporting cast also includes Anooradha Patel, Manoj Pahwa, Arya Babbar and Sudesh Lahiri. But it isn't an ensemble cast by any stretch of imagination. They've been cast as the perfect props for Salman's punch lines. And of course his punches!
For those who believed
No Entry
, (Salman's and Anees Bazmee's 2005 megahit) was packed to the gills with lewd raunchy double meaning humor, be warned,
Ready
is all that and much more. Sexual innuendos, toilet jokes, and burps have been skillfully foisted onto an otherwise lackluster script.
Twenty minutes into the film and we are treated to the dialogue '
zindagi mein teen cheesein kabhi underestimate nahin karna
, I me and myself' (never underestimate three things in life, I me and myself) which gets repeated a few times both pre and post-interval might as well have been the tagline for
Ready
. Or if the producer wished to add fuel to the fire, it could have ideally been titled '
Mera Naam Salman Khan Hai
.'
The
director or maybe Sohail Khan, the producer, genuinely believe fans can sit through any sort of gibberish provided Salman stays in the frame. Or if he exits the frame, clumsily carting his bulky body then he must return in less than five seconds. Why take the risk of disappointing the frontbenchers who clamor for their superhero?
So Salman tries his hand at playing Prem the young lovable rascal from
Hum Aapke Hain Kaun
a role which won him a lot of acclaim two decades back. But Salman is now in his mid-forties and looks neither young nor lovable. The beefed-up body, the biceps and triceps are flaunted even in the romantic numbers such as
Humko Pyaar Hua
, camera angles concentrate on capturing the brawn rather than the chemistry between Salman and Asin.
Asin is the surprise element and is totally convincing as the 'runaway bride' despite a small role. She shares good chemistry with Salman and manages to evoke laughter with her crazy antics. It's a pity the director almost forgot about her existence in the second half of the film.
Post-interval Salman gets into action mode, a persona his fans can't get enough of. He fights goons, breaks tables and rescues his lady love from evil gangsters without even breaking into a sweat.
Of course there are plenty of digs at the successful films of the last decade be it
Kuch Kuch Hota Hai
or the more recent
Ghajini
with Paresh Rawal mimicking Aamir Khan. These in-your-face asides are something we associate with Rohit Shetty and not Anees Bazmee.
Salman fans who carve for a glimpse of their bare-chested idol need not worry. The actor is more than happy to oblige.
Ready
isn't a tribute to Salman Khan. It's a vehicle which showcases the 'Best of Salman' one has seen over the last twenty years. It entertains in bits; the song
Character Dheela Hai
and
Dhinka Chika
will stay on top of the charts for a while. Some crisp one-liners, too but they are few and far between. For the greater part, the gags are stale and the humor remains contrived.
Salman, who created box-office history with
Dabangg
, set out to prove with
Ready
that he could do it all over again but fails to deliver. Maybe we just have to wait a while longer for
Dabangg 2
.
In the meantime …if the absence of a convincing storyline isn't a deterrent and you go ballistic every time Sallu baba appears on screen then this is perfect weekend viewing for you. 
Rediff Rating: