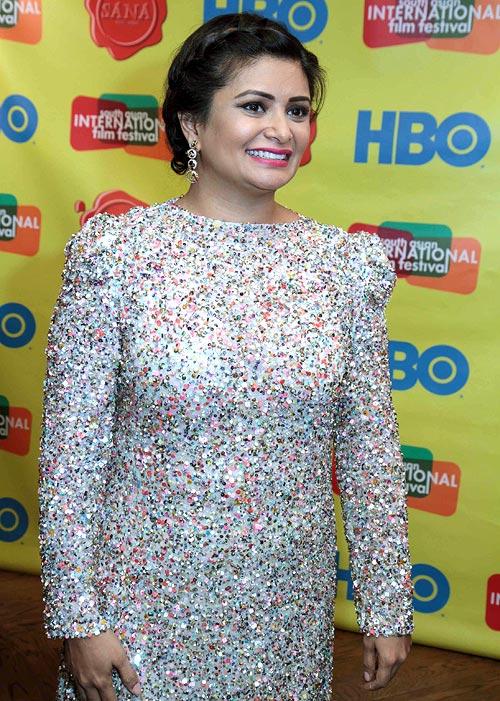 Joya Dass tells us the stories that culminated into a film.

Joya Dass is a first-generation Indian born to immigrant parents from Kolkata and Myanmar.

For the last 15 years, she has been reporting for Bloomberg TV, CNN and ABC and is currently a business anchor with NY1 News and CNN.

In November 2009, she also began work on her first social justice documentary First Sight. It follows the story of three children Ranjith, Anitha and Balaji as they journey from their villages to undergo life-changing eye surgeries at the Sankara Nethralaya in Chennai.

At 15, Ranjith is severely depressed. Cataracts are clouding his vision in both eyes. Anitha, five, has a parasite growing in her left eye and her parents are worried about who will marry their daughter.

Balaji is already going blind because of a rare chromosomal disorder. He pledges to keep working to support his family of seven.

Joya discusses the film with Chaya Babu.

How was the experience of making your first documentary?

I am a television anchor and with that, you're churning out stories every day. I've learned how to do everything from shooting to editing to putting something together in a compelling way or bringing out a specific aspect of it.

But with news there's no care for quality or beauty. You're just concerned with a deadline.

This was a project that was personal and where I could take the time that I wanted to make it beautiful, and if something didn't work, I could go back and do it again. When I was editing this film, I would just invite six friends over and we would watch the movie and I would ask them, 'What's working for you? What's not working for you?' Because if I'm so deep in the matrix, I'm not going to see the film like a viewer who is seeing it for the first time.

As an Indian American did you always have a strong awareness of social issues in India like poverty and that meant for the people there? Or did this develop later?

I did not go to India at all while growing up, which was in Harrisburgh, Pennsylvania. My mom took me when I was a baby and that was it.

I didn't go to India for the very first time until I was 30, so I did not have any real sense of the poverty.

But I grew up in a home where there was a lot of domestic violence, and it was also a home where I realised very early that something was not right.

As a girl, I was kept very much under lock and key, so I didn't experience much outside of the home.

It was really when I left for college that things changed. I made a break from my family. I went to college and grad school and paid for that myself and after a few years of working, I took myself to India on my own.

That was my first exposure to the poverty, and after that, from 30 to 38 or so, it was something I really processed and also tried to figure out what to do with my skill set that would focus on India in that way.

How did you decide to focus on the specific issue of eyesight when thinking about an issue that needs development and funding in India?

I wanted to connect with India on my own terms.

I could embrace
it in a way that I thought was beautiful. That's a really important part of why I did this film. I wanted to give back based on my skill set, but also because I had got to that point in my career without anyone helping me.
My parents had basically thrown me under the bus and were like, 'You can go figure it out.' That was such a hard stage, just getting through all of that, that I felt like being on TV every day wasn't enough to feed me or fulfill me.
And I had given up so much to get there that I had to do something bigger with all my knowledge and the place I was in my career.
To be honest, I'm not sure it was actually the particular cause that drew me into partnering with the Sankara Eye Foundation as much as it was important for me to work with a very well-oiled machine that would allow me to get to India and focus on the business of making a film.
You know how it is in India -- it's crazy and inefficient. For me it was about allying with a group that was functioning well. So when I set out to think about doing a social justice documentary, there were several organizations that expressed interest, but Sankara was the only one that just had their stuff together.
I was more concerned with doing a social justice film and less concerned with what the actual subject was.
I did really want it to be about children though. I just think the most heartbreaking thing you see when you go to India is the little kids who are on the street or working and washing dishes and acting like adults when they're four years old.
I loved how the storyline also brings out a range of other social issues that the families of these kids face.
Well, eye disease is something you definitely associate with elderly people and I just didn't think that was that compelling for the story. Until I met with Sankara's Dr Khyati Shah and she said, 'In an unprecedented move, there are actually 14 children in the pediatric ward and we never have that many. Why don't you see if there are some subjects there who you'd want to interview there.'
I spoke to every single kid and parent. I picked the three whom I ultimately chose because they simultaneously provided a commentary on what's going on in India.
Balaji, just shook me the minute I walked into that ward; that kid has such a face.
I knew there was a story that lay behind his eyes and a wisdom well beyond his years.
A lot of Indian kids do, just because they have to grow up so fast.
His dad's a drunk. His mom is supporting seven kids. He is losing his eyesight, and his brother tried to kill himself. There was so much drama that you couldn't not do that story. But yes, the three of them definitely were fascinating subjects because of how their stories told other stories as well.
What's next for you?
Working on some projects with more women-focused nonprofits. I can't say what they are yet. But everything has culminated in this moment: I think through Lady Drinks (
a women's networking event that Dass hosts
), I'm supporting other women. All of my story lines come together now, especially what I just told you about background and upbringing with my parents not supporting me, and I feel like I'm now creating that support system for the next generation of women.
Photograph: Paresh Gandhi