At the Mom trailer launch, the veteran says she still feels 'like a newcomer.'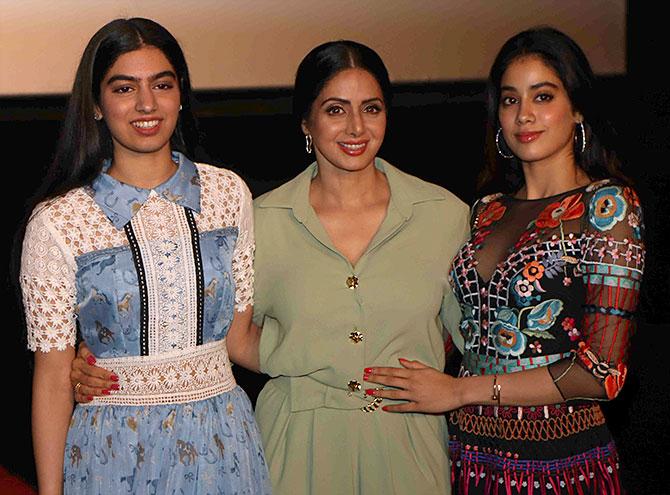 IMAGE: Sridevi with her daughters Janhvi, right, and Khushi, left.
Photographs: Pradeep Bandekar
Mom is her 300th film, but Sridevi still feels as enthusiastic as a debutante she said at the trailer launch of the film in Mumbai this weekend.
"I feel like it's my first film; I feel like a newcomer. It's long way to go," the actress -- who will either turn 54 or 55 on August 4 depending on who you ask -- said, adding that she would like to do as many films as possible.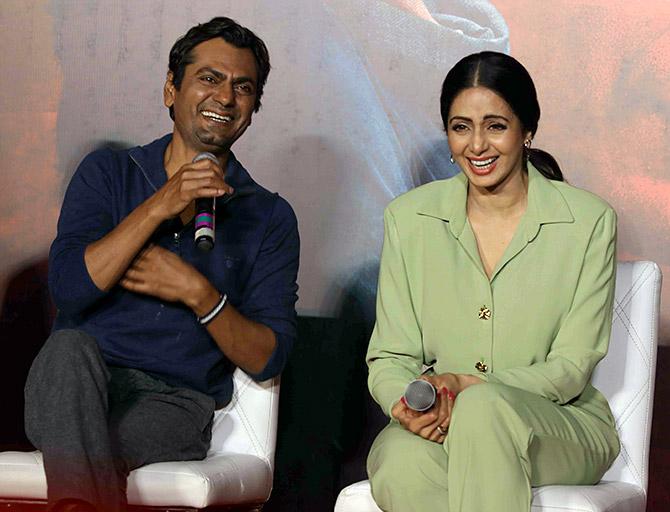 IMAGE: At the trailer launch, compliments flew freely between the Mom stars Nawazuddin Siddiqui and Sridevi.
Actor Nawazuddin Siddiqui, who stars in the film and was at the trailer launch, said he learnt a lot from Sridevi on the sets of Mom.
"It was my dream to work with ma'am, she works on lot of detailing to her character, she inspires everyone," he said. "It was a dream to work with her, so I had thought whenever I get an opportunity I will grab it."
"While shooting I have seen how patient she is as a person," he added. "Even if the shot is after two hours she will wait patiently. These are the things that you learn."
"I am working on Manto right now, and it's a hectic and exhausting schedule, but because of ma'am I have learnt how to be patient."
Sridevi returned the compliment.
"I am working with a lot of people for the first time like Nawazuddin Siddiqui, Akshaye Khanna," she said. "Nawazuddin is a gifted actor, it is wonderful to see him on screen. I am a huge admirer of his work and have a lot of respect for him. Akshaye Khanna is a powerful performer."
Mom also stars Pakistani actors Sajal Ali and Adnan Siddiqui, and Sridevi said, "We miss them (at the promotions)."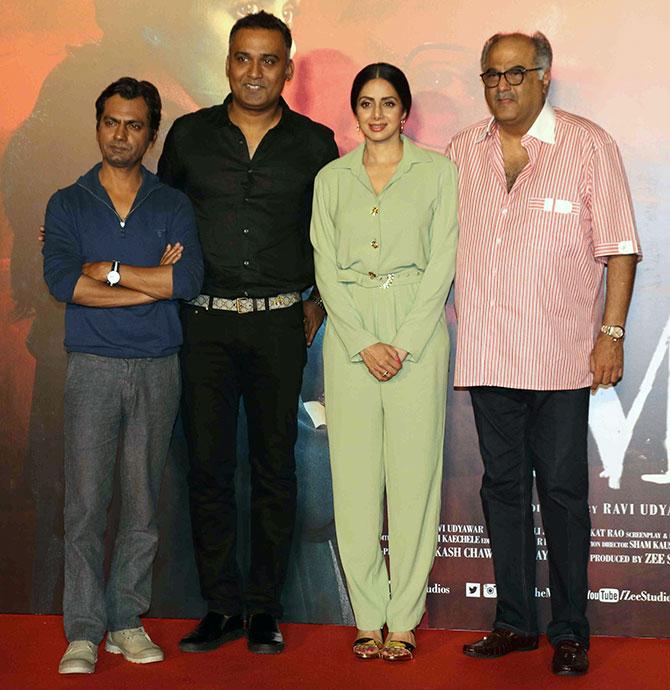 IMAGE: From left, Nawazuddin, director Ravi Udyawar, Sridevi and producer Boney Kapoor.
Sridevi was accompanied to the trailer launch by her daughters Jhanvi and Khushi and her husband Boney Kapoor.
And, as expected, the question of Jhanvi's Bollywood debut popped up.
"Today," Sridevi quipped, "we will talk about Janhvi's mom. We will talk about Janhvi later."
Sridevi said the script was still her priority while signing a film, and the gripping plot of Mom and director Ravi Udyawar's "beautiful vision" for it were the reasons she said yes to the project.
Mom is produced by Zee Studios, Boney Kapoor and Sunil Manchanda's Mad Films in association with Thirdeye Pictures.
It is slated for a multilingual -- Tamil, Telugu, Malayalam and Hindi -- July 7 release.