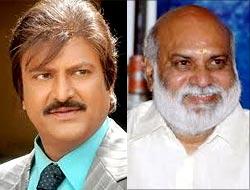 The rich Indian mythological tradition has inspired many writers and filmmakers, and the epics, the Ramayana and the Mahabharata, have been adapted on the small screen and big, several times.

K Raghavendra Rao, one of the top directors in south, is planning a multi-lingual, multi-star mythological project on the Ramayana.

The budget of the film is Rs 75 core. The role of Ravana will be played by Mohan Babu, a senior and respected actor and a multi-faceted personality (educationist, parliamentarian).

Mohan Babu's son, Vishnu Manchu, says the film will be in three languages, Hindi, Tamil, Telugu, and it will be "one of the never before seen kind of project." It is expected to take off in the second half of 2012.

"The actors for this film will be from all over -- the Hindi belt, Karnataka, Tamil Nadu, Andhra Pradesh. Actors who one never thought would come together will be seen in this film. The characters and the names of the cast will be announced on March 19 (the birthday of Mohan Babu). We are in talks with Weta of New Zealand (a visual effects company) as well as others to collaborate with my Special Effects Studio Think Smart. It's a dream project of mine. We are in talks with various production houses and corporates and have not tied up with any so far," Vishnu Manchu said.


K Raghavendra Rao, one of the most successful directors of the Telugu industry, has directed commercial, devotional and period films such as Annammayya, Bhakta Ramadasu, Pandurangadu and Sri Manjunatha. He has also directed Hindi films like Tohfa and Himmatwala.

Mohan Babu is known for his versatile acting, histrionics and dialogue delivery. He has acted in about 520 films (146 as hero).
The South Indian film industry, particularly Tamil and Telugu, is known for its rich mythological and period films, particularly the portrayals of Krishna/Vishnu by the late N T Rama Rao and devotional ones by Akkineni Nageswara Rao.
So, how will the new
Ramayana
live up to earlier versions? "At that time, Indians hadn't seen
Ben Hur,
so they didn't have to live up to it. Today, we have to live up to expectations raised by films like
300
and
The Lord of the Rings,
as Indians have seen these films," Vishnu Manchu replied.