'Akshay fits the image of the hero of the masses.'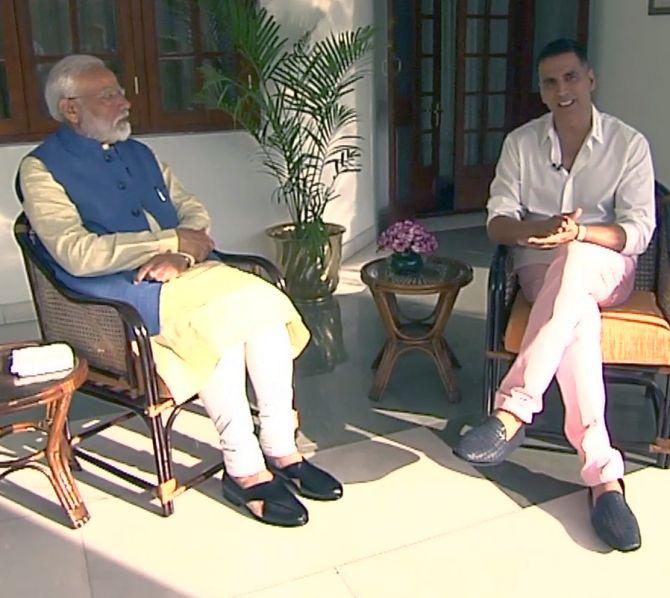 The Bharatiya Janata Party and Prime Minister Narendra Damodardas Modi scored a resounding hit by getting Akshay Kumar to conduct the PM's first-ever non-political interview.
Former BJP MP Shatrughan Sinha is all praise for the interview. "It was a masterstroke for the PM to choose the one and only patriotic superstar Akshay Kumar," Sinha tells Subhash K Jha.
"Akshay had done his homework well and asked questions that made our prime minister appear warm and human," Sinha adds. "It is a matter of great pride for our film industry to have one of us being chosen to interview the prime minister. It's about time actors were taken seriously."
How did Akshay Kumar come into the picture?
The idea, according to sources close to the PMO, was to get a superstar with a nationalistic image. Akshay Kumar fitted the bill perfectly.
"It was the prime minister's wish to be interviewed by Akshay Kumar, because Akshay fits the image of the hero of the masses. Other stars like Salman Khan and Aamir Khan were also considered," informs a BJP source, adding, "But Salman's image was not really conducive to a patriotic non-political casual tete-a-tete with the prime minister. The same goes for Aamir."
"As far as this historic interview is concerned," the source reveals, "the PM only wanted Akshay Kumar."
Akshay "consulted everyone around him -- from his wife and children to his staff and family members with one question, 'If you met the prime minister, what would you ask him?',' a source close to the superstar says.
"Based on what people told him, Akshay prepared a sketchy mental questionnaire. Most of what we heard him ask PM Modi was impromptu and spontaneous based on the way the conversation flowed," the source adds.
Tea was served during the conversation, but Akshay doesn't drink any beverage except water and juices.