Things may not always look bright, but the sun won't stay out forever is a running theme conveyed across its short films about people from various walks of life in all their varying moods and musings, applauds Sukanya Verma.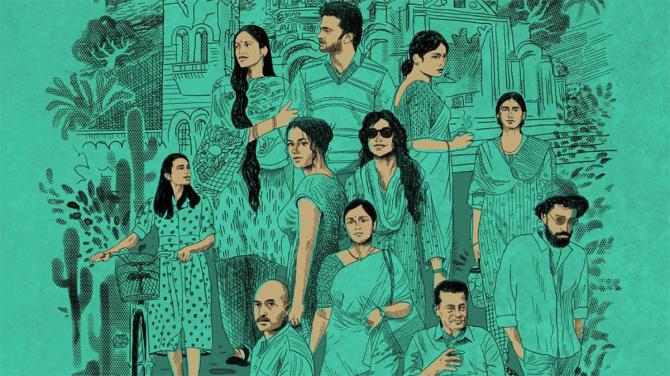 One of the best things about Modern Love Chennai is how harmonious the anthology appears even in its diverse tones and textures.
No film is alike, yet every single one suggests a sense of closure for its female-centric stories in the imperfect or impermanent terms of life.
Adapted from The New York Times popular column like Amazon Prime Video's previous Indian iterations of the same -- Modern Love Mumbai and Modern Love Hyderabad showrunner Thiagarajan Kumararaja's practical approach to profound problems colours the highs and lows of Modern Love Chennai whilst capturing the city's rainy ambience and frequent load shedding, bustling metros and assorted neighbourhoods.
Things may not always look bright, but the sun won't stay out forever is a running theme conveyed across its short films about people from various walks of life in all their varying moods and musings, highlighted in a rhythmic score, of which most prolific is the legendary Ilaiyaraaja.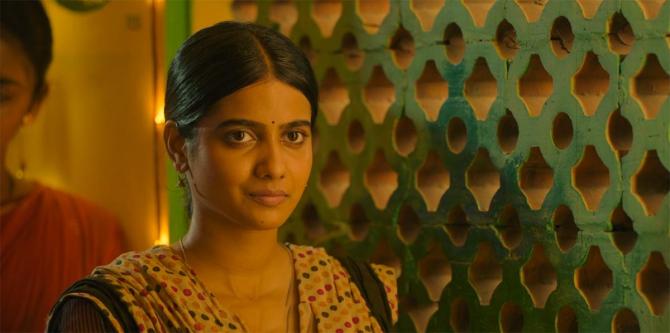 Raju Murugan's Lalagunda Bommaigal opens on the grim note of abortion, but proceeds to acquire an unexpectedly whimsical air when a biscuit maker's (Sri Gouri Priya) bitter experiences around duping men prompt her to take charge of her own destiny.
She's not alone in her realisation of 'can't live with men, cannot live without them,' a sentiment resonated by her community's fellow sisters.
But the curious prophecies and strange twists she must confront before conceding only love can fix what love destroys.
Without really demonising the schmucks around her, Sri Gouri Priya's quietly feisty ways figure out her path to empowerment.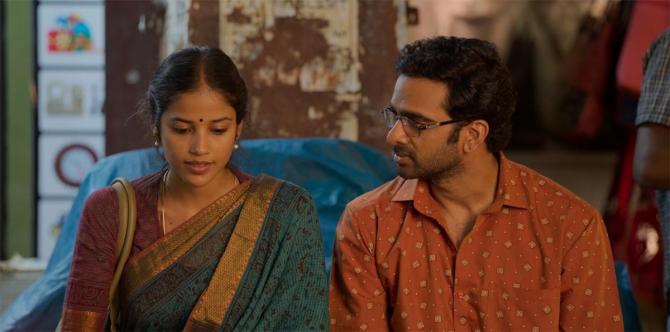 In Balaji Tharaneetharan's Imaigal, a woman's quickly deteriorating vision creates challenges for a married couple raising a young daughter to overcome.
Devi's (T J Bhanu) day-to-day struggles around her poor sight while husband Nithya (Ashok Selvan) remains blind to her pain hits the peak of conflict when they argue over one's burden and another's expectations in a remarkably real fight baring their vulnerability and woes in a stirring manner.
The simplicity of Imaigal's storytelling, Bhanu's striking ability to speak volumes through those big, expressive eyes and Selvan's warm remorse renders its fruition of grand gestures and belated passions a moving conclusion.
Kaadhal Enbadhu Kannula Heart Irukkura Emoji pays rich ode to the romantic raised on a rich diet of 1990s pop culture romanticism in Mallika's effervescent antics and infectious smile.
From school to college to professional, her relentless quest for a happily ever-after imagery, bookended in rain dances and lovestruck aspirations, is frothily depicted in Varma's perky energy and comical resolve.
Movie critic Baradwaj Rangan pitches in a cameo to quote Jean-Luc Godard's belief -- Cinema is the most beautiful fraud in the world even as this segment of Modern Love Chennai proceeds to show yet another instance of Advantage Arranged Marriage.
The turn of events would feel a whole lot anti-climactic if not for Varma's verve or Vaibhav's short but sweet turn.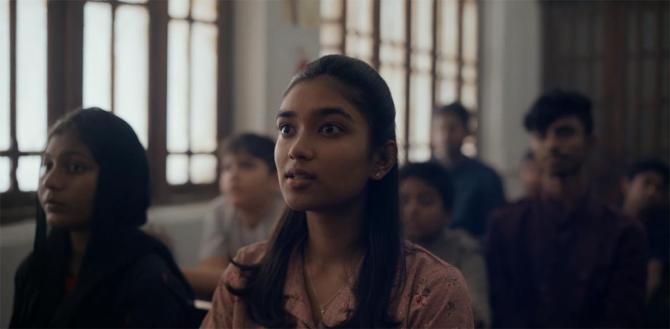 Margazhi, written by Tharaneetharan and directed by Akshay Sundher is among the freshest, free flowing films of the lot.
Dealing with parents' divorce and the changes of teenagerhood can be a lot for a school-going girl.
Choir singing, basket playing, braces-sporting Jazmine (a wonderful Sanjula Sarathi) silently, self-consciously grapples with both until the welcome arrival of Milton (Chu Khoy Sheng).
Different stages of young infatuation -- anticipation, interaction, declaration - its innocent voice and lingering smile fills the screen in hues of hope and heart.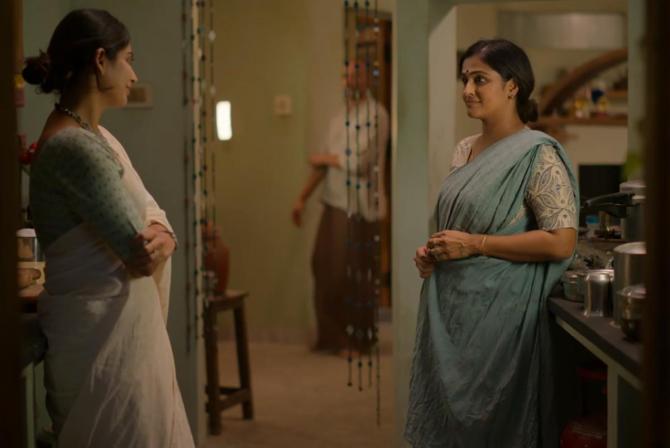 Mobiles and metro stations witness shifting dynamics of a family when a married man (Kishore) falls for a woman (Vijayalakshmi) he bumped into the train in veteran film-maker Bharatiraja's Paravai Kootil Vaazhum Maangal.
More than the duo though, it's the unusual grace marking the wife's (Ramya Nambeesan) acceptance of the situation that comes to light when the troika gather for a dinner at her home and discuss the impending divorce.
A life made together, reminiscent of Basu Bhattacharya's Grihapravesh if not the restoration of marriage echo in the respectful exchange between the women even as the timid object of their mutual affection awkwardly sits out.
Both share their names with the women of Balu Mahendru's Marupadiyum -- Revathi and Rohini.
It's all too jarringly tasteful, uncomplicated and old-fashioned.
All their poise and consideration reeks of submissiveness that gives an undeserving guy, smoking away in a corner, more control and happiness that he ever should.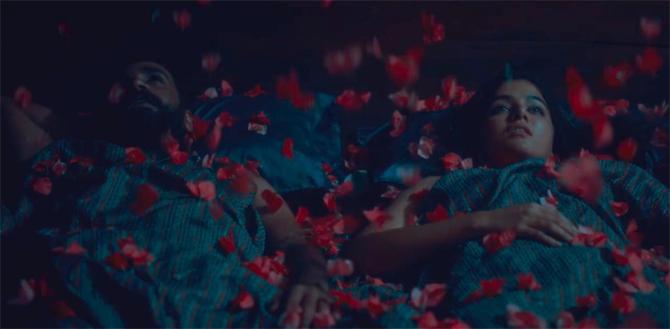 Thiagarajan Kumararaja saves the best for the last.
The Aaranya Kaandam and Super Deluxe director's genius is on full display in the stylised grey and burnt orange dominated visual palette and vigorous lovemaking of his utterly beautiful and bizarre offering -- Ninaivo Oru Paravai, which is also a song composed by Ilaiyaraaja for Bharatiraja's Sigappu Rojakkal.
Brimming with movie references and metaphors signified in its endless corridors, rampant rain and cerebral chatter, Ninaivo Oru Paravai chews over concepts of last Thursdayism and purpose of memory, a la Eternal Sunshine of the Spotless Mind, in the pillow talk of privileged drifters.
Where one (PB) flaunts Chinese philosopher Zhuangzi's gyaan on his T-shirt and exclaims, 'if we lose our innocence we are no longer artists,' the other is a girlfriend of the century (a stunning, scene-stealing Wamika Gabbi).
Kumararaja's meta take on love is reflective of his feelings for cinema of the screen and soul as it wildly oscillates between fact and figment of imagination in abstract visions and silly laughs making no sense and so much at once.
This is Kumararaja's Chennai. And we are only too happy to live and love in it.
Modern Love Chennai streams on Amazon Prime Video.
Modern Love Chennai Review Rediff Rating:

Feature Presentation: Ashish Narsale/Rediff.com