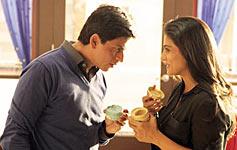 Shah Rukh Khan, the box-office powerhouse who has rarely failed to score huge box-office numbers particularly abroad, has yet another smash hit.
My Name Is Khan which he co-produced with his friend Karan Johar was the number five movie worldwide with a $14. 2 million weekend gross according to distributor Fox.
The biggest hit of the week was James Cameron's Avatar which was also co-produced and distributed worldwide by Fox, grossing in its ninth week a mighty $81 million and taking its worldwide gross to an incredible $2.35 billion.
MNIK is the fourth film directed by Johar and it is also his fourth film in a row following Kabhi Alvida Naa Kehna (2006), Kabhi Khushi Kabhie Gham (2001) and Kuch Kuch Hota Hai (1998).
It is the best weekend opening in North America for both Shah Rukh (whose Om Shanti Om opened with $1.7 million) and Karan Johar.
Though in 2007 Saawariya scored a sort of a record for a Bollywood film opening worldwide at number one with about a $19 million weekend, it did so in a field that had no big or even an average Hollywood hit. There was a box-office slump that week. In the second week, the movie plunged by about 85 percent.  
After Sony stumbling with Saawariya and Warner flopping with Chandni Chowk to China. MNIK became the first star-driven Bollywood film to become a hit for a Hollywood studio. 
The first Fox International production in India, MNIK opened at number one in India with $9.2 million from 1,450 screens, the distributor said. The film would have grossed 20 percent more in India but for the fear generated by Shiv Sena over its demand that it be boycotted.
The rightwing party was angry at Shah Rukh's suggestion that Pakistani cricket team should be allowed to play in a major Indian tournament. The movie opened in Mumbai with a lot of police protection. Its box-office in Pune also suffered when a bomb explosion killed at least nine people in a bakery cafe and left dozens wounded. These setbacks could mean the film will have strong legs in the second week in India.       
MNIK grossed $1.86 million in North America. As Monday is a holiday in America, the movie could easily top $2 million. How it will perform in the next weekend will be an indication whether it will overtake Johar's best performing K3G which grossed about $4 million. To be a record setter, MNIK will have to beat 3 Idiots which is ending its North American run with a spectacular $6.6 million.
Shah Rukh's popularity in the UK is bigger than in North America. The figures from the other side of the Atlantic weren't in by Sunday evening. But it is quite likely the movie has done equally strong if not stronger business over there.
The North American box-office was led by Valentine's Day, the romantic comedy which grossed a mighty $52 million. For a film that cost just about $51 million, it was a strong opening.
Though Fox released My Khan Is Khan, the second Hindi language film it has shown in North America following Water, the movie was aimed mostly at Indian audiences. Water, on the other hand, was a mainstream art house release.
Most Hindi films drop by about 50 percent in its week. But like 3 Idiots, MNIK could prove to be an exception and face a minimal drop.
As it happens with big budget Hindi language films now, a handful of mainstream newspapers reviewed MNIK.
In LA Times, reviewer Kevin Thomas called the film 'a sweeping epic in the melodramatic Bollywood manner...yet (it) emerges as a potent, engaging and timely entertainment.'
It added: 'My Name Is Khan is a potent, energetic heart-tugger and Khan and Kajol, major Bollywood stars, are highly appealing and equal to the demand of their emotion-charged roles.'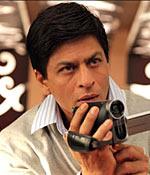 And The New York Times, noting that it is 'one of a handful of Hindi films (New York, Kurbaan) about Indians living in a paranoid, post-9/11 America,' there's 'something fascinating about looking at this country through a Bollywood lens, even when the story is a kind of fairy tale. (Most interesting here is the link made between black Americans and Indians, especially Muslims.) '
'Skillfully directed by Karan Johar and with an evocative score by Shankar, Ehsaan & Loy, Khan jerks tears with ease, while teaching lessons about Islam and tolerance.'
A review in Miami Herald, while faulting the film being too long, still said 'Shah Rukh Khan's Rain Man-by-way-of-Adam performance is consistent and affecting, and Kajol shows some range.'
The review added: 'It's a good-looking movie with the polish that has allowed Bollywood to rival Hollywood in production values.'
At the press conference of the movie in New York at least one journalist had asked SRK of the chances of MNIK doing Slumdog Millionaire kind of business in North America. That movie grossed about $140 million.
The Miami Herald review thought about it, too.
'With Fox Searchlight releasing this film -- and Aamir Khan's daft, overlong dyslexia musical Like Stars on Earth now earning a big DVD push by Disney -- it's obvious that Hollywood wants Bollywood to import a Slumdog Millionaire-sized hit,' it wrote.
'My Name is Khan suggests that while the ambition, technical skill and acting talent is there, India's writers are going to have to sit in an American cinema seat for a few hours, no breaks allowed, and structure their screenplays accordingly.'
Read the reviews here: Raja Sen | Savera R Someshwar | Sukanya Verma