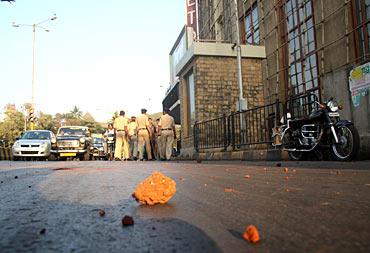 The Mumbai police on Wednesday continued their drive to detain Shiv Sena activists and leaders trying to prevent the screening of Bollywood superstar Shah Rukh Khan's My Name Is Khan in the city's theatres, ahead of the film's release on Friday.

Over 1500 Shiv Sena activists and leaders have been taken into custody since Tuesday.

The police are booking Sena activists under various sections of the Indian Penal Code and Bombay Police Act to ensure that they remain behind bars till February 14, Which is popularly observed as Valentine's Day. Sena has always opposed the celebration of the day on the grounds that it was an aspect of the western influence unbecoming of Indian culture.
Sena activists have taken upon themselves to disrupt the screening of
My Name Is Khan
following an editorial in
Saamna
, the party mouthpiece, flaying Shah Rukh's desire to include players from Pakistan and Australia in the forthcoming Indian Premier League. 
Tight security has been provided to 63 theatres across the city where the movie is scheduled to be released on February 12, they said.
Guidelines have also been issued to all police stations by the city police chief regarding security arrangements. The Sena has renewed its threat not to allow the release of MNIK unless the Bollywood star retracts his statement favouring inclusion of Pakistani players in IPL-3.
In the wake of the Sena intensifying protests against Khan, leaves of the city policemen have been cancelled to ensure their full presence.
To further strengthen security, personnel from State Reserve Police Force and Home Guards will be deployed at the 63 theatres that will screen the film in Mumbai.
Karan Johar, director and co-producer of the film, on Tuesday met Police Commissioner D Sivanandhan to discuss security issues ahead of the movie's release.
Image: Police gather outside Metro theatre in Mumbai on Wednesday. Photograph: Sahil Salvi.
Are you looking forward to My Name is Khan this Friday? Tell us!

Additional Inputs: PTI