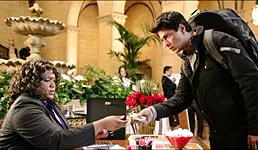 My Name is Khan opened with a bang at the box office, earning a whopping Rs 85 crores (US $18m), but it saw a drop in business from Monday as the word of the mouth was not good enough to sustain the film.
Though many critics loved it and so did the classes, the masses overall seem to be in a rejection mode.
Says Komal Nahta, Bollywood trade analyst, "On the whole, My Name Is Khan is far from entertaining and also too boring for the general masses. For the heavy budget at which it has been made, it will keep its worldwide distributors (Fox Searchlight) in the red. Business in big cities, especially in South India, Muslim centres and overseas will be better but it will be below the mark in North India as also in smaller centres and single-screen cinemas. It may be appreciated by the class audience but the masses will reject the film."
The buzz for the film was huge ever since the controversy between Shah Rukh Khan and Shiv Sena broke out.
Sena supremo Bal Thackeray demanded that Shah Rukh Khan apologise to the nation after he said in a press conference that he wished if Pakistani players could play in IPL 3.
This created a furore and Thackeray ordered Shiv Sainiks to see that the film was not released in Mumbai and Maharashtra.
The police gave extra protection to almost every theatre and multiplex for a peaceful screening and amidst tension people came out in hordes to watch the film in Mumbai as well as other parts of the country.
"The curiosity value is over, it seems. The picture has suffered a considerable drop in collections on Monday," said Vinod Mirani, another Bollywood trade analyst.
Added Amod Mehra, another trade analyst, "At this moment, it appears the film will not be able to recover the cost because it has been sold at a high price."
Asked about critics loving the film and some of them even giving five stars rating, Mehra said, "Earlier there were paid previews of the film, now there is paid review of the film." 
Naysayers notwithstanding, the film had a spectacular opening for the first weekend.
In a statement, Karan Johar, producer and director of the film said, "I am overwhelmed by the unprecedented audience response for our film. The audience has the power and more power to them."
 
"The most exciting part," says Vijay Singh, CEO Fox Star Studios, "is that the worldwide collections jumped every day from Friday to Saturday to Sunday. This shows that the audience is absolutely loving Rizwan and Mandira."
Fox has distributed My Name is Khan worldwide.
Read the reviews here: Raja Sen | Savera R Someshwar | Sukanya Verma
Did you watch MNIK? What did you think of it?