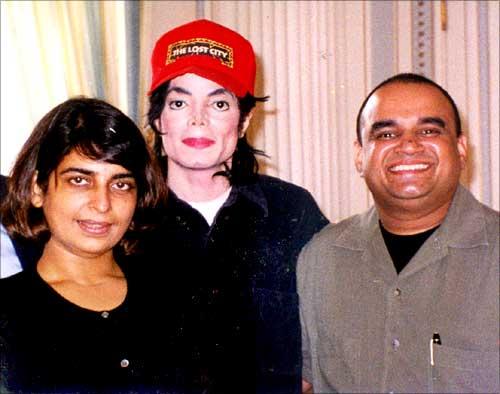 Many years ago, Michael Jackson had collaborated with A R Rahman in a song called Ekam Satyam. The album was produced by Bharat Bala and his wife Kanika Myer.
Kanika goes back in time and recounts her memories of meeting with the pop icon:
Michael heard A R Rahman's Vande Mataram -- which we had produced -- and wanted to work with Rahman and us. He was good friends with S P Hinduja, Chairman of The Hinduja Group, and got in touch with us through him.
He wanted to dance on an Indian song. So we recorded the song Ekam Satyam and took it to to him. I met him for the first time in Paris. It was a great honour to meet and produce a song for him. He was very humble and creative.
When he heard the song, he was very thrilled. In fact, when he put on the headphones to listen to the song, he started tapping his feet and tapping his band on his thigh in rhythm with the beats. He was enjoying himself. It was nice to see the way he heard the song.
He wanted us to take this song to Munich where a fundraiser concert was organised for the Red Cross by Nelson Mandela in 1999. Michael Jackson asked us to bring Indian dancers for the concert. So we took Indian dancers, as well as Prabhu Deva and Shobhana.
Before the concert, we met again to get his costume measurements. We wanted him to wear Indian costumes and he readily agreed.
On the day of the concert, I wanted to take a video of him backstage. He was very cool and not nervous at all. He was very passionate about what he was doing. He loved music so much.
One interesting thing about Michael Jackson was that he was vegetarian, and loved Indian food. He took an Indian chef to Munich. He loved Indian culture, Indian food and the song and dance in our films.
I love his songs but my favourite is so You are not alone, They don't care about us, Heal the world, Childhood, Thriller and Man in the Mirror.
I miss him a lot. I cannot forget my first meeting with him till date.