Mithya fumbles to make headway towards truth or dare, observes Sukanya Verma.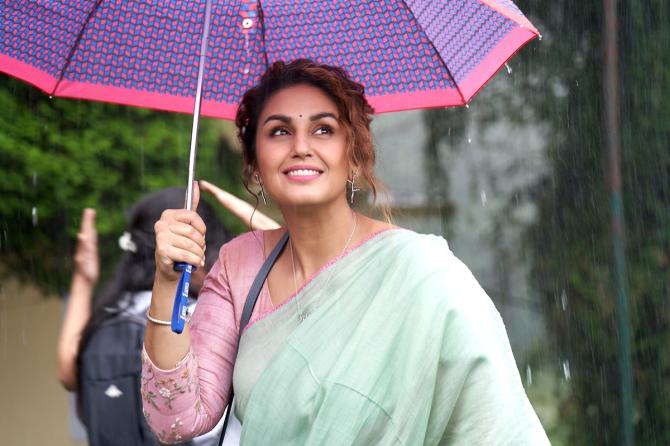 There's a *lot* of talk about truth in Mithya. But you never see anyone being honest till the very end.
Rohan Sippy's official adaptation of the British Web series Cheat is a six-part series that starts out as an edgy student-teacher drama, which takes the shape of a fatal attraction brand of psychological thriller and concludes as a convoluted dysfunctional domestic melodrama.
This is a lot to process, but Mithya is far less muddled than it is drab in its depiction of deceit and shocking human impulses.
Most teacher-student frictions in fiction are based on ego or sex.
But Mithya's motivations stem from a student's unsolicited need to rescue her smug educator as well as destroy her.
It's an odd contradiction that constantly plagues the episodes and no dreary development can convincingly justify.
After Aranyak's murky Himachal mystery, Sippy uses Darjeeling's majestic, moody, misty hill station as a backdrop to unleash his latest beast.
Trouble begins when Juhi (Huma A Qureshi), a Hindi professor at Oakhill Estate University. suspects campus outcast Rhea Rajguru (Avantika Dassani) of 'sahitya ka sabse khatarnak shabd' -- plagiarism.
We learn Juhi is struggling to have a baby with her boring husband and fellow professor Neil (Parambrata Chatterjee) while Rhea's father happens to be one of the college's main trustees (Samir Soni).
As someone trying to carve her own niche outside her influential father's (Rajit Kapoor) literary shadow, Juhi is surprisingly dismissive of Rhea's efforts to assert her individuality as though put off by the latter's rebellious styling, multiple ear, nose piercings et al and irreverent demeanour.
Mithya pins itself on symbolism.
Juhi's intercourse session cuts to a spider spinning a web as if reminding her of its own try and try till succeed mantra.
Rhea always draws or leaves juhi flowers to alert her presence around her eponymous teacher.
Do the Pride-hued shoelaces Rhea sports imply anything beyond superficial rebellion?
Is Rhea a classic case of entitlement?
Or is Juhi venting her personal frustrations by targeting an innocent teen?
Mithya teases around these questions before settling in for 'hell hath no fury like a woman scorned' that is made all the worse when the source of her humiliation is another woman.
Juhi's repression and Rhea's aggression take the fight head on as the story travels back and forth from prison to past investigating their link to a murder.
I wasn't too moved by the provocations of its by-the-numbers thriller falling back on the usual tropes of stalking, seduction and sensational talk.
Having said that, newcomer Avantika Dassani enthusiastically sinks her teeth into a meaty role even if the corny tone of her sexually-explicit character insults the intelligence she is capable of.
For all its worth, it is exciting to watch the kid of one of the coyest heroines to grace Hindi cinema be such a foul-mouthed daredevil. Bhagyashree's younger one has a collected presence and shows a better understanding of Rhea's duality than Mithya is willing to accede.
What I enjoyed was the fleetingly touched disparity between patrons of Hindi and English literature arguing among themselves over either's merits.
'You are an extremely gifted writer just wasting yourself in Hindi,' scoffs Juhi's father.
Juhi's response is her expertise in both.
And Huma Qureshi is excellent at portraying her bilingual prowess.
Her refined eloquence shines in the classrooms while her undaunted emotionality elevates the standard of many mediocre scenes.
One appreciates this very sophistication in Avantika Akerkar's restrained performance as Juhi's mum as well.
Ditto for Rajit Kapoor despite a wishy-washy characterisation.
Wish there was more to corroborate his condescension for Hindi and affection for Juhi.
But it's good to see Parambrata step out of the likable zone. He does a lot of questionable stuff in Mithya and dedicatedly shatters the gentlemanly image associated with him.
Mithya loses all steam once a pair of sluggish cops come into the picture and go about this police procedural and sloppily executed crime in a daft manner.
Between daddy issues, lousy upbringing, illicit affairs, clueless forensics, skeletons in the closet, psychological undertones, insecure masculinity, dark inspiration, misguided obsession and unexplained allegiance from unlikely quarters, Mithya fumbles to make headway towards truth or dare.
Mithya streams on ZEE5.
Rediff Rating: