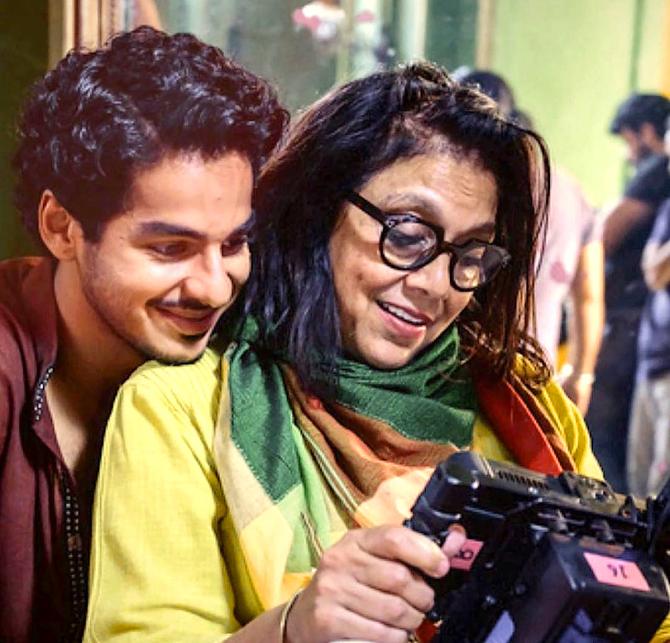 Mira Nair is currently not feeling on top of the world as the great reviews for her series A Suitable Boy should make her feel.
Mira is currently healing after emergency surgery. Now how did that happen? Out for a walk in in the park in New York, where she lives, she tripped and fell.
When Subhash K Jha touched base with Mira, she says, "I had a very painful shoulder surgery after a fall in the park. I am nursing myself back to sturdiness slowly and steadily."
For Mira, it hasn't been an easy year. She lost two of her favourite actors.
First, it was Ugandan child prodigy Nikita Pearl Waliga, who played a pivotal part in Mira's film Queen Of Katwe, who died of an incurable brain tumour on February 15. On April 29, Mira lost one of her dearest friends, Irrfan Khan.
Mira describes it as a "double blow". As she recovers, she is "thinking, processing, ruminating, writing".
Mira, who directed the critically acclaimed Queen Of Katwe in 2016, set aside much of the last four years to the stage adaptation of Monsoon Wedding.
"It was eight years of my life. It took us a long time to get here. We didn't just take Broadway veterans and put them on stage. We dealt with the stage adaptation of Monsoon Wedding organically. We got authentic talent like Vishal Bhardwaj," she says.
"We had 21 songs in the stage adaptation. The entire story of Monsoon Wedding on stage was impelled by music. We had really creative talent of the highest order. "
PTI adds:
Mira Nair says she had vowed to work with Rasika Dugal after she saw the actor's performance in the 2013 feature film Qissa.
During a Q&amp A session for Twitter India's new series, 'Have You Followed', Mira spoke about why she decided to cast Dugal for her BBC and Netflix series A Suitable Boy.
"I first saw Rasika in Qissa and was riveted by her presence. From that day on, I looked for a chance to work with her,," she said.
Mira asked Rasika whether she too had a wish-list of directors. "Do you remember I saw your work for the first time in Qissa and met you in the same hour? At that moment I vowed to work with you some day. Do you have the same sizzle about directors?" she asked.
To this, the Mirzapur star said, "Yes! It was a big moment for me. I had wanted to work with you long before we met and even more after we did. My long list of directors I had always wanted to work with got its first check when you chose me to be Savita."
"I was continually amazed and impressed at how happily self-effacing you were as Savita, despite the fact that you were possibly the most known star on set! " Mira exclaimed.
During the session, Mira also revealed how she decided to rope in singer Kavita Seth to record ghazals performed by Tabu in A Suitable Boy.
"Vikram Seth wrote eloquently about the poems of Ghalib, Dagh (Dehlvi) and Mir (Taqi Mir) in his book. I took off from there -- and thanks to my mate Rahul Chittella -- met the great Kavita Seth whose voice resembled Tabu's... She composed the ghazals and sang them -- brilliant musician she is!" Mira said.
Asked about her dream role by the director, Rasika said, "I love each part I play. So I make that dream. But there's one which has been a dream for a while. Being Amrita Pritam in a biopic on her. Putting it out there!"
"Oho! Amrita Pritam is a goddess," Mira responded. "Too bad I'm making my next film on another Amrita," the director added, talking about her upcoming biopic on the legendary painter Amrita Sher-Gil.