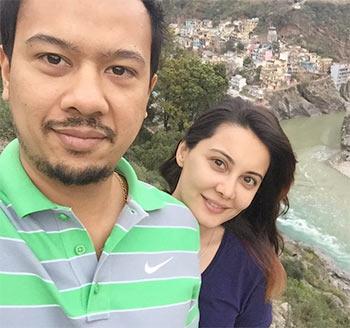 Actress Minissha Lamba, who recently got hitched to beau Ryan Tham in a secret wedding, spills the beans on her D-Day.
"I had been dating Ryan for some time.

"And I think I knew him well enough to realise that he was the one I wanted to spend my life with. Once we were sure of each other's feelings we saw no reason to delay the wedding," the new bride says.
Contrary to reports, it wasn't a surprise wedding.
"It wasn't a sudden wedding at all. We had been planning to do it for some months. It's just that we didn't want to talk about it," Minissha explains.
In fact, word about the wedding got out when Ryan's cousin Pooja Bedi announced the news on Twitter.
Minissha laughs it off, "We suddenly started getting all these congratulatory messages. We were wondering where that came from. Then we got to know it was Pooja. She's such a warm and generous person."
The newlywed actress is all praises for her new family too.
"They are wonderful people. And the best part is that my parents and his parents get along really well. So that's an added bonus to our alliance."
She also reveals what attracted her to Ryan.

"He didn't treat me differently just because I was an actress. He had not seen much of my work. In fact the only film of mine that he has seen so far is Bachna Ae Haseenon.

"I didn't bother to show him other films as we got to know each other better because I had already seen my better films many times over.

"Maybe we'll catch up with some of my other films now. But when I first met him I was fascinated by how normally he treated me. He seemed to possess all the qualities that I wanted in my man."
Now that they're married, Minissha wants to spend quality time with her new husband and his family.

"I've moved in with him now. As for my acting career, I have to confess that interesting roles have stopped coming my way. I'll continue acting, however, and only accept roles that offer me a chance to do something worthwhile."
Meanwhile, there is plenty to be done in her new role as a wife.

The wedding may have been an intimate affair, "But we intend to have a big reception in November where we will invite all our friends," she says.

Image: Ryan Tham and Minissha Lamba. Photograph: Minissha Lamba/Twitter