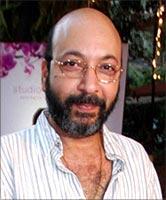 Ace lensman Gautam Rajadhyaksha, who passed away on September 13, would have turned 61 today.

On his birthday, make-up artist Mickey Contractor, who had worked with the photographer for 25 years, pays a tribute.

I met Gautam briefly at Lintas, where he worked, for a job that had not turned out well. It was not a great photo session. Gautam was not the photographer, he was just coordinating it.

The first time I met him properly as a photographer was when he shot (model) Malvika Tiwari. Malvika told me she wanted some pictures shot by Gautam. She wanted me to do her make-up. At that time, Gautam was shooting celebrities more as a hobby because he was still with Lintas.

Gautam really liked my make-up and I liked the way he clicked the pictures. Slowly, we started working a lot together and it became like a full-on team. He would always recommend my name and if anyone came to ask me about portfolio pictures, I would send them to Gautam.

We worked a lot for the glamour magazines -- Cineblitz, Filmfare, Stardust. We did a lot of work over a period of time and became very good friends.

In fact, I was going to meet him in Pune (the week he died) for the opening of an institute at Symbosis (Rajadhyaksha had designed the photography course). He said you have to come, it's my birthday and he roped me in to do a master class.

Gautam grew a lot in his work and people started appreciating it. He was also a fantastic writer so he used to do a lot of work for a Marathi magazine called Chanderi. I think he was the photo editor for the magazine. Our credits were always together in the film magazines and that's how people got to know us as a team.

He shot beautiful pictures of women and that's how he became famous. His forte was the portrait; he was interested in faces, he used to hate shooting full length and only did it because the magazines demanded it. He was always interested in what expressions can do to a picture and what beauty really is.

He was the finest person I know. He was extremely generous in parting with his knowledge, and he was a very knowledgeable man. I know of so many photographers who are today's top photographers who came to him for advice when they

were starting out and he never held back anything but always guided people the right way. He gave so many make-up artists chances.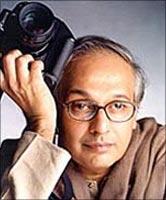 He was very helpful, thoughtful, kind, a very dear friend who I could call at any time of the day or night and he would be there for me.

He had a great sense of humour and he used to make people hear great music. When he was shooting, he always came up with great suggestions. The atmosphere during his photo sessions would be full of laughter and jokes; everyone just relaxed in front of his camera.

I have had serious fights with him over how a picture should be shot or about the outfit or about the lighting. We have had serious fights over lots of issues, but always in private. We would go outside, sort out our problems, decide what we were going to do, and then enter the room and go ahead with our work. We never made our subjects feel that these two don't know what they are doing.

He helped me in other ways. If I have had issues about something he had said or I had read, all I had to do was pick up the phone and say 'Gautam this is what I read, what does it mean?' and he would very calmly explain it. He was a great teacher.
I met him last at the launch of my collection (in December 2010), he came for the party. That was the last time I met him, but I used to speak to him on the phone every 10 days or so. We would speak for an hour or more.

He never told me, ever, that he was not keeping well, or that he had any problem or any health issues, and definitely not the heart. I told him that he looked a little bloated and asked why he had put on so much weight. He said 'I really don't know. I am getting my thyroid checked'.

I was shocked when I heard about his death. I woke up in the morning and the first phone call I get was to say that Gautam has passed away. It was a tremendous shock because I was going to Pune on September 16, which happens to be his birthday.

Gautam was supposed to leave for Pune on September 15 night, and since I was busy, I told him I will leave on the 16th. In, fact, Ashatai (Bhosle) and I had decided to drive up together.

The loss of Gautam Rajadhyaksha is not only a huge loss to photography, but also to mankind because you don't meet people like him very often.

It is going to be a tremendous loss to me; he was like father figure in my life. I will miss him dearly.